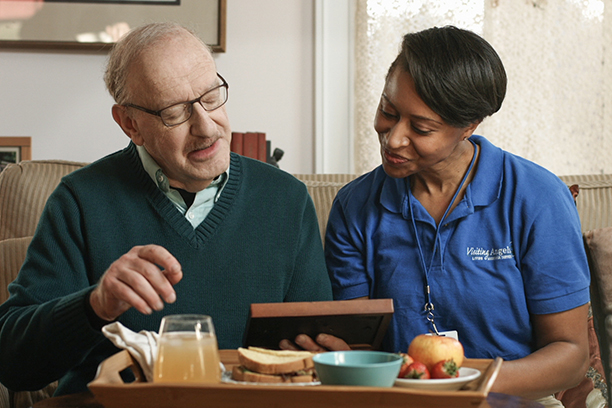 Become a Home Health Aide with Visiting Angels South Central Michigan!
Visiting Angels is looking to hire home health aides in Adrian, Jackson, Brooklyn and surrounding areas in Lenawee, Hillsdale and Jackson Counties in Michigan to join our team of senior care professionals
Do you have experience with being a senior caregiver? Do you want to work for an agency that will give you consistent hours, competitive pay and allow you to further develop your career? If you answered "yes," then join the caregiver team at Visiting Angels South Central Michigan!
Visiting Angels provides quality in-home elder care to seniors throughout Addison, Adrian, Blissfield, Britton, Brooklyn, Camden, Cement City, Clarklake, Clayton, Clinton, Frontier, Grass Lake, Hillsdale, Horton, Hudson, Jackson, Jerome, Jonesville, Manitou Beach, Michigan Center, Morenci, Moscow, Mosherville, Napoleon, Onsted, Palmyra, Reading, Sand Creek, Somerset, Somerset Center, Tecumseh, Tipton, Waldron, Weston and the surrounding areas. But we couldn't provide the amazing service that makes us the leading agency in South Central Michigan without the work of our wonderful caregivers. We're always on the lookout for in-home care providers who have the experience and character needed to provide non-medical care and support to our clients.
Why Join the In-Home Caregiver Team at Visiting Angels South Central Michigan?
Visiting Angels South Central Michigan is a local and veteran-owned elder care agency that is committed to providing personalized non-medical living assistance services to elderly and disabled adults. As one of our home health aides, you'll be working closely with seniors and their families throughout the area to create care plans that meet your client's unique needs and schedule. If you enjoy making a difference in people's lives and getting the chance to improve someone else's quality of life, this is the perfect opportunity for you!
Additionally, we understand the importance of our team of professional senior caregivers, which is why we give our caregivers what they need to be successful. We offer competitive pay, mileage reimbursement for transporting clients, consistent scheduling, regularly available hours and ongoing professional development. Best of all, as a local home care agency, you'll have the opportunity to work close to home.
What Does Visiting Angels South Central Michigan Look for in Potential Home Health Aides?
We ideally hire caregivers who have at least two years of experience with providing in-home care for seniors. We're also looking for individuals who have a valid driver's license and auto insurance, as well as reliable transportation. We also thoroughly screen each and every applicant to ensure they're fit to care for our clients.
Once hired, our caregivers provide the following services to our clients:
Meal planning and preparation
Light housekeeping
Assistance with bathing, dressing, grooming and toileting
Medication and fluid reminders
Transportation and mobility assistance
Other non-medical senior care services as needed
If working with Visiting Angels South Central Michigan as a home health aide sounds like the perfect opportunity for you, check out our Job Board to see the positions we have available!
Serving Adrian, Jackson, Brooklyn and the Communities of Lenawee, Hillsdale and Jackson Counties throughout South Central Michigan
Visiting Angels
SOUTH CENTRAL MICHIGAN
3300 N Adrian Hwy
Adrian, MI 49221
Phone: 517-920-4254
Fax: 888-306-0434