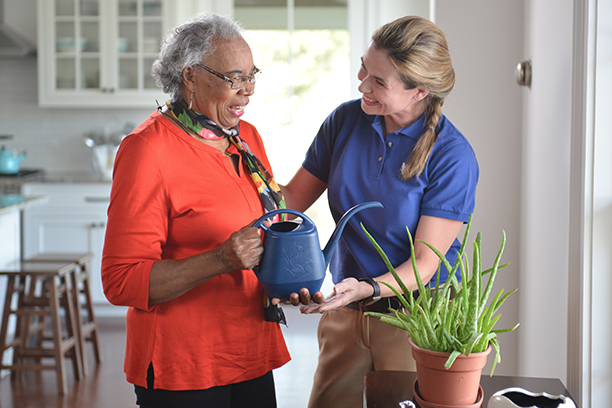 Home Care Costs in Spokane
We understand that it's important to consider cost along with quality when you're arranging for a loved one's care. At Visiting Angels Spokane, we strive to provide peace of mind in all aspects of our services, including the financial. Along with our commitment to high-quality and compassionate in-home care, we're devoted to offering reasonable rates so that families in the Spokane Valley area have access to the assistance they need.
From the services we provide to the pricing we offer, we're happy to work with you on customizing your plan. It's all part of our belief that cost shouldn't be a barrier to attaining the best care for someone you love.
How Much Does In-Home Care Cost?
The cost of in-home care may vary, as individuals may have varying needs. Because part of the Visiting Angels philosophy is to make senior assistance accessible to as many people as possible, we respect the unique requirements of the families we work with and design customized plans that meet both their needs and their means.
Creating a plan that works for you starts with our complimentary initial consultation. During the consultation, a Visiting Angels care coordinator with your loved one at his or her home to discuss personalized care needs. Personalized care means we create a unique plan of care for each of our care recipients, so we take the time to know your loved one's routines, challenges, preferences, and lifestyle. The meeting comes with no obligation on your part. Our goal is only to help you make informed decisions that enable your loved one to age in place with ease.
The personalized care plan helps us to determine the pricing for your in-home care services. We first consider your loved one's care level, which relates to the amount of assistance that he or she needs. Based on that, we can determine the appropriate level of care needed. Keeping affordability in mind, we can customize your loved one's care plan by adjusting the hours of service so that the total cost better aligns with your family's financial resources. Your care coordinator will clearly explain every detail of the pricing schedule so that it's fully understandable and more manageable.
Our flexibility toward pricing is part of our mission to provide our clients with peace of mind. We want to maximize the quality of care that seniors receive, entirely within budgets that work for them.
Are All Caregivers Certified in More Than One Specialty?
Yes. We take pride in ensuring that our caregivers at Visiting Angels Spokane are highly specialized in the various aspects of home care.
With such a qualified team, we're able to meet your loved one's unique needs while staying true to our commitment to affordability. The cost of your in-home service depends not on the number of caregivers who enter the home, but on the requirements of care and the hours you need.
What Kinds of Customized Plans Are Available?
At Visiting Angels, our care coordinators work closely with you and your family to identify the right services for your loved one. With the consultation guiding us, we are happy to help you navigate the range of affordable home care services we offer, such as:
Respite care is a service that offers temporary relief to family caregivers. Visiting Angels takes care of primary caregiving duties for as long as needed so that you or another family care provider can rest and recharge, with the promise that your loved one continues to receive quality compassionate assistance. Family caregivers play a valuable role in the lives of their loved ones, and it's important that they care for themselves as well.


Overnight care is available for seniors who may require assistance during the night. Our caregivers offer support with activities such as toileting, medication reminders, and safety assurance so that you and your loved one can feel secure knowing that care is available when needed.


Dementia care is a specialized service provided by trained caregivers who offer assistance and support to loved ones living with dementia. Sensitive to the unique needs associated with dementia, Visiting Angels caregivers provide personalized services to enhance the safety, comfort, and quality of life for care recipients.


Alzheimer's care focuses on meeting the specific needs of people living with Alzheimer's disease. Our caregivers are trained to help with daily activities, manage behavioral changes, provide memory care, and create a calming environment that fosters your loved one's well-being.
We also work with you to develop a payment plan so that in-home care remains accessible to your loved one for as long as necessary. Together, we can create a care program that fosters your loved one's comfort and ensures that assistance remains accessible to your family for as long as necessary.
What Are the Options for Paying for In-Home Care?
We at Visiting Angels Spokane offer options to make it easier for Spokane Valley families to pay for their loved ones' in-home care services. In addition to private pay, long-term insurance may cover tasks such as housework, meal planning and preparation, personal care, grooming, and medication reminders. The same tasks are also covered under assistance through the Department of Veterans Affairs (VA), as are activities like eating, bathing, toileting, and mobility assistance. We encourage you to get in touch with your LTC insurance provider or local VA chapter to learn more about your coverage.
While Visiting Angels does not accept Medicare or Medicaid, those programs may cover mobility assistance and support with activities of daily living with other providers.
Ready to Discuss Your Affordable Visiting Angels Care Plan?
Home care is about providing safety, comfort, and convenience to our loved ones in need, increasing their independence, and offering respite to family caregivers. We consider it an essential service, something that should never be outside of a person's reach. We welcome you to get in touch with us to learn more about Visiting Angels home care services. Call us or a message below to schedule your initial consultation. We look forward to building a relationship that allows us to provide the comfort, security, and care your loved one deserves.
Back to top
Serving Spokane, Spokane Valley and the Surrounding Areas
Visiting Angels
SPOKANE VALLEY, WA
708 N Argonne Rd #8A
Spokane Valley, WA 99212
Phone: 509-922-1141