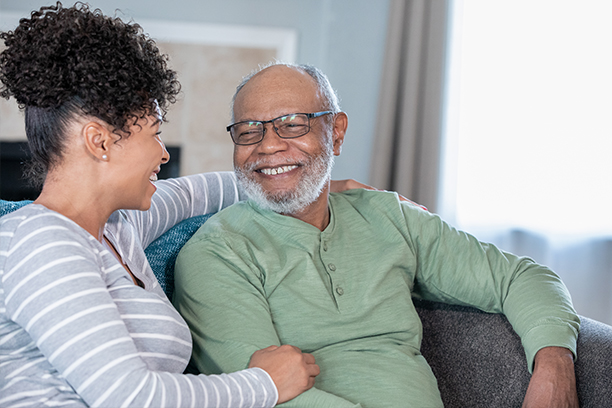 In Home Care Services | Visiting Angels Spokane
When a relative becomes elderly or frail, you may feel the need to choose between preserving their health and safety and allowing them to maintain their dignity and independence. Many seniors want to remain home as long as possible but require significant care to do so safely. Visiting Angels in Spokane, Washington, gives your loved one the best of both worlds by providing personalized, one-on-one home care assistance. Our exceptional caregivers have the specialized skills and strategies to provide the assistance your loved one needs to continue living independently at home.
What Is In-Home Care?
In-home care is an umbrella term that includes any professional service that helps someone who is aging, ill, or disabled to remain independent at home. In-home care providers may include therapists, nurses, nurse's aides, trained companion caregivers, and other professionals. Visiting Angels Spokane provides various home care services, whether your loved one needs help managing chronic conditions, regular companionship, or assistance with activities of daily living.
What Are the Benefits of In-Home Care?
A systematic review published by the British Medical Journal found that home visits significantly predicted lower mortality rates among seniors compared to study participants in the same age group who did not receive home visits. Studies in this meta-analysis also found that home visits reduced hospital readmissions among elderly adults, improved health status, and improved ability to perform activities of daily living.
In addition, research published by the Population Health Management Journal found that transitional home visits lowered the cost of care and reduced hospital readmissions for Medicare members. Authors of a study published by the Scandinavian Journal of Caring Sciences interviewed seniors about their home care experiences. Most respondents said these visits made them "feel empowered and recognized as a person," a powerful testimony to the importance of in-home elderly care services.
What Are the Different Types of In-Home Care?
Your family member could benefit from various forms of in-home care services. Common examples include:
Your loved one could thrive with home care even if it seems they're living well independently. Planning can be helpful, especially if your family member has recently been diagnosed.
Examples of In-Home Care Assistance
When you choose Visiting Angels Spokane to provide care for your loved one, you'll gain access to our full suite of home care services, including occasional helping-hand tasks and intensive 24-hour care. You can choose the services that suit your loved one's circumstances and rely on our exceptional caregivers to provide them with sensitivity and compassion.
Some of the home care services you can choose for your loved one from Visiting Angels Spokane include:
Transitional care to help your family member after a procedure or discharge from the hospital.
Respite care to bring relief to family caregivers feeling overworked or overwhelmed.
Memory loss strategies developed with the Alzheimer's Foundation of America.
Around-the-clock monitoring to prevent accidents and injuries.
Help with daily living, such as running errands, household chores, and meal preparation.
Meaningful companionship to help your loved one stay socially active.
The Centers for Disease Control and Prevention recommends services that help older adults remain independent, active, and involved in their communities for as long as possible.
In-Home Care Costs
Visiting Angels Spokane will provide a personalized quote after a free initial consultation to assess your family member's individual care needs. You can potentially save money since you'll only be paying for the specific services our caregivers provide.
What Insurance Covers In-Home Care?
Most private insurance plans pay for some level of in-home care. If your family member has this type of insurance, review the policy documents carefully to learn more about their home care coverage. Many private insurers follow the guidelines set by Medicare and Medicaid. Your loved one might also have long-term care insurance, which typically covers all types of home care. Here are some more details about potential Medicare and Medicaid coverage:
Visiting Angels Spokane is an in-home care agency that does not accept Medicare or Medicaid. However, we accept private pay, long-term insurance, and veterans assistance.

Medicare
If your loved one has Medicare Part A, they may qualify for home health care coverage. Generally, members must also qualify for medically necessary skilled nursing care through Medicare to be eligible.
Medicaid
Federal Medicaid rules require state Medicaid plans to cover in-home skilled nursing care for chronically ill and disabled individuals who cannot leave their homes unassisted. Many states, including Washington, have expanded coverage that pays for personal care services such as help with activities of daily living.
Personalized In-Home Care
Visiting Angels offers customized care to fit the needs of every senior. From in-person home consultations to a compassionate caregiver, let our professional team provide for your loved one as they age in place. We ensure their care plan suits their needs by letting you choose not only which services you would like your relative to receive but when and how often. We'll also select your caregiver with your relative in mind by choosing a team member whose personality, skills, and availability suit your loved one best. Call Visiting Angels Spokane to schedule a free in-home consultation today.
If you prefer us to contact you, fill out the form on our website.
Back to top
Serving Spokane, Spokane Valley and the Surrounding Areas
Visiting Angels
SPOKANE VALLEY, WA
708 N Argonne Rd #8A
Spokane Valley, WA 99212
Phone: 509-922-1141