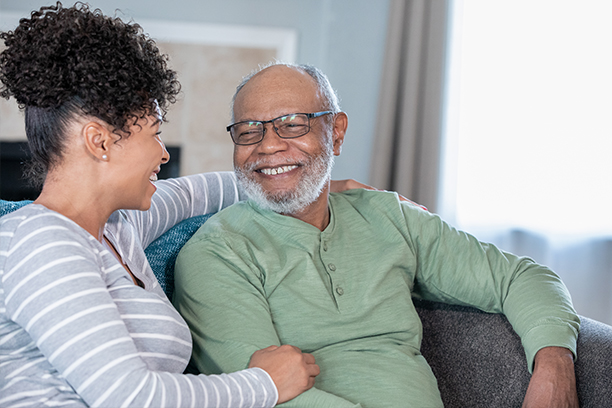 Elderly Companion Care | Visiting Angels Spokane
To countless seniors throughout the Spokane, WA, area, Visiting Angels is a valuable resource for elderly care. When families need assistance for a treasured loved one, they know they can depend on us for compassion and professionalism. In this guide, we'll show you how senior companion care could help your family member remain happy, healthy, and independent at home.
Senior Companion Care Services in Spokane
Our agency is dedicated to providing quality assistance to the elderly and disabled members of our community. Visiting Angels Spokane offers a range of elderly companion care services that can include the following:
Medication reminders
Fall prevention
Walking and transferring
Vacuuming and laundry
Meal preparation
Joyful companionship
Grocery shopping
Transportation to appointments
Help running errands
Personal hygiene aid
We create customized care plans designed to suit each client's individual needs and preferences. We don't believe in forcing our clients to conform to a predetermined list of services. Instead, we talk to your loved one to find out what types of assistance would benefit them most and work with family caregivers to create a corresponding schedule of home visits.
What Is Companion Care?
Companion care providers do much more than help with activities of daily living, although they do assist as needed in this area. They serve as a friendly person who will create a genuine companion connection with your family member, and they provide the social and emotional support seniors need to maintain good physical and mental health. Companion caregivers focus on being a compassionate shoulder to lean on and a hand to hold.
Companion care does not include skilled nursing care or personal care. While these caregivers help with some health needs like medication reminders, they're primarily kind friends that keep your family member safe at home. Some of the main benefits of companion care include:
Better physical health due to support in preparing nutritious meals and exercising at home
Help attending events outside the home, such as worship services, meals with friends, community meetings, and hobby clubs
Longer expected lifespan
Enhanced independence so your loved one can age in place without the need to move to an assisted living or nursing home facility
Lower levels of isolation, especially among seniors who don't drive or have trouble getting around
Lower risk of injury from safety issues such as falls
Peace of mind for both your loved one and the rest of your family
Regular conversation, which helps keep seniors mentally healthy and connected to the world around them
According to the National Academies of Science, Engineering, and Medicine, people who suffer from social isolation and loneliness have a higher risk of factors contributing to premature death, such as obesity, smoking, and high blood pressure. In addition, Harvard Health Publishing reports that social isolation has a negative impact on memory and other critical cognitive skills. Having a companion caregiver stay with your loved one as needed can help reduce the chance of these serious mental and physical health complications.
How Much Does Companion Care Cost?
Your loved one's companion care journey starts with a free initial consultation. Payment varies based on each person's level of need, lifestyle, requested activities, frequency of visits, and other factors.
Lifestyle Adjustments
Nonmedical senior companion care can help older adults in many different lifestyle situations. You might want to consider this type of caregiver for your family member if they're in a time of transition. For example, they may benefit from social support if they've recently lost a loved one, they no longer live close to relatives, or if they recently spent time in a hospital or long-term care facility because of a health condition or surgery.
Does Insurance Cover Companion Care?
Some private health insurance plans do cover companion care. Your loved one may have this type of coverage if they have a plan that includes long-term care. Review the policy documents to find exactly what the health plan covers, or reach out to an insurance agent for help.
Visiting Angels Spokane is an in-home companion care agency that does not accept Medicare or Medicaid. However, we accept private pay, long-term insurance, and veterans assistance.


Medicare
Medicare does not pay for companion care, although they do provide home health services for members who cannot leave their home due to a chronic health condition or disability. Your loved one may be eligible for home health benefits if they also need skilled nursing services, ongoing physical or occupational therapy, or speech-language services.
Medicaid
Most Medicaid plans cover some form of in-home care. Your family member may qualify if they receive Medicaid, which covers individuals who have low income or a disability. Although coverage varies by state, Washington has a Medicaid Personal Care Program that pays for these services. Under this program, your family member can select an agency to provide in-home care as needed, including companion care. This will enable them to receive help with activities of daily living, transportation, meals, and housekeeping duties.
How To Get Started With Companion Care Today
You can begin building your loved one's personalized care plan when you reach out to the staff at Visiting Angels Spokane today. We will tailor our flexible elderly-companion care to your family member's needs, whether they have an active lifestyle or limited mobility. We help clients who need around-the-clock attention, as well as people who would simply like to have company at home. The best part is that your loved one won't have to change their current routines in order to receive our services. We have caregivers available to help your loved one at any time, day or night.
Free Consultations for All Families
Visiting Angels Spokane offers free elderly care consultations. When you call our agency, we can schedule an assessment for your loved one at their convenience. We'll even come directly to your loved one's home so they don't have to go out. Reach out to us today at to get started.
Back to top
Serving Spokane, Spokane Valley and the Surrounding Areas
Visiting Angels
SPOKANE VALLEY, WA
708 N Argonne Rd #8A
Spokane Valley, WA 99212
Phone: 509-922-1141