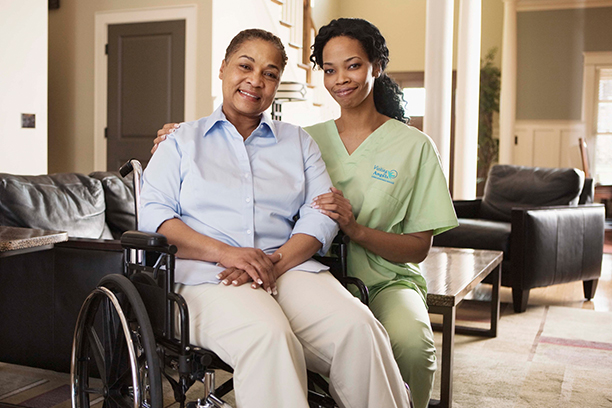 Long Distance Elderly Care in Spokane
If you have older relatives living in the Spokane, Washington, area who wish to remain living safely and comfortably at home, consider Visiting Angels Long-Distance Care services. It's not uncommon for families to live in different parts of the nation or world yet still want high-quality home care for their loved ones.
When you live more than an hour away from your loved ones, you're considered a long-distance caregiver. You'll often need help with the care of your older family members so you can have peace of mind that they have their needs met and get friendly and compassionate companionship at home.
What is Long-Distance Caregiving?
Long-distance caregiving is designed for families who live more than an hour away from the Spokane area and yet require home care for their older family members. Older adults often want to remain at home instead of moving to an assisted-living facility, and having professional in-home caregivers can give you the assurance they are taken care of when it's difficult for you to visit or take care of them.
Adult children who work long hours find it difficult to carry out their caregiving duties from afar. Communication with those living at home alone or with an older spouse can be challenging, especially when there are hearing issues or difficulties using modern technology. However, a professional caregiver who regularly checks in on your older relative can communicate with you, provide meals and care for the relative's personal needs, and help arrange transportation to and from medical appointments. In-home respite care from Visiting Angels is the perfect solution for your long-distance caregiving challenges.
What are Some Strategies for Long-Distance Caregiving?
Our mission at Visiting Angels Spokane is to make your long-distance caregiving duties easier on you and beneficial to your older relative who wishes to remain living at home. Strategies and benefits of using our in-home care include:
Consulting with you by phone or email about our services, and answering any questions that come up along the way.
Arranging phone consultations with other concerned family members.
Scheduling an in-person visit with your loved one at his or her home.
Designing a customized care plan that is perfectly tailored to suit your loved one's care requirements, lifestyle, and preferences.
Matching the senior with one of our compassionate care providers after taking important factors into account, such as personalities, scheduling preferences, and care needs.
Keeping you up to date about the caregiving process and the well-being of your loved one.
Contacting you immediately in the case of unusual behaviors or physical changes.
Checking in regularly with local caregivers and their care recipients to ensure we're always providing services that adhere to our sky-high standards.
Making it easy for you to reach us at any time of day on our after-hours phone line.
Communication Is Key
Because of the challenges of long-distance caregiving, communication is essential between you and the local caregiver. Our qualified and competent caregivers at Visiting Angels Spokane keep you frequently updated on your older relative's day-to-day needs, how they're progressing from an illness, whether they need further medical attention, and other information so you can be assured your loved one is cared for, safe, and comfortable in their own home.
Our caregivers will keep all involved family members updated with clear and transparent information. Update you and other family members with the types of meals your loved one is eating, how well they're sleeping, and any changes to their medications or routines. We believe this communication is the key to a healthy relationship between you as the long-distance caregiver and the local caregiver. They're your family, so we treat them like our family.
Does Insurance Cover Long-Distance Care?
Health insurance plans such as Medicaid and Medicare cover some aspects of long-distance care based on select requirements or criteria.
Please keep in mind that Visiting Angels Spokane doesn't accept Medicaid or Medicare. We do accept private pay, long-term insurance, and veterans assistance.
Medicaid
Individual states have different criteria regarding insurance for long-distance care. In the state of Washington, an individual can get respite care under the Home and Community-Based Care Services waiver program called the Community First Choice Medicaid program. Requirements include:
Being 65 years or older.
Having the need for assistance with daily living.
Earning less than $2,742 per month before taxes ($3,715.50 per month for a married recipient whose spouse isn't applying for benefits, or $5,484 per month for joint recipients).
Having no more than $2,000 in assets ($3,000 for joint recipients).
Medicare
Medicare is a federal health insurance program, and a Medicare policy will cover respite care if the person is 65 years or older and in hospice care. A doctor must certify that the individual isn't expected to live more than six months due to a terminal illness. People who qualify for Medicare's hospice program are getting palliative or end-of-life care and not a treatment for their illness.
How Visiting Angels Can Help in the Spokane Area
Getting started with long-distance caregiving begins with giving our Visiting Angels Spokane office a call for a free consultation. The Visiting Angels approach to long-distance caregiving includes comprehensive home care based on each individual's needs. We provide comprehensive, personalized home care services ranging from occasional help with tasks to 24-hour care. Once we come to your family member's home and meet with you and your older relative, we'll build a customized plan that can help ensure your loved one has the help they need in a supportive home lifestyle.
Learn more about setting up long distance elder care for a loved one today. Just call Visiting Angels Spokane for details about how we support seniors in Spokane, Spokane Valley, Valleyford, Veradale, Mica, Millwood, and communities in the surrounding areas.
Back to top
Serving Spokane, Spokane Valley, Millwood, Veradale, Valleyford, Mica and Surrounding Areas.
Visiting Angels
SPOKANE VALLEY, WA
708 N Argonne Rd #8A
Spokane Valley, WA 99212
Phone: 509-922-1141