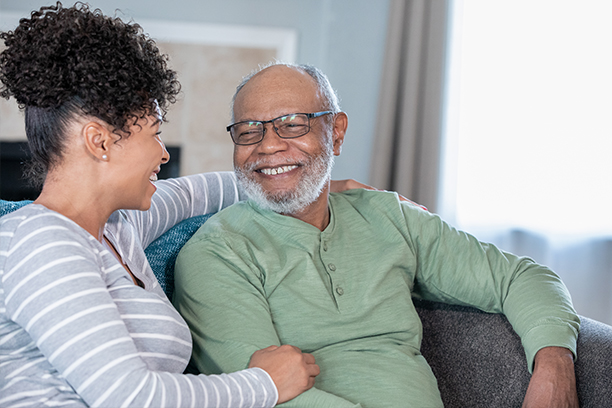 In Home Respite Care Services | Relief for Caregivers in Spokane, WA
As our loved ones age, they may need assistance with everyday tasks, especially in times of sickness or injury. In these cases, friends and family members often take on the role of caregiver. Caregiving can be a challenging but noble position that allows seniors to live as independently as possible in their own homes. Many caregivers, though, come to overlook their own rest, health, and personal obligations to fulfill their duties to their loved ones, which can impact the quality of care they're able to provide.
Just a small period of recuperation can make all the difference in restoring well-being and balance.




What Is Respite Care?
Respite care is a service that offers a period of respite, or temporary relief, to a caregiver. Caregivers commonly take on numerous important responsibilities to ensure their loved ones enjoy as much self-reliance and dignity as possible. Their duties may include helping with activities of daily living, housekeeping, monitoring, and providing companionship. Though caregiving is an important and rewarding endeavor, it requires the commitment of your energy and time. Balancing duties with personal needs can prove challenging to many individuals who take on these responsibilities.

That's why it's so important for caregivers to receive some help. With respite care, trained visiting angels caregivers share in the caregiving responsibilities, providing you with a well-deserved break and allowing you to pay attention to your well-being. It helps you reclaim your time, reinvigorate yourself, and continue to give high-quality care to your loved one when you return.
The respite period can be as brief as a few hours or as long as several weeks. The specific length can vary, depending on how much rest you need to restore yourself. Throughout this time, you can rest assured that your loved one receives quality care from our experienced and considerate visiting angels caregivers.
Examples of Respite Care
Respite care returns to you, the primary caregiver, a valuable resource: time. Time you can use to spend quality moments with family and friends, run errands and meet appointments, and focus on your pursuits and needs. During that time, our in-home caregivers do all they can to meet the care needs of your loved one with services, such as the following:
Shopping for groceries
Cooking regular meals
Running errands
Completing household chores, like cleaning and laundry
Participating in pastimes and hobbies
Medications reminders
Providing companionship and conversation
Repositioning and moving patients with mobility issues to ensure optimal comfort
Ensuring patients get time outdoors
Helping with personal care routines, including activities of daily living
Does Medicare or Medicaid Cover Respite Care?
Being able to pay for services such as in-home caregiving is a common concern, and it's important to find high-value care at an affordable cost. Some of your senior loved ones may have coverage under Medicare or Medicaid, and you may be wondering whether these programs can help pay for respite care.
Visiting Angels Spokane is a in-home care agency that does not accept Medicare or Medicaid. However, we accept private pay, long-term insurance, and veterans assistance.
Medicare
Medicare, the federal health insurance coverage for those aged 65 or older, covers respite care when it is part of a recipient's hospice care. An individual is eligible for hospice care when a physician and a hospice doctor certify the individual isn't expected to live past six months because of a terminal illness. It's also a requirement for the person being evaluated to verify that they've accepted palliative care instead of treatment for their illness.
Medicaid
While individual states determine what services Medicaid may cover, most states include respite care under the Home & Community-Based Care Services waiver program. One state that offers this program is Washington. Its Community First Choice (CFC) Medicaid program provides various services to senior Washingtonians, including at-home respite care. In addition, they may receive personal care assistance, assistive technology, opportunities to choose their care providers, and other benefits to help them maximize their independence.
To be eligible for Washington's CFC program, residents fulfill these requirements:
Be over 65 years old
Demonstrate the need for assistance in their activities of daily living
Earn less than $2,742 per month before taxes ($3,715.50 per month for a married recipient whose spouse isn't applying for benefits or $5,484 per month for joint recipients)
Have no more than $2,000 in assets ($3,000 for joint recipients)
Does Visiting Angels Have a Respite Care Facility?
Visiting Angels Spokane does not have a dedicated respite care facility. Our providers administer in-home care services that allow for healing in an environment that's comfortable and familiar to each patient. If you live in Spokane, Mica, Millwood, Spokane Valley, Valleyford, Veradale, or a nearby town, we travel directly to you and remove the burden of transport from your responsibility
We cater to your loved one's needs at the place and time of your choosing, whether for the short term or on a more frequent basis. Visiting Angels Spokane also offers our services at assisted-living facilities, supplementing staff-based care to ensure your loved ones receive consistent, personalized attention when providers cannot.
Getting Started With Respite Care Services
Finding a care provider for a family member can be tough, but you don't have to do it alone. You want to be sure that your loved one will receive the attention and compassion they need, desire, and deserve. If you're a family caregiver who values personal time and wants to secure additional high-quality care for a senior loved one, we encourage you to learn more about the possibility of beginning respite care with Visiting Angels Spokane.
Book Your No-Cost Care Consultation
Call Visiting Angels Spokane today to book a free in-home care consultation! From respite care to dementia in-home care services. Let us show you how we can meet your needs and those of the people you love most.
Back to top
Serving Spokane, Spokane Valley and the Surrounding Areas
Visiting Angels
SPOKANE VALLEY, WA
708 N Argonne Rd #8A
Spokane Valley, WA 99212
Phone: 509-922-1141