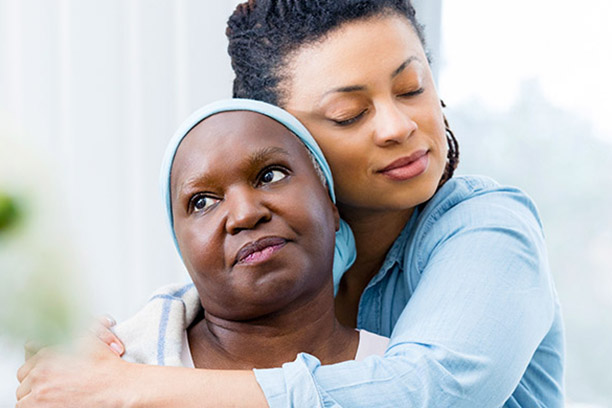 Compassionate End of Life Care In Spokane
Choosing end-of-life care is a difficult decision for families whose loved one has a terminal illness. If you have a loved one who is terminally ill and wishes to forgo curative or end-of-life treatment, consider having a Visiting Angels Spokane caregiver come to their home to provide comfort, care, and companionship in their final days. Having in-home end-of-life care for your loved one can give you peace of mind that your relative is comfortable and cared for while remaining in their home rather than going to a nursing facility or hospital to pass.
What Is End-Of-Life Care?
End-of-life care provides physical and emotional support during the final stages of life so you and others can spend meaningful time with your loved one.
End-of-life care is given to a terminally ill person who doesn't have long to live. Most people who want end-of-life care have stopped treatment for their illness and wish to pass away naturally. Caregivers who provide this service look after and comfort the dying person while relieving family members of the stress of watching over their loved one as they near death. During this time, family members have a chance to say goodbye to their loved one, knowing that they will pass away as comfortably as possible due to the high-quality end-of-life care they're receiving.
An end-of-life caregiver can assist with personal tasks, such as dressing, bathing, and daily hygiene. Other benefits of end-of-life support for your loved one include:
Enhancement of physical, emotional, and spiritual well-being.
Maximization of comfort and quality of life.
Alleviation of feelings of loneliness, stress, and anxiety.
How To Decide When End-of-Life Care Is Needed
Family members must discuss the decision to bring in end-of-life caregivers with the doctor or health care providers. Everyone will need to come to a mutual decision on whether to keep their loved one at home for their end-of-life care or have them go to an assisted medical facility for their last days. This is a deeply personal matter that needs thoughtful consideration.
Many factors affect this decision, including how much pain the dying person is in, whether they want to pass at home or would feel safer in the hospital or a medical facility, and how aware they are. In cases of dementia or Alzheimer's, your loved one may need round-the-clock care, depending on the stage of their disease. Ultimately, seeking advice from your loved one's doctor and family members will help you decide whether to pursue end-of-life care.
Visiting Angels Spokane can provide valuable in-home end-of-life care for those with terminal illnesses who wish to pass away at home.
Is Palliative Care Similar to End-of-Life or Hospice Care?
In-home hospice and end-of-life caregivers provide comfort and care for people who are terminally ill and generally have less than six months to live. Individuals with terminal illnesses in hospice or end-of-life care are not seeking any curative treatments and wish to pass away in the comfort of their own homes. These patients often receive end-of-life nursing, as well as home care services. In contrast, individuals receiving palliative care are ill but not necessarily terminally ill and are usually undergoing treatment for their illness or disease.
Does Insurance Cover End-of-Life Care?
Visiting Angels Spokane is an in-home care agency that does not accept Medicare or Medicaid. However, we accept private pay, long-term insurance, and veterans assistance.


Most insurance plans cover some portion of end-of-life care. The following is a summary of some of the main providers' end-of-life care coverage:
Medicaid
Medicaid will offer end-of-life coverage if the patient's doctor has certified that the individual has a terminal illness and only has six months to live. The patient must not be undergoing any curative treatment. It's best to contact Medicaid to understand the benefits and criteria fully.
Medicare
Medicare also provides in-home hospice or end-of-life care when certain requirements are met. To receive Medicare end-of-life coverage, the patient must be terminally ill, expected to live no longer than six months, and signed up for Medicare Part B of the Medicare plan.
How To Talk About End-of-Life Care
Once the family decides that in-home end-of-life care is needed, you'll want to ask your loved one some important questions, such as:
What matters most to you at the end of your life?
Who will be the family member to speak for you?
Are there treatments you want or don't want?
Do you want to spend your last days at home?
Who do you want to be surrounded by?
In addition, it's important to seek financial and legal advice to assemble documents such as power of attorney, medical directives, and a living trust. If you haven't already done so, make burial or cremation plans so you don't have to cope with making those decisions after the death of your loved one.
Depending on the size of the family, it's important to have a primary decision-maker who can speak for the dying person. During times of grief and sorrow, it can be challenging to make decisions, and having one person as a secondary decision-maker will help ensure that your dying loved one's wishes are met.
Family members can benefit from grief support groups or counseling during the dying stages and after death. It's also important to take care of yourself during the later stages of your loved one's end-of-life care by getting enough sleep, eating nutritious meals, and exercising, even if the sorrow is deep.
Taking time to say goodbye is equally important to both you and the dying person. As painful as it is, you don't want to regret that you weren't able to say goodbye while your loved one was still alive. Even if your loved one is unresponsive, they may still hear your voice and feel the sentiment in their heart. Touching the person can help reassure them of your presence.
How Visiting Angels Can Help With End-of-Life Care in Spokane
Our caregivers at Visiting Angels Spokane are dedicated to helping your loved one feel comfortable at the end of their life in their own home. We care with compassion and warmth so your family member experiences love and dignity during their final days.
Call today to schedule a free consultation to discuss the end-of-life care options that best suit your loved one's needs. We also offer various home care services, ranging from companion care to dementia care. We look forward to helping you and your loved one with all your in-home care needs.
Back to top
Serving Spokane, Spokane Valley and the Surrounding Areas
Visiting Angels
SPOKANE VALLEY, WA
708 N Argonne Rd #8A
Spokane Valley, WA 99212
Phone: 509-922-1141