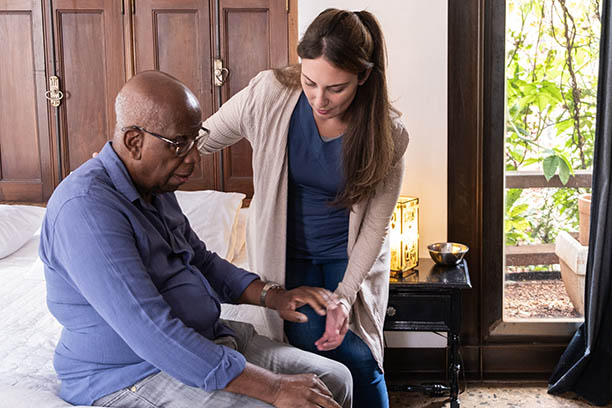 Palliative Care at Home
Palliative care is a specialized approach to support and relieve individuals with chronic conditions by managing their physical, emotional, social, and spiritual well-being and comfort. The goal of palliative care is to enhance their quality of life and offer peace of mind to their families.
Many think palliative is only associated with hospice or end-of-life care. However, key differences between palliative and hospice care exist.
Your loved one may benefit from palliative care if they have one or more of these conditions:
Cancer.
Chronic obstructive pulmonary disease (COPD) and other lung diseases
Congestive heart failure.
Alzheimer's disease and other forms of dementia.
Emphysema.
Kidney Failure.
Liver Failure.
Neurological diseases such as Parkinson's or Lou Gehrig's disease (also called amyotrophic lateral sclerosis, or ALS).
We provide palliative care in the patient's home with a holistic approach that incorporates nonmedical care services, such as:
Physical: Providing measures that support comfort and pain relief.
Emotional: Teaching techniques to cope with complex emotions, such as anger, depression, and anxiety, to support the development of a sense of purpose and a positive outlook.
Social: Creating close relationships, companionship, and meaningful conversation to help relieve feelings of loneliness and isolation.
Spiritual: Creating an overall sense of purpose while assisting families to find peace of mind during a challenging time.
What Is the Difference Between Palliative Care and Hospice Care?
People often confuse palliative care with hospice care, which patients receive at the end of life. Although they have some similarities, it is essential to understand the key differences between palliative care and hospice care. Both palliative and hospice care focus on keeping the person comfortable and improving their quality of life. However, hospice care doesn't start until an individual decides to stop curative treatments for a terminal condition. In comparison, your family member can receive palliative care even while receiving treatments for their chronic health concerns.
Is Palliative Care a Bad Thing?
Many families avoid looking into palliative care because they believe it means they have given up hope for their loved ones. In fact, palliative care is available for people with severe chronic conditions who expect to live for several years. These services help seriously ill individuals maintain physical, emotional, social, and spiritual well-being, whether or not they have a terminal diagnosis.
Families report reduced anxiety and stress when they know their loved one has one of our Visiting Angels to assist with personal care needs and ensure they stay as comfortable as possible. Palliative care provides peace of mind when you can't physically be with your ill relative.
How Long Can an Individual Use This Service?
You can access palliative services from diagnosis until end-of-life care without any time limit. You can start or stop the services as needed, depending on changes in symptoms. Palliative care may benefit if medical professionals diagnose your loved one with an acute or chronic health condition, there has been a decline in their cognitive or functional abilities, they require frequent hospitalization, or need assistance managing pain and other chronic illness symptoms.
What Are the 5 Stages of Palliative Care?
Many caregivers refer to the five stages of palliative care, a model that helps families prepare for the future when a member has a chronic or terminal illness. These five stages include:
Planning:
The patient and their family members work with our team to create an end-of-life care plan that honors the person's wishes, preferences, and concerns.
Emotional preparation:
The patient and family receive emotional and spiritual support to cope with the many feelings that arise with this type of medical diagnosis. Our palliative care team may work with religious or spiritual representatives, counselors, social workers, and other members of your loved one's support system.
Early-stage care:
The patient receives necessary treatments at home so they can stay as independent as possible. Our palliative care team can help your family access medical devices and equipment.
Late-stage care:
The team keeps the patient comfortable and may introduce new services as needed as the disease progresses. Your loved one will often receive both hospice and palliative care at this stage.
Bereavement care:
Our caregivers will provide support for your family during your loved one's final days and throughout the grieving process.
Does Insurance Cover In-Home Palliative Care?
Visiting Angels Spokane is an in-home care agency that does not accept Medicare or Medicaid. However, we accept private pay, long-term insurance, and veterans assistance.

Medicaid
Medicaid plans in some states include hospice benefits for terminally ill members. Covered services that fall under palliative care include counseling for the patient, family, and caregivers, along with homemaker services.
Medicare
If your family member has Medicare Part A, they have similar coverage for hospice care. As with Medicaid, many of the services included in this plan fall into the palliative care umbrella.
Veterans Assistance
VA offers home-based primary care as well as homemaker and home health aide services for eligible veterans. Home-Based provides comprehensive primary care services for veterans with complex medical needs who are homebound, while Health Aide services offer assistance with activities of daily living, such as bathing, dressing, and meal preparation.
How Visiting Angels Can Help
Our Visiting Angels caregivers go through a unique nonmedical Palliative Care Certification Program where they learn how to deliver compassionate comfort care that addresses the four services mentioned above for improving and enhancing the quality of life for people with chronic illnesses. They also explore the five stages of palliative care, also outlined above, so they can follow this model when visiting patients and family members.
Upon completion of their training, they're prepared to provide day-to-day comfort and support for your loved one along with other care providers, which may include doctors, nurses, social workers, nutritionists, massage therapists, pharmacists, chaplains, and home health care providers.
If you have a loved one who is living with a chronic condition in Spokane, WA, contact your local Visiting Angels home care office to learn more about our compassionate approach to in-home palliative care.
To begin, a Visiting Angels care coordinator provides your family with a complimentary home care consultation. This allows us to gain insight into your loved one's requirements and helps you comprehend the services our skilled and empathetic caregivers can offer. With input from you and your loved one, we will develop a personalized plan to enhance their comfort and overall well-being.

Back to top
Serving Spokane, Spokane Valley and the Surrounding Areas
Visiting Angels
SPOKANE VALLEY, WA
708 N Argonne Rd #8A
Spokane Valley, WA 99212
Phone: 509-922-1141