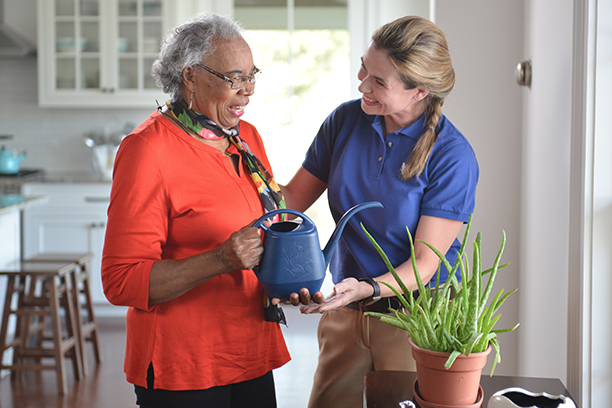 About Visiting Angels Spokane
At Visiting Angels, we take pride in helping Spokane County seniors live more comfortable and enjoyable lives at home. Our mission is to personalize the experience so that every one of our care recipients has the support needed to thrive. Discover how our distinctive approach and array of services can benefit you and your loved one in need.
Who Are We?
Visiting Angels Spokane is a caregiving agency that specializes in home care. The goal of home care is to support seniors who choose to age in place, or continue living at home throughout their golden years. For many, home is the most familiar and most comfortable environment they know. Being there helps them feel safer and happier because of the memories they've made and the connections they have to their community. It also gives them the freedom to live as they wish, contributing to a healthy sense of identity and pride.
How Is Visiting Angels Different?
The Visiting Angels approach to home care is about providing more than just help with day-to-day tasks. We understand the role of happiness in creating a higher quality of life, so we emphasize compassion and kindness for the seniors we serve. We also understand the importance of finding a caregiver who's a good fit for both you and your loved one in need. That's why our care coordinators focus on building trust and creating a personalized experience from the beginning.
We start with a free in-home assessment that lets us learn about your loved one's unique needs and preferences. The assessment forms the foundation of the care plan we create and guides us when we choose the caregiver who will be working with your loved one. We take pride in making sure that personalities align so that the ingredients for a strong and lasting care relationship are in place.
What Care Services Do We Provide?
When you welcome a Visiting Angels caregiver into your life, you enter a relationship built on trust and the promise that your loved one's needs will be met. In working toward our promise, every care plan we create is personalized to the individual, with customizable services designed to meet his or her unique requirements.
Below are the various services we provide, which you may want to consider for your loved one's care:
In-Home Care
With in-home care, a capable and compassionate care provider visits your loved one in an environment that is familiar and reassuring — his or her own home. All of the services we offer at Visiting Angels Spokane are in-home services, as we believe aging in place provides the most comfort and highest quality of life for seniors.
Personal Care
Personal care, also known as private duty care, is about ensuring that seniors have a supportive companion to help them complete daily tasks while aging in place. Assisting with activities such as dressing, bathing, grooming, and eating, a personal caregiver helps your loved one maintain an empowering level of independence and a more enjoyable quality of life.
Respite Care
Family caregivers play an essential role, but they too need rest and time to themselves. The Visiting Angels respite care service gives family caregivers the breaks they deserve to recuperate for as long as they need.
Social Care
Our social care service helps seniors fulfill the need to enjoy genuine connections with other people. We promote social interactions through technology, allowing your loved one to stay in touch with family and friends from the comfort of home.
Dementia Care
For seniors with dementia, it's especially important to help them feel safe at home. The Visiting Angels dementia care service helps achieve a sense of safety by creating an assuring, secure environment and providing attentive support for your loved one's physical and emotional needs.
Companion Care
Socialization is important for fostering mental and emotional well-being. With companion care, seniors not only receive assistance with daily activities but also have a friend who's there for them when they need an ear to listen or a shoulder to hold them up.
Palliative Care
If you have a loved one living with a terminal illness, our palliative care service can help. We've designed it to help enhance their quality of life and offer peace of mind to their families. Our caregivers work closely with healthcare providers to maximize comfort.
Ready-Set-Go Home
The Visiting Angels Ready-Set-Go Home program is a transitional care service that caters to seniors returning home from the hospital. Our caregivers help ensure safety by preparing care recipients for discharge, assisting with routines, helping them follow the instructions of their healthcare providers, and setting reminders to keep pace with the recovery plan. By taking these measures, we can reduce the risk of hospital readmission.
Long-Distance Caregiving
A long-distance caregiver is a family member who lives more than an hour away from the care recipient. Because distance affects the ability to administer care, we offer a long-distance caregiving service in which a care professional takes the place of the family caregiver as needed. We maintain active lines of communication to keep everyone well-informed about the care recipient's progress.
Alzheimer's Care
The goal of the Visiting Angels Alzheimer's care service is to provide a higher quality of life for those who are living with Alzheimer's, a disease that affects a person's memory and ability to perform everyday tasks. Our service also offers valuable support to the friends and family members of the care recipient as they experience the unique emotional challenges of seeing a loved one progress through the disease.
How Can You Begin Services With Visiting Angels Spokane?
If you'd like to begin home care services for someone in your life, we welcome you to reach out online or to call us below to set up your free consultation. A care coordinator will be happy to schedule an at-home visit so that we may begin to understand how best to serve your family. Your loved one's comfort is our priority, and we'll make every effort to ensure it, each step of the way.
Back to top
Serving Spokane, Spokane Valley, Millwood, Veradale, Valleyford, Mica and Surrounding Areas.
Visiting Angels
SPOKANE VALLEY, WA
708 N Argonne Rd #8A
Spokane Valley, WA 99212
Phone: 509-922-1141