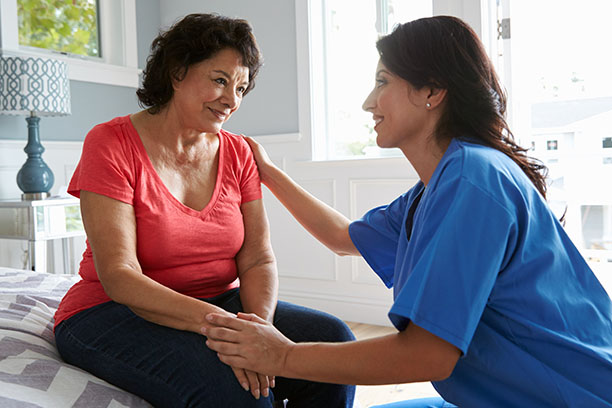 Dementia Care Services | Visiting Angels Spokane
When someone you love is diagnosed with Alzheimer's disease or another form of dementia, you might feel unsure about how to move forward. Is your family member still safe at home, or do they need to enter a nursing home? If they remain home, who'll provide the necessary care as the disease progresses?
If you're struggling with these questions after learning that a parent, spouse, or loved one has Alzheimer's disease or dementia, you can turn to your local dementia care experts at Visiting Angels Spokane, WA for guidance and support. We offer comprehensive and compassionate care services to families in the Spokane, Spokane Valley, Mica, Valleyford, Veradale, and Millwood areas. So people with dementia can maintain their dignity and independence. With our help, you can rest assured that your family member is safe and comfortable at home.


Dementia Home Care Specialists in Spokane
At Visiting Angels Spokane, we believe that successful dementia care requires a personalized approach. We customize each client's care plan to reflect their unique needs, interests, and preferences. First, we work with your family to select one of our several different home care programs so your loved one will receive the appropriate level of care. Our professional caregivers can:
Provide transportation and support for medical and therapy appointments.
Plan and prepare healthy meals that meet your family member's nutritional needs.
Provide uplifting companionship and emotional support.
Monitor the person's safety at home so they don't wander away or get hurt.
Assist with transition and travel planning as necessary.
Once you've selected the necessary services, we help you schedule caregiver visits so they integrate seamlessly with your relative's existing routine. This maintains consistency and stability as your family member gets used to someone new.
Examples of Dementia and Memory Care
In-home memory care uses activities and routines to help your family member feel safe, comfortable, and confident. Our professional caregivers may take the following approaches:
Playing the person's favorite music and talking with them about the happy memories they have when they listen to songs they enjoyed in the past.
Looking at photographs of historic events and reading or watching stories about the past together.
Watching home movies and hearing stories about the person's friends and loved ones.
Working on puzzles or brain games that provide an appropriate level of challenge for your family member's abilities.

Helping the person express their emotions and memories.
They'll try different activities based on your loved one's interests to create a personalized routine that brings comfort and joy to their days.
Home Tips for Families Caring for a Loved One with Dementia
The demands of caring for a family member with dementia may leave you feeling overwhelmed. You need support from others, especially if you're the sole caregiver. In addition to reaching out to other relatives and local resources for assistance, try these important tips for home caregivers:
Avoid correcting loved ones who have dementia, even when they aren't right about names, dates, and other facts. Responding agreeably whenever you can say "yes" safely can prevent your family member from becoming agitated or upset.
Establish a routine. People who have dementia often feel more comfortable when they eat, bathe, dress, and do other activities at the same time each day.
Help them get enough exercise, even if they can only take a short walk each day. Physical activity may slow the progression of dementia symptoms.
Distract the person with something positive. This diversion technique can keep your loved one calm if they begin to get agitated, upset, or confused.
Let your loved one lead the way if they want to do certain things independently. You can step in if a safety or health concern arises.
Speak to the person gently. When providing care, explain what you're doing during each part of the process even if you aren't sure whether they understand.
Does Insurance Cover In-Home Dementia Care?
Many private health plans pay for some form of memory care, but the coverage varies by provider and specific plan. Your loved one may have or qualify for Medicare or Medicaid, which can also help with memory care expenses, including home care services.
Visiting Angels Spokane is a in-home care agency that does not accept Medicare or Medicaid. However, we accept private pay, long-term insurance, and veterans assistance.
Medicare
People who are at least 65 years old qualify for this federal health insurance program, managed at the state level. Your family member might also get Medicare before they turn 65 if they have received Social Security disability insurance (SSDI) benefits for at least 24 months. Medicare plans pay for inpatient care in a hospital setting. They may also cover prescription drugs, medical equipment, and physician fees.
Home care services covered under Medicare typically include only medically necessary rehab and skilled nursing therapies. Medicare doesn't pay for assistance with activities of daily living. Your family member can pay for a Medigap plan that fills in the gaps in Medicare coverage.
Medicaid
Unlike Medicare, Medicaid plans may provide coverage for activities of daily living for people who have Alzheimer's disease or dementia. This program pays for a portion of both inpatient and outpatient hospital services, nursing home services, skilled nursing services, home health services, and physician care.
Get In-Home Memory Care Services for Loved Ones With Dementia
When a loved one faces a dementia diagnosis, the disease impacts the entire family. You need comprehensive support, including such resources as respite care. Visiting Angels Spokane offers free consultations on dementia care that can guide the whole family on a steady path during this challenging time.
When you call us, one of our local care coordinators will come to your home to talk about your loved one's situation and how we can help. They'll answer your questions and give you all the information you need to move forward confidently. Together, we can build a better life at home for your loved one in Spokane.
Back to top
Serving Spokane, Spokane Valley and the Surrounding Areas
Visiting Angels
SPOKANE VALLEY, WA
708 N Argonne Rd #8A
Spokane Valley, WA 99212
Phone: 509-922-1141