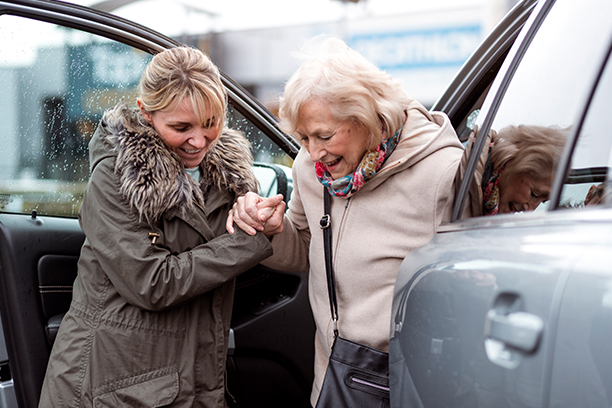 Types of Senior Care | Visiting Angels Spokane
At Visiting Angels, we feel that being well-informed about assistance options helps families make the best possible choices for senior life care. Because part of our mission is to help you navigate these choices, we invite you to consider the types of support we offer so you feel assured of receiving the right services for your loved one's needs.
What Services Do We Offer?
Having worked with Spokane Valley families for more than 16 years, we appreciate the diversity of our care recipients and understand the importance of providing a wide range of services that cater to the individual. Below are the types of senior care that we offer:
At Visiting Angels Spokane, our specialty is in-home care, a caregiving service that enables your loved one to age in place. Aging in place means seniors continue to live at home, among their family and neighbors, and within their community. These environments are not only familiar and comfortable to the individual. They also provide our care recipients with the independence they desire alongside the well-being they need.

Our team of caregivers who provide personal care services is trained to respect the privacy of care recipients while delivering the support necessary to maintain your loved one's well-being. Care recipients can depend on tender, discreet assistance with daily activities, errands, transportation, routines, and other tasks that meet their needs and preferences. We value their autonomy and do all that we can to foster their independence.

In addition to personal care, the Visiting Angels companion care program focuses on building meaningful relationships between caregivers and care recipients. It's about engaging with our care recipients, bonding with them, and providing interpersonal experiences. We understand the challenges that people experience when they live alone, so we're committed to uplifting them through the emotional support they need to thrive.

Humans are naturally social, and we feel that human connections are essential to a person's well-being. The aim of our social care program is to promote those connections by enabling seniors to reach out to their friends and family across distances, through technology.

Visiting Angels respite care service provides family caregivers with temporary periods to rest and opportunities to rejuvenate while ensuring their loved ones receive the care and attention they deserve. Family members play an important role in a loved one's health and happiness, and we're proud to support both your loved one and you through the care journey.

Transitioning from the hospital to the home can present new things to pay attention to, such as additional medication, falls, and injuries. The Visiting Angels Ready-Set-Go Home program can help. Our caregivers ease the transition by guiding your loved one through recovery, assisting with routines and provider instructions, coordinating care, and setting reminders so that nothing is overlooked. The measures we take can go a long way toward keeping your loved one safe, preventing readmission to the hospital, and promoting a smooth, successful recovery.

We recognize the importance of holistic care for individuals with chronic or serious illnesses. Palliative care focuses on addressing your loved one's physical, emotional, and spiritual needs. Providing support for both the care recipient and the family, our skilled and compassionate caregivers help to create an environment that fosters your loved one's comfort when he or she needs it most.

Because dementia and Alzheimer's are complex processes, we offer specialized programs that cater specifically to the needs of those living with these diseases. Our caregivers receive extensive training to provide the right level of personalized care for your loved one through the stages of disease. By monitoring your loved one and offering steadfast support, we create a secure, assuring environment built on a foundation of trust and respect.

Families and seniors pursuing end-of-life care don't have to face the experience alone. With the Visiting Angels end-of-life care program, our caregivers strive to relieve the difficulty in any way they can, helping you and your loved one to find meaningful moments together during an emotional time.
How To Find the Best Home Care
To us, the best home care agency is the one that provides the highest level of care for your loved one's needs and the ideal level of involvement for his or her preferences. The best caregiver is transparent and compassionate — someone who works consistently to earn your trust and build relationships. For these reasons, we hope you choose Visiting Angels to be the care agency that helps your loved one enjoy the golden years of life in the best possible way.
A Customized Approach

Our mission is to respect your loved one as an individual and to personalize our services to his or her needs and wants. We begin each of our home care relationships with a complimentary in-home consultation that allows us to understand how your loved one lives and might benefit from our services. With this knowledge, we can customize a care plan that meets your loved one's unique requirements.

Relationships Built on Empathy and Trust

We emphasize the humanness of everyone we work with, and that includes our caregivers. Visiting Angels caregivers are both professionals who provide care and people who do care. When they enter your loved one's home and life, they approach their work with deep compassion and a commitment to earning trust.

A Priority for Communication

We understand that family caregivers play an integral role in their loved one's care journey. That's why our coordinators and caregivers keep open lines of communication with family members, providing regular updates on your loved one's well-being, progress, and care needs. Our collaborative approach not only provides assurance but also allows us to make important adjustments to the care plan when needed.
How Can Visiting Angels Help?
Visiting Angels is dedicated to your loved one's security and comfort. Our caregivers are trained to be vigilant and attentive, monitor your loved's one's well-being and proactively address concerns. Our personalized approach means that we meet families' needs as well as their wants, and we approach our work with compassion so that you can enjoy the peace of mind of knowing that your loved one is thriving in a safe and assuring environment.
Ready to Start at Home Care Today?
We encourage you to reach out to us soon. Use our contact form or call us below to get in touch. A Visiting Angels care coordinator will be happy to answer your questions and schedule a complimentary in-home consultation for assessing your loved one's needs. We are excited about starting our relationship with you and your family, and we look forward to helping your loved one thrive.
Back to top
Serving Spokane, Spokane Valley, Millwood, Veradale, Valleyford, Mica and Surrounding Areas.
Visiting Angels
SPOKANE VALLEY, WA
708 N Argonne Rd #8A
Spokane Valley, WA 99212
Phone: 509-922-1141