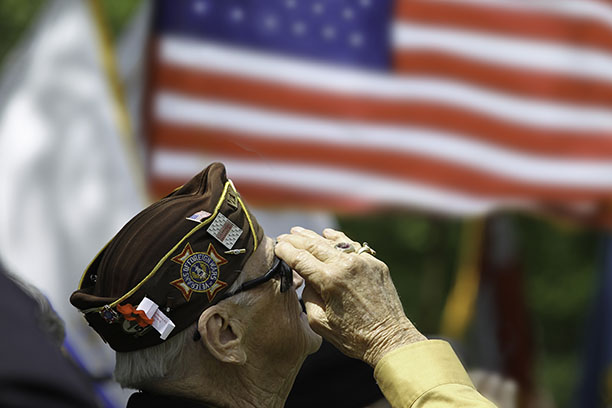 Veteran Care Offered In Spokane, WA | Visiting Angels
For those who've served in the U.S. Armed Forces, additional help may come in the form of benefits from the U.S. Department of Veterans Affairs (VA). Veterans' benefits play a vital role in providing for those who have committed to upholding our nation's principles and values. As the veterans in our lives have helped us all through their military service, it's important to help them in return by fostering the independence and high quality of life they seek as they age in place.
What Is Veterans Assistance?
Veterans' assistance refers to the system of government support provided to those who have served on active duty in the U.S. Air Force, Army, Coast Guard, Navy, or Marine Corps.
The system covers a wide range of support areas, including:
Burials and memorials
Careers and employment
Disability
Education and training
Health care
Housing assistance
Life insurance
Pension
Through its health care and pension benefits, the VA provides valuable assistance and veterans insurance that applies to in-home services. At Visiting Angels Spokane, we're proud to accept veterans' assistance insurance as a payment option. With Spokane County being home to more than 44,000 veterans, we consider it an honor to support such a meaningful portion of the region's population in any way we can.
What Is the VA Aid and Attendance Program?
The VA Aid and Attendance program is an extension of VA pension benefits that provides financial assistance to veterans and surviving family members who need help with daily activities. To be eligible for the program, candidates must qualify to receive a basic veterans' pension and must have served on active duty for a minimum of 90 consecutive days, including a full day during a wartime period. There's a financial requirement that limits a candidate's net worth to $123,600, and applicants must also meet at least one of the following clinical requirements:
They require another person to perform activities such as bathing, feeding, and dressing.
They're fully or largely bedbound due to illness.
They reside in a nursing home due to a disability-related loss of mental or physical abilities.
They have limited eyesight, even with corrective lenses.
The monthly amount given to program beneficiaries depends on the veteran's marital or dependent status. Single veterans can receive up to $1,936 per month, those with a civilian spouse or a single dependent can receive up to $2,296 per month, and two qualifying veterans married to each other can receive up to $3,072 per month. The money can go toward a range of assistance options, including in-home care, memory care, and assisted living or nursing home fees.
Applying for the VA Aid and Attendance Program
If you have a loved one in need who may qualify for the VA Aid and Attendance program, we encourage you to follow the steps below to apply:
Gather the relevant documents: Applicants to the VA Aid and Attendance program must submit a copy of the current year's Social Security award letter; originals or official replacements of their DD-214 military discharge papers; proof of all assets and income, including bank and investment statements; and proof of insurance premiums and unreimbursed medical expenses. If your loved one is married, they must also provide a copy of their marriage certificate.
Complete the appropriate forms: Every applicant must submit a Basic Pension Form for Veterans, a Section X Medical Expense Report, VA Form 21-0779, VA Form 21-2680, a statement of occupancy from a senior community, and, if applicable, a letter from a home care agency or caregiver. Other documents that may help your loved one's application are VA Forms 21-4142a, 21-4142, 21-0845, and 21-4138.
Mail in the application: Residents of Washington State should send their completed application to the St. Paul Pension Center at P.O. Box 5365, Janesville, Wisconsin, 53547-5365. The VA recommends posting by USPS Certified Mail Return Receipt so you can confirm receipt of the application.
What Is the VA Homemaker and Home Health Aide Program?
The VA Homemaker and Home Health Aide program provides veterans with at-home personal care. The VA defines homemakers or home health aides as trained caregivers who support veterans in their homes. The caregivers in the program work for local organizations contracted with the VA, and veterans can receive their services alongside other home and community services. Personal care is another type of service that provides support with activities of daily living, such as:
Bathing
Dressing
Feeding
Light housekeeping
Letter-writing
Walking and transfers
With the help they receive from caregivers under the Homemaker and Home Health Aide program, veterans can remain in their own homes — environments that offer familiarity, comfort, and a sense of identity. The program serves veterans of all ages who require regular help with everyday tasks, as well as those who experience social isolation or whose caregivers may need respite.
Who Is Eligible for VA Insurance?
Broadly speaking, anyone who has served in any of the main branches of the U.S. Armed Forces without receiving a dishonorable discharge is eligible for VA insurance. Additional factors may affect a service member's eligibility for health benefits, as we discuss below.
Current or Former Members of the Reserves or National Guard
The applicant must have been called to active duty by a federal order and completed the full period of service for which they were called to qualify for VA health benefits. Those who've had active-duty status only for training purposes aren't eligible.
Service Members Who Enlisted After Sept. 7, 1980, or Entered Active Duty After Oct. 16, 1981
Applicants must have served 24 consecutive months of active duty or else the full period for which they were called to duty. Exceptions apply in the following instances:
Discharge due to a disability caused or worsened by active-duty service.
Discharge for hardship.
Early discharge.
Military service before Sept. 7, 1980.
Candidates for Enhanced Eligibility
Enhanced eligibility means being in a higher priority group, which improves an applicant's chance of receiving VA health benefits. Your loved one may be a candidate for enhanced eligibility if they:
Receive a VA pension.
Receive or qualify for Medicaid.
Receive VA payments for a service-related disability.
Received a discharge for a disability resulting from a line-of-duty incident.
Received a discharge for a disability that worsened in the line of duty.
Received a Purple Heart or Medal of Honor.
Were a combat veteran who received a discharge or release on or after Sept. 11, 2001.
Are a former prisoner of war.
Served in Southwest Asia during the Gulf War between Aug. 2, 1990, and Nov. 11, 1998.
Served at least 30 days at Camp Lejeune between Aug. 1, 1953, and Dec. 31, 1987.
Veterans of the Vietnam War Era
Those who served during the Vietnam War era in any of the following locations also qualify for enhanced eligibility:
U.S. or Royal Thai military bases in Thailand between Jan. 9, 1962, and Jun. 30, 1976.
Laos between Dec. 1, 1965, and Sept. 30, 1969.
Cambodia (Mimot or Krek in the Kampong Cham Province) between Apr. 16, 1969, and Apr. 30, 1969.
Guam, American Samoa, or the related territorial waters between Jan. 9, 1962, and July 31, 1980.
Johnston Atoll, or a ship that called there, between Jan. 1, 1972, and Sept. 30, 1977.
The Republic of Vietnam between Jan. 9, 1962, and May 7, 1975.
What Is the Five-Year Rule for VA Benefits?
The five-year rule relates to disability benefits. For veterans with disabilities, the VA assigns ratings that indicate the severity of a disability and the amount of compensation provided for it. For those with disabilities that may improve over time, the VA will eventually reexamine their condition and may adjust their compensation accordingly.
Under the five-year rule, a veteran with a disability rating in place for five years has some protection against reexamination and reduction. The VA must be able to indicate significant and sustained improvement to reduce a disability rating. This often favors the veteran due to the evidence required to prove the claim.
How Can I Start At-Home Care With VA?
At Visiting Angels Spokane, we've had the privilege of serving Spokane County veterans for more than 16 years, and we're honored to have the opportunity to continue doing so. If you have a senior veteran in your life who could benefit from our in-home care services, we invite you to contact us online or call us below to schedule a free home consultation today. We'll work diligently to design a care plan tailored to your loved one's lifestyle and needs and deliver compassionate care that brings comfort and joy to their life.
Back to top
Serving Spokane, Spokane Valley, Millwood, Veradale, Valleyford, Mica and Surrounding Areas.
Visiting Angels
SPOKANE VALLEY, WA
708 N Argonne Rd #8A
Spokane Valley, WA 99212
Phone: 509-922-1141