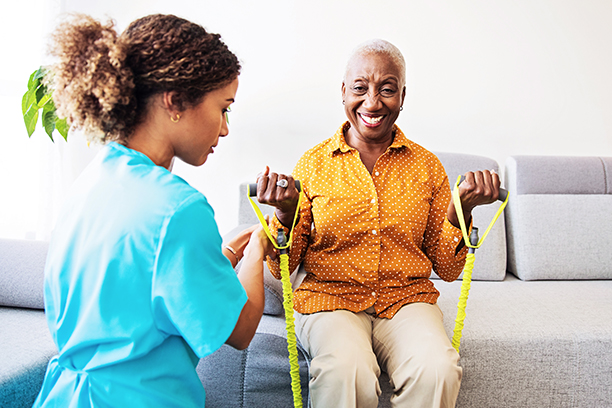 Personal and Private Duty Care | Visiting Angels Spokane
When a loved one with limited vision, mobility, or memory lives alone, a cloud of anxiety often hangs over the entire family. Personal care from Visiting Angels Spokane can help lift that cloud. Our compassionate companion caregivers shine a light into the lives of elderly and disabled individuals, offering them essential assistance and meaningful companionship. You'll rest easier knowing that your loved one has a companion caregiver by their side to provide compassionate assistance and brighten their days.
What Is Personal Care?
Although personal care is similar to companion care, some services vary. Personal and companion caregivers develop close, friendly relationships with their clients. They provide relief to family caregivers, offer emotional and social support, and keep their clients safe at home. But only personal care includes assistance with the following:
Bathing.
Brushing teeth.
Combing hair.
Dressing.
Preparing meals.
Using the bathroom.
Medication Reminders.
Transitioning between beds and chairs.
Running errands.
Transportation to doctor's appointments and social events.
Notably, the Home Care Association of America (HCAOA) reported that 21% of seniors often miss social opportunities because they can't drive.
Your loved one is unique, so it only makes sense that they should receive customized personal care at home. At Visiting Angels Spokane, we preserve your family member's dignity by honoring their preferences, habits, and routines. Our caregivers in Spokane provide compassionate assistance on the client's terms, so your loved one stays in charge of their schedule.
What Are the Benefits of Personal Care for Seniors?
Your elderly loved one can experience several mental and physical health benefits when they develop a strong relationship with a personal caregiver. Some of these benefits include the following:
With medication reminders you get better adherence to medications and other treatments, improving the management of chronic conditions and helping keep your family member healthy.
Improved hygiene, which helps to keep your loved one from getting sick or developing an infection.
Strong social connection, which enhances a person's dignity, improving emotional health and quality of life. Per the above-cited HCAOA study, 43% of seniors report regularly feeling lonely, and they're 59% more likely to experience functional decline than adults who don't experience frequent loneliness.
Enhanced sense of independence and comfort from the ability to remain at home, improving mental health.
Help following a healthy daily routine that incorporates exercise, nutrition, and reminders to take medication and perform other self-care activities.
Peace of mind for family members, especially if you can't be with your loved one in person each day to keep them safe.
Faster recovery from surgeries and inpatient hospital stays, with a lower risk of readmission.
Maintenance of a safe, healthy home environment without accumulation of trash or clutter.
Reduced strain on family caregivers, a stressful situation that can cause mental and physical health complications for the person providing care.
Many families find home care costs significantly less than comparable care in a live-in setting.
Is There a Difference Between Private-Duty Care and Personal Care?
Personal home health care typically consists of a few weekly home visits for a limited time. In contrast, private-duty caregivers have expanded availability. Visiting Angels can come to your loved one's home as often as necessary for all-in-one personal home care or around-the-clock care. In addition, personal home health caregivers typically focus on skilled nursing care rather than activities of daily living and companion care.
You may want to consider the private-duty caregivers from Visiting Angels Spokane if your loved one is experiencing any of the following issues:
A profound personal loss, such as the death of a spouse.
A newly prescribed medication.
Recent fall or injury at home.
Returning home from a hospital or skilled nursing facility.
Receiving a new health diagnosis.
Needing help to manage the symptoms of an acute or chronic health diagnosis.
We encourage a strong family connection and work closely with you and your parent or relative to ensure the care plan fits their needs and abilities.
Does Insurance Cover Personal Care?
Your loved one's private insurance policy may cover personal care, but this can vary dramatically based on the insurance company. You'll need to read the insurance policy documents carefully or talk to an agent to determine whether the plan pays for this type of care. Many private insurers follow the same home health rules as Medicare and Medicaid.
Visiting Angels Spokane is a in-home care agency that does not accept Medicare or Medicaid. However, we accept private pay, long-term insurance, and veterans assistance.
Medicaid
While your family member may have Medicaid if they have low income or a disability, coverage for home health care varies by state. Here in Washington, Medicaid pays for specific services to help older adults age in place, including home health care and skilled nursing care.
Medicare
Medicare, which provides health insurance for adults 65 and older, typically covers skilled nursing services for members who cannot leave the house. Your family member can also qualify for home health services if they receive medically necessary skilled nursing services through Medicare. Some states do have a Program of All-Inclusive Care for the Elderly. This type of Medicare plan pays for services that members receive at home when they would otherwise have to receive care in an assisted living or skilled nursing facility.
Getting Started With In-Home Personal Care for Seniors
When you entrust your loved one with someone outside the family, you need to know that you've chosen someone you can rely on and trust. Through our Select Your Caregiver program, we aim to bring you peace of mind by making a truly meaningful match between your loved one and their caregiver. We hire companion caregivers who demonstrate exceptional skill and outstanding compassion.
After your free initial consultation, we encourage you to meet your loved one's personal care assistant in advance so that you can feel positive about your family member's future at home. Get started today by calling Visiting Angels Spokane and requesting your free, in-home consultation on personal care.
Back to top
Serving Spokane, Spokane Valley and the Surrounding Areas
Visiting Angels
SPOKANE VALLEY, WA
708 N Argonne Rd #8A
Spokane Valley, WA 99212
Phone: 509-922-1141