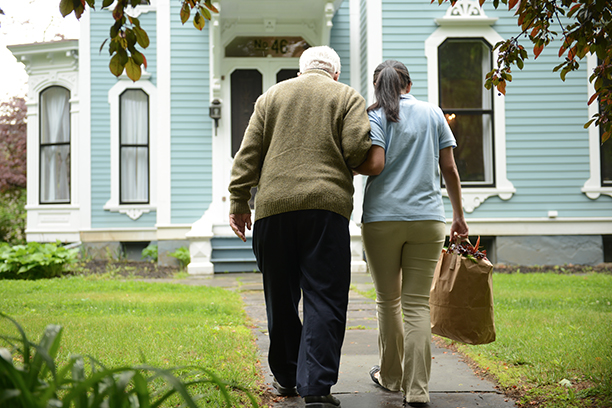 Why Choose Visiting Angels for Personalized Home Care in Spokane WA
A person's home is special, a place where they can enjoy the feeling of safety that comes with the familiar. For seniors in need of assistance, it is also an environment where they can thrive while receiving the essential support to guide them through the day. We at Visiting Angels Spokane have been proud to serve the Spokane Valley area for over 16 years, with a focus on at-home care that enables seniors to age in place.
How Do You Find the Best At-Home Care?
When you are considering at-home care in Spokane County, we encourage you to be thorough in your research so that your loved one may enjoy the best care experience possible. Below are our recommendations for identifying the best options in your area:
Ask Locally

We believe the community itself is a wonderful starting point. Many residents of the areas we serve have direct knowledge of the home care options in and around the city. Either they have family members receiving care or they themselves are the care recipients. An agency that is in good word-of-mouth standing among your loved one's community is likely to be a quality provider of at-home care.

Ask Professionals

You could also look to health care providers and social workers, people in positions that involve connecting residents to needed services. The person you consult may even provide valuable professional insight that other members of the community haven't considered. Your primary care physician may be able to provide a recommendation rooted in the medical advantages at-home care can offer your loved one, while a family counselor might have input about affordable choices that fall well within your budget.

Consult Local Organizations

Local Spokane organizations can be of tremendous help, too, as they often have vast experience with directing service-seekers toward helpful resources. For example, the Arc of Spokane is known to provide families with referrals to support programs around the city, including in-home care services. Look around, and you may find that your fellow Spokanites are more than happy to guide you to your destination.

Look Online

The internet is a readily available channel for finding the information you need. When you search online for at-home care in the Spokane Valley area, reviews can go a long toward highlighting the qualities of an agency. At Visiting Angels, we pride ourselves on the overwhelmingly positive testimonials written not only by the families whose loved ones we've served but also by individuals we've had the honor of working for us.

Those reviews are also a great source of joy because they tell us we're doing well in our mission of creating an environment that inspires love and trust, as well as of providing the best, most compassionate, and most trusted home care for seniors in Spokane County. We are thankful for having the ongoing opportunity to serve the people of this region, and we very much look forward to helping many others toward a better quality of life.
What Makes Visiting Angels Different?
Our reputation as a premier at-home care provider comes from over a decade and a half of devoted service to families and seniors in the Spokane Valley area. But it's not just the dedication we have to our work that distinguishes Visiting Angels Spokane as a care agency. It's also the value that we offer and the principles we hold dear.
Flexible Scheduling

Known for our personalized approach to home care, we don't follow a one-size-fits-all plan for any of our care recipients. Everything about the plan we create for your loved one is entirely catered to his or her needs, wishes, and lifestyle.

That includes the scheduling. Your Visiting Angels caregiver will arrive as often as your loved one would like. If you or other family members share primary caregiving duties, we are happy to arrange respite care around your schedule so that you may take as much time as needed to rest and recharge before returning to your admirable role.

Your schedule, like all other aspects of the care plan, remains customizable throughout our relationship. As needs change, you're welcome to change the scheduling accordingly. We are always ready to accommodate.

Affordable Pricing

It matters to us that Spokane Valley families are able to afford at-home care for the people they love. When you reach out to us about our services, we schedule a free in-home consultation that lets us assess your loved one's lifestyle, talk through the needs that should be met, and work out a payment schedule that aligns with the care level required. By keeping our prices affordable, we are able to ensure that more seniors in our community have access to the care that enables them to age comfortably in place.

Our Caregivers

A Visiting Angels caregiver is not only an immensely talented individual but also a special type of person. Every one of our caregivers is highly trained in our care services, but we also look for other qualities when we hire for the team. We focus on finding the right type of character. We look for those who are rich in compassion, empathy, and kindness. We look for dependable providers who value trust in the relationships they work hard to build. We want candidates who use the strength of their positivity to uplift the seniors they serve.

The combination of skill and character is vital to the success of our mission: joyfully serving families in the Spokane Valley area. Every time a Visiting Angels caregiver enters a home, the goal is to hold up our principles, build up the relationship, and raise up the spirits of the person receiving care. We at Visiting Angels are not a replacement for family, but we strive to be an extension of the love, comfort, and security that family represents.
Ready To Get Started With Visiting Angels Spokane?
We invite you to get in touch with Visiting Angels Spokane to get started with our home care services. Call us below or submit an inquiry form through our contact page at your convenience. We look forward to building our relationship with your family and helping your loved one achieve the quality of life they want and deserve.
Back to top
Serving Spokane, Spokane Valley and the Surrounding Areas
Visiting Angels
SPOKANE VALLEY, WA
708 N Argonne Rd #8A
Spokane Valley, WA 99212
Phone: 509-922-1141