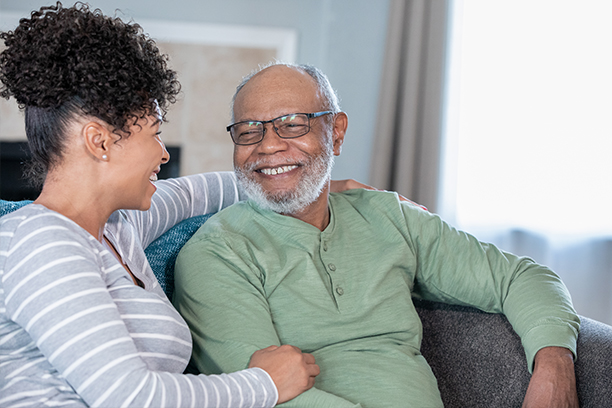 How We Make Age in Place Possible in Spokane
For families with aging relatives, it's common to wonder if assisted living might be the solution for their loved ones' needs. Among seniors, their overwhelming wish is to stay in their own homes and communities as they age, as revealed in a 2021 survey by AARP. At Visiting Angels, our mission is to help Spokane Valley seniors turn that wish into reality.
What Is Aging in Place?
Aging in place is a decision that seniors make to live in their own homes and communities. These places can be meaningful to them in so many ways. The home may be where they raised their children, spent weekends with grandchildren, and created cherished memories. The community is where they've built countless relationships big and small, where they have their favorite route for an evening walk, and where they know which diner makes the best strawberry-rhubarb pie in the early summer. Such a connection to place can be a source of pride and joy that isn't always easy to re-create.
Seniors who choose to age in place may eventually need assistance with daily tasks, and that's where home care can help. Visiting Angels home care services send qualified, compassionate care providers to seniors' homes to deliver support activities. We strive not only to customize care to individual needs but also to respect the lifestyle, routines, and preferences of every senior we serve. With our personalized approach to home care, the relationships that our care recipients have with their caregivers become another of the many connections that sustain their place in their homes and communities.
How Can You Plan for Aging in Place?
Preparation is an important step for seniors who wish to age in place. Having a plan helps to foster a senior's health and happiness by ensuring that he or she remains safe, connected, and provided for. If you and your loved one have discussed aging in place, we'd like to help you by offering the following tips for planning ahead:
Create a Safe Environment

A home safety check can go a long way toward protecting your loved one's physical well-being. Because it's normal for people to become less balanced as they age, we recommend walking through your loved one's home to identify areas that could potentially lead to falls and injuries, such as slippery surfaces, loose structures, and certain furniture placements. Installing nonslip mats and grab bars can help create a safer environment, as can simple repairs and rearrangements.

Introduce Technology

Computer and telecom technology makes it easy for seniors to stay connected. If your loved one hasn't done so already, consider establishing an internet and mobile setup on his or her behalf. For those who aren't used to handling technology, we suggest guiding them through the various tools and programs that may be useful to them. A few practice runs later, your loved one has the means and know-how for reaching out to their friends and family from the convenience of their home.

Apart from the advantage of social interaction, technology can also make for an easier experience with aging in place. Rideshare programs provide opportunities for completing errands, making it to appointments, and seeing friends, and online delivery takes much of the effort out of shopping. There may even be applications developed by local establishments, like the public library or health system, that make their services more accessible. Discuss these options with your loved one to see which would best support their plan to age in place.

Look Into Care Options

The right home care provider can simplify your planning by taking responsibility for many of the necessary care considerations. When you are choosing between home care options, it's important to look for agencies that are capable of giving your loved one what's necessary to thrive happily.
At Visiting Angels, we offer a range of distinct at-home services that meet the diverse needs of Spokane Valley seniors. Below are some of the services that we offer:
How Does Visiting Angels Make It Possible To Age in Place?
We understand that choosing in-home care for your loved one is a major decision, so we work hard to make the experience as easy and convenient as possible. When you reach out to Visiting Angels, we do all that we can to understand your loved one's specific needs, wishes, and lifestyle preferences. Our relationship begins with a free in-home consultation that forms the basis of the personalized care plan we create.
Because every care recipient has unique requirements, no two seniors' care plans are the same. And as our relationship progresses, we customize your loved one's care plan to satisfy his or her evolving requirements.
Throughout, our compassionate caregivers remain committed to providing your loved one with whole-person care. Our approach isn't only to support seniors in their daily activities but also to motivate them in staying active and involved with their family, friends, and community. We achieve this many-sided approach with services such as:
Joyful companionship and conversation
Transportation for errands and appointments
Mobility support
Help with household chores and homemaking
Dignified assistance with personal care routines
Medication reminders
Ready To Begin Aging In Place With Visiting Angels?
We invite you to get started by reaching out through our contact page or calling us below. A Visiting Angels care coordinator will schedule your free in-home consultation so that we may gain valuable insight into how we may foster the comfort, safety, and independence that your loved one desires. We are proud to have had the privilege of serving Spokane Valley seniors for more than 16 years, and we look forward to using our expertise to help your family, too.
Back to top
Serving Spokane, Spokane Valley and the Surrounding Areas
Visiting Angels
SPOKANE VALLEY, WA
708 N Argonne Rd #8A
Spokane Valley, WA 99212
Phone: 509-922-1141