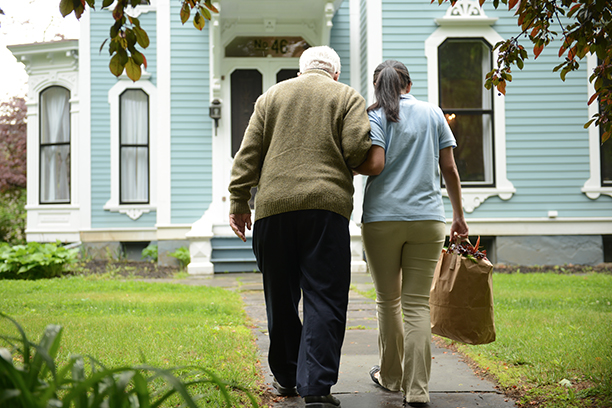 Home Care Providers offered in Spokane Valley, WA
With having the honor of helping families for so many years, we have seen firsthand the benefits of aging in place. So we're proud to be a resource for families who are seeking the right care solution for their loved ones, as well as a source of highly skilled and compassionate at-home providers in the Spokane and Spokane Valley area.
What Are At-Home Providers?
At-home care providers are caregivers to seniors who wish to age in place. Aging in place means they remain at home as they advance through their golden years. Providers come to them, arriving as many times a week as needed to deliver the care services required for your loved one to live comfortably.
For many seniors, aging in place is essential for maintaining emotional connections to the world. Home is often a source of comfort. It's where a person can rest assured in the warm sense of security that familiarity brings. It's a lot like a good friend in the sense of belonging it provides. We at Visiting Angels deeply relate to people who form an emotional bond with their homes.
There's a powerful feeling of independence, too. With a little help from their friends, families, and compassionate care providers, seniors retain control over their lives, making decisions about their routines, interests, and pursuits. Their home is an object of pride partly because of the pride that comes with living as they wish.
We feel the pleasures and satisfactions of these outcomes are good for a person's well-being. Happiness is healthy, and health carries the hope of a long, well-enjoyed life.
What Is Our Approach to At-Home Care?
Because every senior has a distinctive set of needs and a unique lifestyle, the Visiting Angel's approach to at-home care centers entirely on the individual.
A meeting marks the beginning of our relationship. We provide a complimentary consultation at the home of the loved one who requires care. The goal of the consultation is to understand who your loved one is as a person and which of our services he or she may benefit from.
What we learn about your loved one's living situation, concerns, and preferences forms the foundation of the personalized care plan we create. We discuss with you the range of in-home care services we provide and how a particular service can help improve your loved one's quality of life. With any service that you choose, you can also customize the care provided, adding, removing, or modifying activities such as:
Walking and transfer assistance
Transportation aid to appointments
Fall prevention and safety measures
Meal planning and preparation
Conversation and joyful companionship
Discreet assistance with activities of daily living
Medication reminders
Errands and shopping
Light housekeeping
Your loved one's needs may change over time, so we're happy to adjust the plan to meet evolving needs whenever you'd like. We welcome you to reach out to us at any time about the particulars of your loved one's care so that we may continue to build an environment that supports his or her comfort and well-being.
What Makes Us Unique?
We think it takes a special kind of agency to meet the unique needs of seniors and their families in the Spokane and Spokane Valley area. Every day, we work hard to uphold our reputation for comprehensive and compassionate home care by representing qualities that set us apart, such as:
Versatility

The unique and changing needs of our care recipients speak to the importance of being able to adapt. That's why our Visiting Angels caregivers are prepared to provide our broad range of services as necessary. That includes specialized services such as:

Respite care, which enables family caregivers to rest and restore themselves while a Visiting Angels provider takes on the care responsibilities for their loved one for as long as needed.

The Ready-Set-Go Home program, for seniors transitioning from the hospital to their home, creates a system of assistance that can prevent injuries and readmission.

Dementia or Alzheimer's care provides companionship, medication reminders, and preventive assistance to help seniors living with these complex diseases.

Palliative or end-of-life care, for seniors with terminal illnesses, helps to improve their quality of life and provide comfort when they need it most.

Personalization

The Visiting Angel's approach to personalized home care service is a commitment we keep throughout our relationship with your family.

When we visit your loved one for an in-home consultation, our goal is to discover precisely how we can help improve his or her comfort and independence. We use the information we gather to create a personalized care plan, which depends on the specific, unique qualities of your loved one's life.

When care services begin, the caregiver not only follows the unique plan but also strives to form a deep connection with your loved one. In doing so, the caregiver gains a better understanding of how to provide the sort of care that best meets your loved one's wishes and requirements.

Communication

Visiting Angels caregivers and coordinators maintain a deep involvement in meeting your loved one's needs throughout our relationship. It's important to us that we fulfill to you our promise of compassionate care, so we communicate with you frequently about your loved one's progress and make ourselves available for your questions and concerns.
Ready To Begin At-Home Care in Spokane, WA?
If you would like to learn more about at-home care in Spokane, Washington, we invite you to reach out. Call us below or complete our online inquiry form to get in touch with a Visiting Angels care coordinator. From there, we will work with you to schedule a complimentary at-home consultation for your loved one so we can begin developing a personalized plan for his or her needs.
Back to top
Serving Spokane, Spokane Valley and the Surrounding Areas
Visiting Angels
SPOKANE VALLEY, WA
708 N Argonne Rd #8A
Spokane Valley, WA 99212
Phone: 509-922-1141