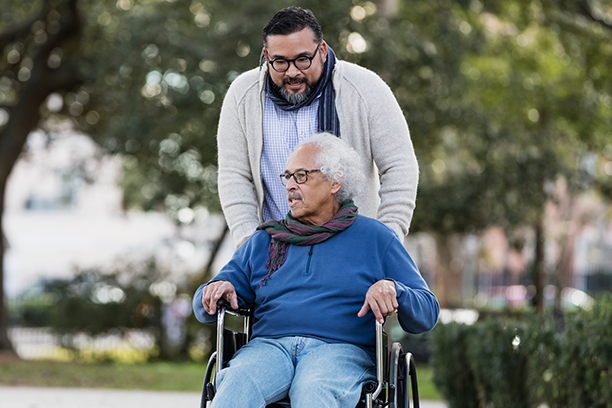 How to Get Started with In-Home Care in Spokane
Finding the best at-home care is a process. It takes time to pick out suitable options and select the best one. At Visiting Angels, we believe that simplifying the process is important for directing families toward the ideal care providers for their loved one's specific requirements. That's why we've put together this guide to help you identify the characteristics of a quality home care agency and determine whether it and its caregivers are capable of delivering the service you need.
How Do I Find the Best At-Home Care?
A search of at-home care providers in the Spokane Valley area will turn up a host of results. For many people, the abundance of choice presents a challenge because it's not always easy to see what distinguishes one provider from another. Nor is it clear what qualities would make one of them the clear best in the field.
What defines the best at-home care depends on factors that are specific to the individual. To begin, we recommend focusing on outward qualities that speak to a provider's ability to take you on as a client. If you find any that satisfy all of the factors below, that agency is worth considering:
Location: The best at-home care provider is one that can reach you. In Spokane, look for an agency whose range is broad. Ideally, the agency's service area would extend throughout the city of Spokane and the extent of the Spokane Valley region — from Millwood to Veradale, Mica to Valleyford.


Frequency: The provider you choose should be happy to work around well-established schedules and routines to provide exactly the amount of care required to support your loved one's independence. Service can be as much as every day or as little as once in a while. In the case of family members being the primary caregivers, the ideal provider offers respite care that allows for the time and rest necessary to rejuvenate and attend to personal needs. The provider should respect you and your family as key contributors to your loved one's well-being and do everything possible to help you provide the level of care you want to provide.


Pricing: It's important for home care to be affordable, as fair pricing broadens seniors' access to services that allow them to age in place. So the best at-home care would offer both multiple levels of care and plan customization so that families can adjust their services to fit well within their financial means.
We at Visiting Angels Spokane strive to meet all of the qualities described above. We don't just focus our energies on being noticeable to the public. We use our resources to create an easy, stress-free experience for those who are interested in what we do.
With everyone we serve, we begin our relationship with a free in-home consultation that allows us to meet the family and the senior seeking care. As we broadly serve the Spokane and Spokane Valley area, we are capable of consulting with any number of seniors residing in the county. Then we assess the distinctive needs and lifestyle of the care recipient to design a care plan precisely catered to those requirements. The family can customize the care plan at any time they wish — removing and adding services, increasing or decreasing hours — to align with their timetables and finances.
Our personalized approach to home care is part of our philosophy that every senior has unique expectations. We don't believe in one-size-fits-all. But if there is one thing in common among our care recipients, it's that they wish to live as comfortably and independently as possible. Our mission is to make that so.
What Should I Look for When Searching for an At-Home Service?
When it comes to the service that an agency provides, we believe it's best to look for a provider that doesn't focus on just a single aspect of at-home care. Our belief ties into the importance of having personalized and customizable assistance. A provider that offers a broad range of services can better meet diverse senior support needs, but a narrower service option is better suited to a more specific population.
We also believe you should look closely at the caregivers that a provider employs. The caregivers are the ones who deliver the services your loved one needs, so you want to be sure that they are capable. Capable not only of supporting your loved one in the necessary ways, but also of earning their trust, forming connections with the whole family.
At Visiting Angels Spokane, our service selection is broad, and our talented caregivers are prepared to meet a range of service needs for our care recipients. Depending on your loved one's requirements, we can include any of the following service options in the care plan:
Because Visiting Angels caregivers are deeply attuned to your loved one's care plan and preferences, they understand how to engage in a way that fosters a meaningful connection. Character and compassion are two principles that our caregivers hold dear and which they exercise in their care interactions. A Visiting Angels care provider considers it essential to build trust with both the care recipient and the family, so you can rely on genuine empathy, careful attention, and open lines of communication — the components necessary to build a lasting bond with you and your loved one.
What Questions Should I Ask an At-Home Caregiver To Get Started?
Asking the right questions can help you determine whether a care provider is capable of meeting your loved one's needs and the family's expectations. With that in mind, have the following questions ready when you start consulting with in-home care providers in the Spokane Valley area:
What areas do you serve?
How long have you been in business?
Are your caregivers licensed and bonded?
Do you create a personalized care plan with flexible scheduling?
Does your organization have liability insurance?
How often do you evaluate the caregiver's work?
How often do you communicate with the caregiver and family members?
Do you provide dementia care or Alzheimer's care?
Do you offer a trial period?
Can I change caregivers if needed?
Do your caregivers provide a wide range of services?
What happens if my caregiver is late or doesn't arrive?
What does your payment schedule look like?
Do you require a deposit for service?
Does your company accept Medicare or Medicaid?
Ready To Get Started With Visiting Angels Spokane?
If you're interested in learning more about our personalized approach to home care, Call or click below to get in touch with us today. From there, a Visiting Angels care coordinator will arrange for your free in-home consultation. We are thankful for our opportunities to assist families in the Spokane Valley area, and we look forward to discovering how we can serve you and your loved one best.
Back to top
Serving Spokane, Spokane Valley and the Surrounding Areas
Visiting Angels
SPOKANE VALLEY, WA
708 N Argonne Rd #8A
Spokane Valley, WA 99212
Phone: 509-922-1141