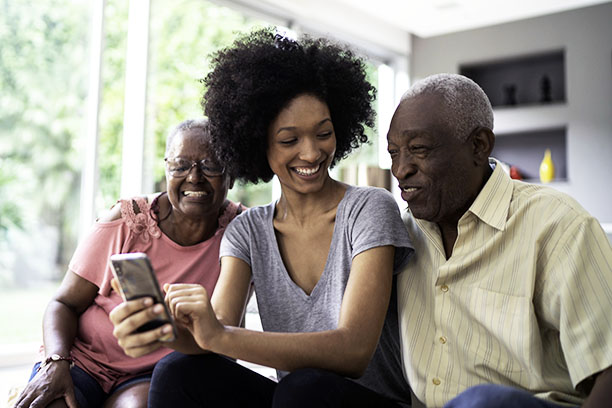 Social Care: Helping Seniors Embrace Technology
Visiting Angels knows that supporting your loved one means ensuring that more than just their physical needs are met. We help support your loved one's physical, emotional, and mental needs so they can thrive. An essential part of the overall health of every person is being socially engaged. In today's world, maintaining social connections also means staying up to date with technology. We understand various ways that technology can help improve your loved one's connections with their family, friends, and community, as well as how to teach it. We can help your loved one become comfortable with using different technologies as part of our senior social care to ensure your communication doesn't change.
Senior social care encompasses all the ways that Visiting Angels helps support and maintain the social needs of your loved one. It's designed with the recognition that human beings are social beings. Consequently, socializing is more than a want; it's a need that is connected to our overall health. While being able to stay at home is a great thing that provides a sense of calm, control, and familiarity, it can become isolating if there is a lack of intentional socialization. Technology can help mitigate this, and we can show you how.
One way we encourage your loved ones to stay connected is through the use of video calling on platforms such as Skype and FaceTime. This type of technology usually only takes minutes of learning but results in hours of simulated in-person interactions. It allows grandparents to read their grandchildren bedtime stories or to "be there" at their birthday celebrations.
Facebook is another platform that, while potentially involving a bit more training, can have a huge payoff. This platform allows instant access to as much of your loved ones' community as they would like. They can add immediate family, long-lost relatives, friends from religious organizations, or anyone they would call a buddy. They can then stay up to date with the people they care about. This supports mental and emotional health by allowing your loved one to feel connected with their loved ones and the milestones in their lives.
Benefits of Using Technology for Seniors
Technology has been shown to be beneficial to seniors in several ways. Research has shown that using Facebook can help improve both mental health and cognitive function, specifically working memory. Beyond the experimental evidence, seniors in rural communities self-report feeling more connected following social media use while also experiencing certain cognitive benefits.
Technology also provides accessibility. It can help overcome geographical barriers and other types of challenges. For example, the ability to text or use a phone with a captioning screen can help to reduce barriers to communication for those with hearing challenges. FaceTime may help with such challenges as well because it allows the user to see the other person's mouth.
Technology can also help improve safety. One way that this is accomplished is through the use of alarm systems. Alarms can often be activated from a phone, with minimal mobility required. In addition, camera feeds can be viewed on a phone, allowing users to see any part of their property they would like to, at any time and from any location.
Another way that technology improves safety is by providing a way for mobile phone users to call for help when and where they need to at any time. Alerts can also be set up on personal devices to let the user know if there's an imminent or possible threat of danger in the area.
How We Teach Technology
Learning a new technology can be frustrating for anyone. Anytime we try to learn how to use a new device or app, it can take time and seem more complicated than it's worth. However, given the many benefits of using technology, it can really pay off to push through the initial learning process. We can walk with your loved one through setting up accounts, apps, and other technologies and help them learn how to use them. For example, we can assist them in creating a Facebook account. This includes setting up their page, adding photos, finding friends they know, joining groups they may enjoy, and showing them all the features of the site. After we set up their account and show them the features, we encourage your loved one to play around on their new account. We know that personally engaging with the site will help improve the retention of information. This also gives them the opportunity to ask any questions they may have while we're there and able to help.
Our caregivers will write easy-to-follow instructions for all your loved one's favorite apps and websites. We will also turn on any settings, such as voice activation or large print, that may make using the technology easier.
A critical aspect of teaching about new technologies is providing information about cyber safety. Therefore, we'll advise your loved one on the importance of unique and securely stored passwords. We'll also emphasize the importance of not giving personal information out online.
Getting Started With Social Care in Spokane, WA
Getting started with social care in Spokane, WA, is easy with Visiting Angels. Our caregivers are experienced and knowledgeable about both technology and the needs of those we serve. While social care and technology may not be what everyone thinks of as a primary need, we recognize the benefits they can offer and are happy to help share our knowledge. Click below to give us a call today so that we can help make sure all the needs of your loved one are met and learn more about our social care program.
Back to top
Serving Spokane, Spokane Valley and the Surrounding Areas
Visiting Angels
SPOKANE VALLEY, WA
708 N Argonne Rd #8A
Spokane Valley, WA 99212
Phone: 509-922-1141