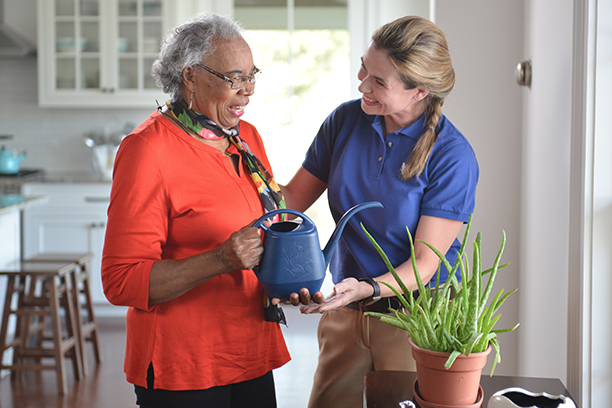 Senior Home Care Services in Spokane
Senior In-Home Care Services You Can Trust in Spokane
We provide home care services for seniors in the Spokane area that are specific to their needs. Our caregivers have helped seniors in our community receive reliable and consistent aged care since 1998. We pride ourselves in providing seniors in Spokane quality elder care that helps them feel safe and comfortable in their own homes and brings their families comfort, knowing their loved ones are being cared for with dignity and respect. If you want excellent senior in home care, contact Visiting Angels® and schedule your free consultation.
Compassionate and Reliable Senior Respite Care Services
At Visiting Angels, we are committed to providing quality senior in home care services for older adults and families. As a leading home help agency we value the seniors and families we serve and are delighted that many have chosen us to assist with their non-medical in home care needs. We understand the time and consideration it takes to choose an in-home care provider for your loved ones. We want to make your decision easier and help you feel at ease. We invite you to join the countless other families who trust Visiting Angels for their senior in-home care needs for the Spokane community.
Types of Home Care
Visiting Angels Spokane offers a variety of elder care services, including:
We Put the "Care" in Home Care
Our priority is to serve our clients with compassionate, quality care. We truly value each client we serve, treating them as we would our own parents and grandparents. We believe in helping your loved one feel as safe and comfortable as possible in their home. Our caregivers are fully committed to helping older and disabled adults enjoy life to the fullest.
By choosing Visiting Angels Spokane, our elder care team can help your loved ones with non medical care services like:
Providing sincere companionship and social support
Aid with activities of daily living
Ensuring safety and fall prevention
Light housekeeping
Dr. Appointments
Errands and grocery shopping
Spokane's Local Elder Care Team
We pride ourselves in providing top-quality care in our community as a preferred senior in home care provider in Spokane. Older adults and their loved ones count on us for quality care and assistance. Being locally owned and operated, our agency is dedicated to helping our community with customized senior in-home care services for our Spokane residents.
Our caregivers provide exceptional care and are all licensed to provide care in the state of Washington with a Home Care Aide license. We partner with Corbin Senior Center in Spokane and support our local Spokane City Firefighters.
We come out and for cost-free evaluation and customize a care plan that fits your needs. Our caregivers are then introduced to the clients and instructed on how to read the care plans and perform the tasks needed in the home. We have on-call staff available 24 hours a day to address any needs or concerns. Our on-call staff members are familiar with all clients and caregivers, enabling them to quickly and efficiently resolve any issues that may arise.
Our Care Managers do routine check-ins with clients and caregivers to ensure quality care. We take pride in providing our clients with personalized care that caters to their unique needs. We recognize excellence from our caregivers and approach each concern as a learning opportunity. Our management staff ensures our caregivers are well-supported and have the resources to provide the best care possible.
Book Your No-Cost Care Consultation
Call Visiting Angels Spokane today to book a free in-home care consultation! From respite care to dementia in-home care services, our team is ready to help your family design a tailored plan that will best suit your loved one's individual needs.
If you prefer us to contact you, fill out the form on our website.
Serving Spokane, Spokane Valley and the Surrounding Areas
Visiting Angels
SPOKANE VALLEY, WA
708 N Argonne Rd #8A
Spokane Valley, WA 99212
Phone: 509-922-1141