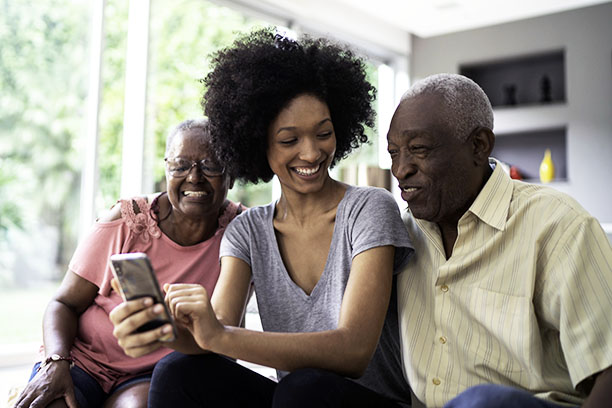 How Companion Care from Visiting Angels Central Coast Boosts Social Well-Being for Seniors in Santa Cruz and Monterey Counties
When choosing companion care services, nobody tops Visiting Angels Central Coast. Why? Simply because we have a holistic approach when it comes to providing care to our clients. This means that your loved one will be provided with all-around care both inside and outside of the home. Their social needs are also addressed through our Social Care program.
Our Social Care program aims to help older adults in Scotts Valley, Watsonville, Marina, Carmel, Santa Cruz, Aptos, Salinas and surrounding communities remain active and engaged socially via modern technological means. Our care providers can help seniors stay connected with their friends and family via social media platforms like FaceTime, Skype and Facebook to name a few.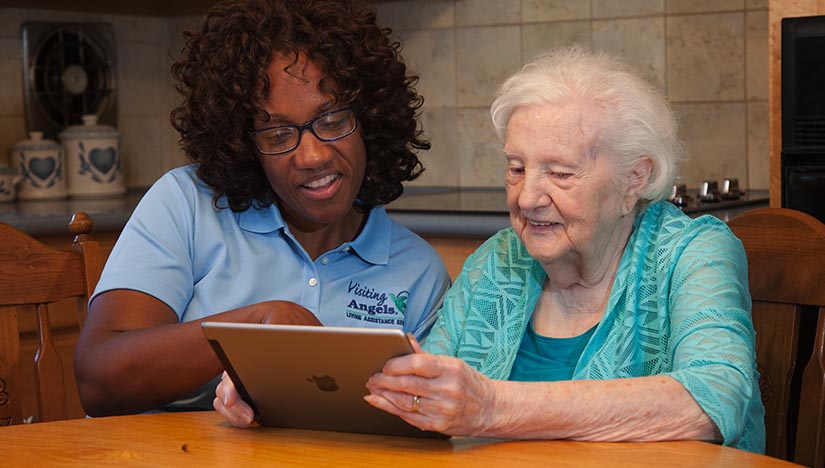 Why is Social Interaction Important for Seniors?
When providing care for an elderly adult, it's important to focus on more than their physical needs. A senior's mental and emotional needs are equally important.
Many seniors enjoy spending quality time with friends and family. However, age-related issues can make socializing difficult. Your loved one may have trouble leaving the house to go see their friends due to mobility issues or they may forget important events. Your loved one may start to spend less time with the people they care about, and withdrawing from social interactions can take a toll on their overall well-being.
Here are some important facts on how socialization impacts seniors:
Studies show that older adults who engage in social interactions have reduced the risk for mental health issues like depression, have a lower blood pressure, have a lower risk for Alzheimer's disease, cardiovascular problems, rheumatoid arthritis, osteoporosis, and some cancers.*
On the other hand, older adults who do not have social interactions have a higher risk for having high blood pressure, higher chance of death, physically less active, and are more prone to feelings of loneliness and depression.
Fortunately, seniors are no longer limited to spending time face-to-face with friends and family. Thanks to modern tools and technology, your loved one can catch up with family or have meaningful conversations with friends without having to stress out over leaving the house.
Did you know:
In a study published by the University of Arizona, older adults have shown a 25 percent improvement in their working memory just by using Facebook?*
In another report, positive emotions were experienced by the elderly when they were visiting and using social sites like Facebook. This positive feedback was measured by the elderly subject's brain stimulation, pupil dilation and breathing rates?**
However, some seniors have trouble with learning how to use tools like email, social media and FaceTime. That's why in addition to providing quality companion care, caregivers from Visiting Angels Central Coast also help seniors learn how to use these tools through our Social Care program.
What's Included in the Social Care Program from Visiting Angels Central Coast?
The basics of mobile phone usage.
Learning how to utilize FaceTime or Skype to communicate with friends or loved ones. Another companion care service is teaching them how to send an e-mail or making use of text messaging.
Creating a Facebook account, maintaining one and most of all in interacting with their friends and family.
Our caregivers will show and teach your loved one how to use a search engine whether for finding pertinent information or online shopping. In line with this, they will be also shown how to create accounts and log-in details.
Contact our Scotts Valley, CA office today to learn more about the Social Care program and other options for companion care for seniors in the Santa Cruz and Monterey Bay areas.
* Washington, D.C. based Phoenix Center
** Journal Cyberpsychology, Behavior, and Social Networking
Serving Scotts Valley, Watsonville, Marina, Carmel, Santa Cruz, Aptos, Salinas, and throughout Santa Cruz and Monterey Counties in California
Visiting Angels
CENTRAL COAST IN CALIFORNIA
5274 Scotts Valley Dr #102
Scotts Valley, CA 95066
Phone: 831-430-0616
Fax: 831-430-0612
HCO #444700002