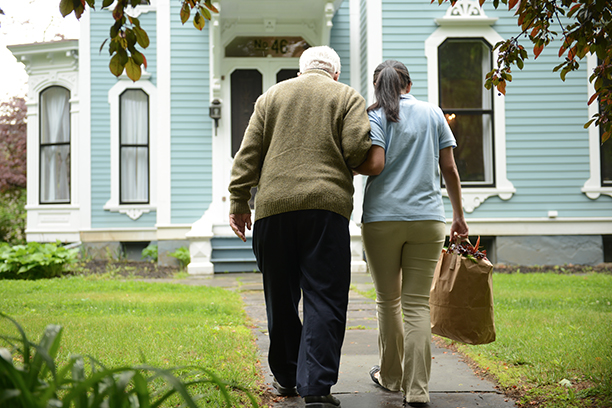 Personal Hygiene Assistance for Seniors in and Around McKinney, TX
Aging independently at home brings various challenges to many older adults in McKinney, Allen, Prosper and Frisco, TX. While most seniors require just a little bit of help with housekeeping or cooking to boost their independence, there are those who need higher levels of support.
When mobility issues or chronic conditions prevent aging adults from maintaining their basic hygiene habits, Visiting Angels McKinney can provide dignified hygiene, grooming and bathing assistance to boost the overall health and quality of life of those in our care. We've been a trusted source for at-home senior care throughout Collin County since 2008.
How Will I Know My Loved in McKinney Needs At-Home Senior Care?
Of course, before you make any decisions, first you need to make sure that hygiene assistance is something that your loved one really needs. Look for signs of self-neglect and poor hygiene in your parent. Should you happen to notice they have an unkempt appearance and strong body odors or that they are wearing the same clothes for days, professional at-home senior care may be the best solution to help your mom or dad.
At Visiting Angels McKinney, we can provide your loved one with a fully customized care plan and assist with personal hygiene, grooming and bathing.
How Our Caregivers Help McKinney-Area Seniors with Personal Hygiene
When it comes to hygiene, maintaining a clean and tidy appearance is not only a matter of dignity or self-esteem. If your parent is unfit to shower or bathe often enough, they could develop a number of hygiene issues such as offensive odors, rashes or skin breakdown and suffer much emotional distress along the way.
On the other hand, with sufficient levels of personal home care services from Visiting Angels McKinney, these problems can be easily addressed. We will make certain your loved one receives all the help they need to look and feel their best.
Our professional at-home senior care providers can help your mom or dad with:
Bathing
Dressing in the morning and undressing/preparing for bed in the evening
Grooming
Putting makeup or shaving
Dental care
You also need to be aware that some routines are best performed by a professional who is trained to tackle these matters, especially when it comes to bathing assistance. In addition to this, the majority of seniors would prefer to receive this intimate type of care from a professional care provider than their family caregiver or loved ones.
Get in touch with our McKinney, TX office today and learn more about our personalized at-home senior care services. Visiting Angels is here to help!


Serving McKinney, Allen, Frisco, Prosper and Other Communities in Collin County, TX
Visiting Angels
MCKINNEY, TX
4500 Eldorado Pkwy #1500
McKinney, TX 75070
Phone: 214-491-1999
Fax: 469-519-7897
021334