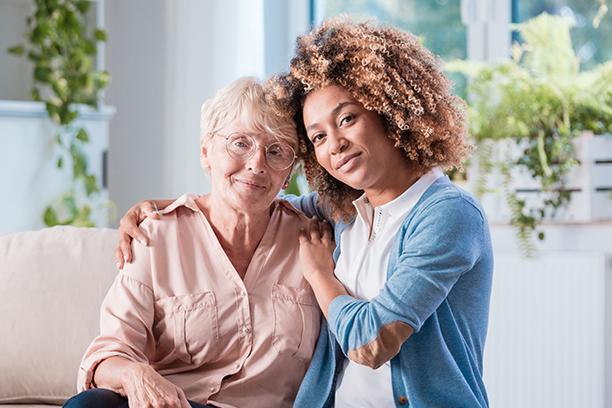 Senior Resources in Monroe County, MI
Visiting Angels helps seniors and their families find helpful local resources that support healthy, independent living in Monroe, Temperance, Grosse Ile, and the surrounding areas of Michigan
There are many changes that come with aging, some of which bring new challenges to families. You may suddenly find yourself as the primary caregiver for a spouse, parent, or other relative. Whether you need assistance caring for a loved one or are simply looking for support and resources to enrich your loved one's senior year, Visiting Angels can help.
At Visiting Angels of Monroe, we take a holistic approach to senior care. We understand that meeting the physical needs of our senior clients is important to their overall health and safety. However, in order for aging adults to be truly well - to live fulfilling lives and have rewarding experiences - caring for their social, emotional, and mental wellness is essential as well. Depending on your loved one's condition and abilities, they may need some support in order to enjoy a high quality of life.
---
In order to best serve our senior clients and families, we have compiled a list of senior resources. From activities that keep your loved one socially and physically active to senior living options and county-funded resources, you will find a variety of organizations that can support you and your family.
Activities, Health & Wellness
The Monroe Center for Healthy Aging offers a diverse calendar of exercise classes, card games, and reading groups. Your senior loved one can keep up with their friends or find a new hobby - and with help from a friendly Visiting Angels caregiver, these activities can be a bright spot in their week!
Brain Aerobics | Mondays at 10:00 AM
This fun group class focuses on exercising your brain and learning ways to promote a healthy brain. There are new activities each week!
Chair Yoga | Tuesday/Thursday at 10:15 AM, Monday at 5:15 PM
Our instructors will take you through a rejuvenating yoga practice - all while safely seated in a sturdy chair.
Movin' & Groovin' with JoLynn | Mondays and Wednesdays at 9:00 AM
JoLynn is an awesome singer and brings lots of music and fun. She offers an excellent strategy for health and fitness! 9:00 to 9:45 a.m. Using chairs as balance aids, this class will get you circulating and keep you flexible. Move to music classics and groove to some new ones! $2 per class for members, $3 per class nonmembers.
Cards, Games, and More! | Various days and times - visit the website for more information!
Group games like Euchre, Pinochle, and Penny bingo are help weekly at the Monroe Center. Seniors can also enjoy sewing groups, billiards tables, and organ lessons.
If your loved one has other interests - or simply wants to mix up their day-to-day routine, here are a few more options for senior activities in Monroe, MI and the surrounding communities:
Gateway Region YMCA | (734) 241-2606
Fitness classes, day trips, and monthly potlucks are all organized by the Monroe County Y - stop by or call today to learn more about this month's programming.
Living Independence For Everyone (LIFE) | (734) 242-6800

LIFE is a nutritional program that encourages seniors to share meals together at our friendship centers all over Monroe. For seniors who cannot drive or are homebound, our volunteers can deliver hot meals
Support Resources
Alzheimer's Association - Michigan Great Lakes | (734) 369-2716
This chapter of the Alzheimer's Association serves 23 counties in Michigan. Our local office is in Ann Arbor to best serve families in Monroe County. The Alzheimer's Association helps those facing Alzheimer's disease and other dementias by providing support groups, educational resources, and fundraising/volunteer opportunities that support Alzheimer's research.
Caregiver Action Network | (855) 227-3640
As the nation's leading family caregiver organization, Caregiver Action Network serves family caregivers who care for children with special needs, family and friends of wounded soldiers, and family members caring for aging loved ones. You can find education resources, peer support, and a free support Help Desk Hotline.
Commission on Aging | (734) 240-3290
The Monroe County Commission on Aging has been serving seniors in our community since 1973. The Commission on Aging provides information on food assistance, transportation, financial support, and Medicare/Medicaid services for aging adults.
Monroe County Opportunity Program | (734) 241-2775
From transportation and supplemental food to Veterans assistance or offering in-home services, the MCOP is a community action group working to reduce the effects of poverty and improve the quality of life for neighbors of all ages.
Senior Centers
Bedford Senior Center | (734) 856-3330
The Bedford Senior Community Center is dedicated to providing quality recreational, social, and supportive services.As a member, adults 55 and up can enjoy meal programs, legal services, a lending library, health screenings, Bible study, volunteer opportunities, and much more!
Frenchtown Center for Active Adults | (734) 243-6210
Some of the programming at the Frenchtown Center includes arts and music, group games, and crafts. The Frenchtown Cafe provides an opportunity to share a hit meal with neighbors and the Dementia Adult Day Service program provides support for seniors and their family caregivers.
The Day Center at MemoryLane Care Services | (419) 720-4940
The Day Center provides respite care fro those affected by memory loss, Alzheimer's disease, and other forms of dementia. The Center's social atmosphere enriches the lives of those living with dementia while giving family members a break from the daily responsibilities of caregiving.
Milan Seniors for Healthy Living | (734) 508-6229
MSHL is a non-profit organization that provides activities, program, services, and referrals designed to help seniors live high-quality, independent lives.
Senior Living: Communities and Apartments
Brookdale Senior Living | (734) 219-3019
Brookdale offers assisted living and memory care options that support seniors with all levels of care needs. With on-site beauty and barber shops, a variety of activities, and the independence seniors crave, Brookdale provides a community or care for active seniors.
Capital Senior Living - Aspen Grove | (866) 659-6269
Aspen Grove is an Assisted Living and Memory care community located in Lambertville, MI.
Creekside Village Apartments | (734) 241-3906
Creekside Village apartments are for those 55 and over or disabled at any age. Located on the Lutheran Home Monroe campus, Creekside offers one and two bedroom apartments in a community built around the needs and interests of aging adults.
Moongate Apartments | Temperance, MI
Moongate is a luxury apartment community for adults 55 and up. This community relieves the burden of home maintenance and allows them to focus on living life to the fullest. Amenities include recreation facilities, activity rooms, a library, coffee shop, and dining and banquet facilities.
Vibrant Life Senior Living - Temperance | (734) 847-3217
With staff specially trained to help seniors thrive in a residential senior living environment, Vibrant Life Temperance provides assisted living and memory care services in Temperance, MI.
Serving Monroe County Michigan, including Temperance, Grosse Ile, Flat Rock, and Toledo, OH
Visiting Angels
MONROE, MI
15649 S. Telegraph Rd
Monroe, MI 48161
Phone: 734-344-7331