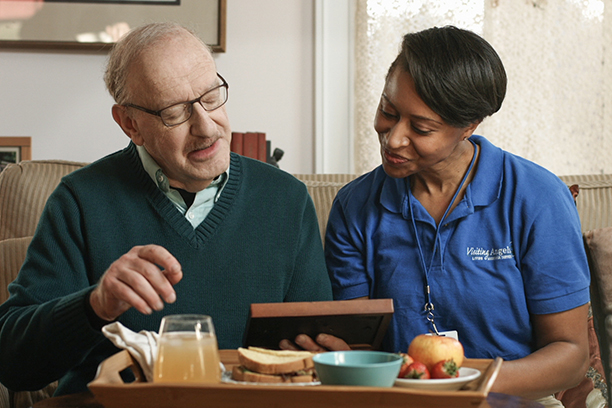 Personal Home Care Services for Seniors in Monroe, MI
Private duty home care from Visiting Angels can help seniors receive quality care and companionship to help them age in place in Monroe, Temperance, Grosse Ile, Rockwood and surrounding areas
When a loved one is sick or disabled you don't want them to have to take a number and wait in line. That's why many families are reluctant to move their elderly relatives into nursing homes or other kinds of assisted living facilities, where they will be one of many needing assistance.
At Visiting Angels Monroe, we know that your family is your top priority, so we make it ours, too, through our personal home care services. Our care is delivered one-on-one by the compassionate hands of our local caregivers.
By prioritizing not only your loved one's care, but their dignity, we help to rebuild their confidence so that they can go on living at home in comfort and safety.
The Leading Choice for Personal Home Care in Monroe County
The care of an elderly loved one can place a heavy burden on the shoulders of their loved ones. Private duty home care from Visiting Angels Monroe can help to lift that burden by bringing you the comfort and peace of mind that comes from knowing that your loved one is receiving exceptional care. The benefits of personal care are innumerable, but paramount among them is having a dedicate caregiver companion in Monroe who can by your loved one's side whenever they need them.
Some of the other benefits of one-on-one personal home care in Monroe, MI, include:
Having a caregiver hand-selected to be the perfect match for your loved one
The ability to build a lasting bond with a caregiver whom they see frequently
Over time, a caregiver who is familiar with your loved one's history and routine
The comfort of knowing that your loved one is never waiting for assistance
The ability to remain in their own residence without fear of relocation
Having services delivered to fit your relative's preferred timing
Getting Started with Private Duty Home Care
To help you make the most of your loved one's care, Visiting Angels Monroe will work closely with you to build their plan. By conducting in-home consultations with interested families, we can learn about your needs, and introduce you to the services we offer in Monroe, MI, which will benefit your loved one most. If your relative is living in Monroe, MI, or Monroe County, consultations on personal home care services are totally free and without obligation. So why wait?
For more information about our private duty home care services, call our local office in Monroe, MI today and schedule your free, in-home consultation.
Serving Monroe County Michigan, including Temperance, Grosse Ile, Flat Rock, and Toledo, OH
Visiting Angels
MONROE, MI
15649 S. Telegraph Rd
Monroe, MI 48161
Phone: 734-344-7331