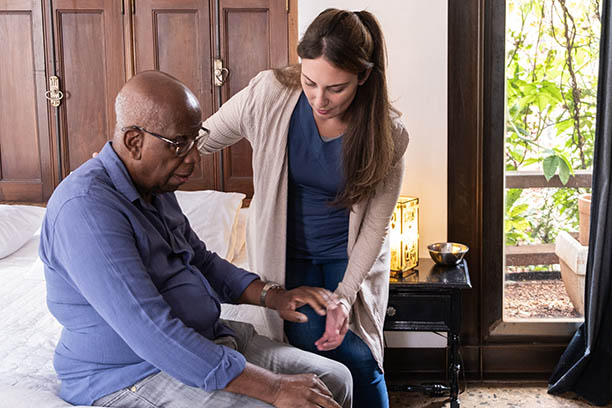 Comforting Palliative Care in Michigan from Visiting Angels Monroe
Elderly adults benefit from the comprehensive care included in the Certified Palliative Care Program in Monroe, Grosse Ile, Temperance, Rockwood and surrounding areas in Michigan from Visiting Angels
Visiting Angels Monroe aims to improve the overall quality of our client's lives. We focus not only on their physical needs, but their emotional, social and spiritual needs as well. Our trained caregivers are available to provide the highest level of care regardless of life expectancy.
Contrary to popular belief, palliative and hospice care are not the same. While hospice care is designed to provide comfort and support to those who are nearing the end of life, palliative focuses on one's needs, regardless of their life expectancy.
Our program allows us to enrich quality of life for all clients. With the help of our caregivers who provide non-medical home care services, seniors in our care are able to lead fulfilled lives. Our caregivers can work alongside hospice care providers to ensure your loved one receives the comprehensive comfort care they need.
Learn More About Palliative Care in Monroe County
This program is just one of the services provided through Life Care Navigation. This collection of care services also includes end of life care, which is designed to provide care, comfort, and support during the end of life process.
Person-Centered Care
We wish to restore hope and assist with healing, which is why our certification program teaches our caregivers how to provide palliative care in a supportive, soothing and comforting way. We are here to tend to your loved one's every need, whether it is physical, emotional, social or spiritual.
Hands-on Personal Care
When it comes to physical needs, we address them by recognizing the signs common among the elderly and providing non-medical care. By nurturing a compassionate approach and providing support to seniors suffering from depression, stress or loneliness we are addressing their emotional needs.
Compassionate Companions
We make sure our clients' social needs are met by building relationships with them and their families, and by providing friendly companionship. We address the spiritual needs of our clients by helping them find hope and comfort and treating them with dignity and respect.
Getting Started with In-Home Care from Visiting Angels Monroe
If your loved one could benefit from our care services, don't hesitate to contact us. We will gladly inform you about our home care services and answer any questions you might have. In case you want to know more about our services, we can coordinate a meeting with one of our care directors in the comfort of your parent's home.
Do not hesitate to ask more about our personalized care plans, the ability to Select Your Caregiver and our Certified Palliative Care Program for seniors in Monroe, Michigan, as well as surrounding communities in Monroe County like Temperance, Flat Rock, Grosse Ile, Rockwood, Carleton, Newport, Petersburg and Lambertville.
Learn more about our senior care services by contacting our Monroe, MI office today!
Serving Monroe County Michigan, including Temperance, Grosse Ile, Flat Rock, and Toledo, OH
Visiting Angels
MONROE, MI
15649 S. Telegraph Rd
Monroe, MI 48161
Phone: 734-344-7331