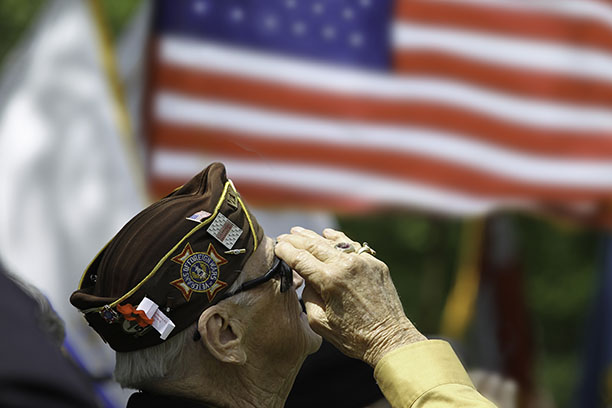 Private Home Care Services & Assistance for Senior Veterans in Monroe, MI
Visiting Angels helps families in Monroe, MI apply for Home Health Aide (HHA) and Respite Care Services in order to offset the cost of private home care services for loved ones who have served in the United States military
If you are searching for private home care assistance for a senior loved one who served in the United States military, there is a good possibility that they may qualify for Veterans Benefits through the Department of Veteran Affairs (VA).
Home Health Aide Visits & Respite
HHA visits are designed to help a Veteran live independently in their own home, by assisting with everyday needs called Activities of Daily Living (ADLs). Respite visits are provided to relieve the primary caregiver, often a spouse, sibling, adult child, or other family member. Both HHA and Respite visits are vital to the overall plan of care.
Since HHA & Respite services are part of the VHA Standard Medical Benefits Package, enrolled Veterans are eligible, if they meet the clinical need for the service, regardless of the Veteran's age or nature of disability.
If approved, you may receive help with:
Personal needs - getting dressed, bathing, and dementia care
Medication reminders and assistance with incontinence needs
Running errands and getting to appointments
Cooking meals, light housekeeping, and laundry
Added companionship and ambulation needs
The disability does not have to be service-related. Visits for HHA & Respite assistance are billed directly to the VA - not the Veteran!
How Do I Apply?
Veterans - wartime or peacetime - may meet the requirements for Home Care. Follow the instructions below and call our office with any questions.
Enroll with the VA (if not already) at https://www.va.gov/health-care/how-to-apply/
Download and fill out Form 1010-EZ
Mail this form (with DD214), and in 3-4 weeks you should receive a welcome letter
Call the VA once this welcome letter is received
Schedule an assessment with a VA PC Doctor and he will determine physical needs
Request Home Health Aide (HHA) and/or Respite visits and request Visiting Angels Monroe to be your provider
HHA & Respite visits are assigned (based on need). Once an Authorization letter is sent to our agency, care can begin within a week! We make no guarantees
Visiting Angels will direct bill the VA for approved care and no bills are sent to you

A Veteran may receive weekly visits of HHA and 30 Respite visits per year from the VA.
Helping Veterans Receive the Private Home Care Services They Deserve
We are an Authorized VA Provider, which allows us to work with the Department of Veteran Affairs to provide eligible Veterans with our private home care services. We can help point your family to the right contacts within the VA who will assist you in applying for the appropriate benefits. Keep in mind that if Dad served, Mom may be eligible to received VA benefits because she is a surviving spouse. We have experience with these and any other senior care questions you may have - so please, call us today at (734) 344-7331.
Please call our office today to speak with a member of our care coordination team. We're happy to help you and your senior loved one find the benefits and assistance needed to live a happy, comfortable life at home.
Serving Monroe County Michigan, including Temperance, Grosse Ile, Flat Rock, and Toledo, OH
Visiting Angels
MONROE, MI
15649 S. Telegraph Rd
Monroe, MI 48161
Phone: 734-344-7331