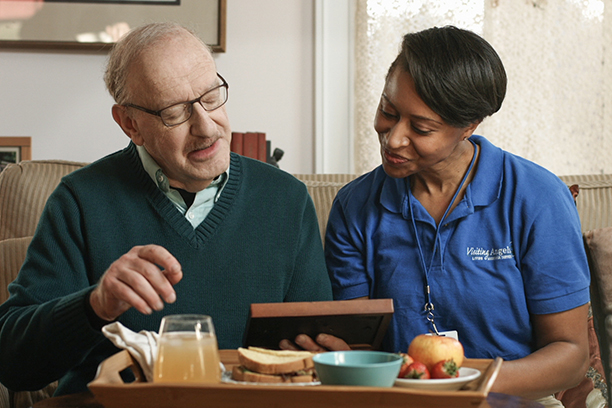 Signs Your Jacksonville Area Loved One Needs At-Home Alzheimer's Care
According to the Alzheimer's Association, 520,000 people in Florida alone have been diagnosed with Alzheimer's – with that number projected to increase to 720,000 by 2025. That's a 38.5% increase. So if you have a loved one with early stage or advanced Alzheimer's, you're certainly not alone. And at Visiting Angels® Jacksonville, we're here to help. As an Alzheimer's care agency serving families in and around Jacksonville, FL, we know the road ahead isn't an easy one. But the first step is ensuring your loved one has the care and support they need to stay safe and healthy.
Sometimes, however, it can be difficult to tell when the right time is to bring in at-home care for your loved one. You don't want to upset them or intrude on their privacy. And yet, if you're seeing signs like these, then they may need more help than you alone can give them:
You worry about their safety. It's impossible for you to be with your loved one 24/7. And if they have a tendency to wander or get confused, it's no wonder you're worried. As an Alzheimer's care provider, Visiting Angels Jacksonville knows this could put them at serious risk.
You're burned out. Caring for an aging loved one is stressful. But when that person has Alzheimer's, the task is even more mentally and physically draining. Over time, it often gets to be too much for family members to bear alone.
Your loved one isn't taking care of themselves. When it comes to Alzheimer's, many sufferers forget to take their medication or even to eat properly as their cognitive function declines, which can lead to a host of serious problems. Chronic conditions can worsen and new health issues can arise.
Your loved one is becoming isolated and depressed. As an Alzheimer's care agency, Visiting Angels Jacksonville knows when your loved one is unpredictable and often frustrated and confused, and it's a challenge to take them on social outings. Their world can therefore shrink, which is why it's common for sufferers to become isolated and depressed.
Visiting Angels Jacksonville: For Compassionate Alzheimer's Care
When you or your loved one is struggling with Alzheimer's in any of the above ways, our certified home health aides and certified nursing assistants can provide the care needed. In fact, at Visiting Angels Jacksonville, we offer a dedicated Alzheimer's care program designed specifically for those suffering from the disease. With this program, your loved one can get the support and attention required – whether it's a few times a week or every day, 24/7. You can also rest assured they're staying safe and healthy when you can't be there.
To learn more, we invite you to call Visiting Angels Jacksonville today. We're here for families just like yours all over Jacksonville, Fleming Island, Orange Park, Amelia Island, Fernandina, and the surrounding FL areas with high-quality, compassionate Alzheimer's care.
Serving Jacksonville, Amelia Island, Duval, Clay, and Nassau Counties
Visiting Angels
JACKSONVILLE & AMELIA ISLAND, FL
4250 Lakeside Dr
Jacksonville, FL 32210
Phone: 904-302-7560
Fax: 904-352-2357
HCA232729 & HHA299994100