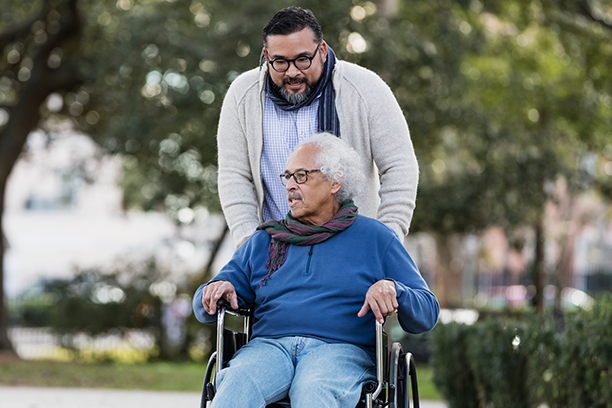 Companion Care: Helping Seniors on Amelia Island Avoid Depression
As we age, it is often more difficult to get out and about. Attending social activities, meeting friends for lunch, attending church, and going to visit family can be challenging as we get older. Sometimes seniors find themselves spending more time alone due to loss of a partner, limited mobility, or illness. This increase in solitude can lead elderly and disabled adults to become depressed. The National Institute of Mental Health states that more than six million Americans aged 65 and older suffer from some form of depression. Companion care from Visiting Angels® Jacksonville can help lower the risk for your loved one and other seniors in Amelia Island, Fernandina, Fleming Island, Orange Park, and the surrounding communities.
Monitoring of Your Loved One on Amelia Island
Your loved one's companion care provider can help monitor them for signs of depression. At Visiting Angels Jacksonville, we are experienced at working with a wide range of seniors and can recognize behavior changes in our clients. Your senior care professional will notify you of changes in your loved one's diet or behavior that are concerning so you can look into it further. We aim to keep seniors happy and comfortable at home with our companion care.
Benefits of Companion Care
Companion care services from Visiting Angels Jacksonville can help your loved one with feelings of loneliness or isolation and in many other ways, too. Seniors who have a companion are often more confident in their ability to remain independent. Caregivers assist with tasks around the home, taking the strain off your loved one. When physically able, companion care providers can help your loved one enjoy the beautiful Amelia Island weather by going for walks and completing other activities to lift their mood and support wellness.
Trusted Companionship for Seniors
Sometimes, just having someone to talk to can make a difference in our mood. Many seniors enjoy companion care from Visiting Angels Jacksonville because it gives them someone to spend time with. Caregivers can engage in mealtime companionship and sharing of memories or personal anecdotes. They can also provide your loved one with a shopping partner or friendly game opponent. With a compassionate companion from Visiting Angels Jacksonville, your loved one will receive care and friendship.
If you have an elderly loved one on Amelia Island, in Jacksonville, or the surrounding areas, consider companion care from Visiting Angels Jacksonville. Call us today to learn more.
Serving Jacksonville, Amelia Island, Duval, Clay, and Nassau Counties
Visiting Angels
JACKSONVILLE & AMELIA ISLAND, FL
4250 Lakeside Dr
Jacksonville, FL 32210
Phone: 904-302-7560
Fax: 904-352-2357
HCA232729 & HHA299994100