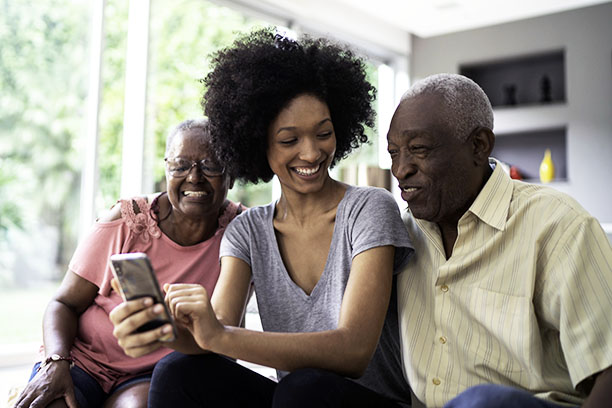 Visiting Angels Non Medical Home Care Services Eliminates Isolation With Our Social Care in St. Peters, MO
Visiting Angels' Non Medical Home Care Services Helps Seniors in St. Peters Use Technology to Engage and Connect With Family and Friends
Socialization helps improve the mental health of the elderly. Studies show that elderly individuals who have active social lives are happier, healthier, and can live longer than those who are not active. While socialization is an integral part of the lives of the elderly, how is it possible if your elderly loved one is sick?
Being sick often requires longer periods of convalescing at home. It is no wonder why most elders who are sick and lack this aspect in their lives often feel depressed, irritable, and lethargic. But even if their mobility is limited, they can still socialize thanks to technology, Visiting Angels of St. Charles, and non medical home care services.
The Benefits of Using Technology for Socializing
Studies show that seniors who surf the internet can reduce depression by as much as 20%. Moreover, those who use social networking sites to communicate with friends and family also have a better working memory, more positive emotional experiences, and better breathing rates and brain stimulation.
They don't necessarily need to go out, especially if their conditions do not permit them that luxury. Make sure that you enroll your loved one in the Visiting Angels of St. Charles, MO social care program so that they can have more meaning in their lives even if they are confined to their homes. Our caregivers will come to your loved one's home.
Enroll Your Loved Ones in our Social Care Program Today
Here at Visiting Angels of St. Charles, MO, we do not only provide care on the physical aspects of our clients, but our non medical home care services providers also provide the social care program to help your elderly loved one get in touch and stay connected with family and friends using technological platforms like Facebook, FaceTime, and Skype. Our social care program can teach your loved one how to use the cell phone, navigate through social networking platforms, learn how to send emails, create social network accounts, do web browsing, and go online shopping.
This program is necessary because your loved one will still be able to communicate with others and do other things, even if they can't always go outside. This program and our non medical home care services will greatly help them improve their knowledge, establish relationships, and have a better horizon about different things.
Contact Visiting Angels of St. Charles today to learn more about our non medical home care services or to schedule a free in home assessment.
Because of this program, I was able to experience two of the greatest joys in life – becoming a grandmother and seeing my son become a new father. Skyping and Facebooking with my son and his family are now a normal part of my life. It helps me feel like I'm still an important part of their lives even though I'm miles and miles away.

* Washington, D.C. based Phoenix Center
** Journal Cyberpsychology, Behavior, and Social Networking
Serving St. Peters, St. Charles, Orchard Farm, Cottleville, Weldon Spring, and the communities of Greater St. Charles
Visiting Angels
ST. CHARLES, MO
3555 Veterans Memorial Pkwy
St. Charles, MO 63303
Phone: 636-244-3777
Fax: 636-244-3780