Common Signs a Senior May Need Occupational Therapy and Senior Care in Fairfield, CT Provided by Visiting Angels' Preferred Professional Stacey Stacey McIvor MS, OTR/L Owner of RESTORE Mobile Therapy
Visiting Angels of Fairfield provides senior care to aging family members in Fairfield, Trumbull, Westport, Shelton, Brookfield, Greater Danbury, Southbury, Greater Waterbury, CT, and the surrounding areas.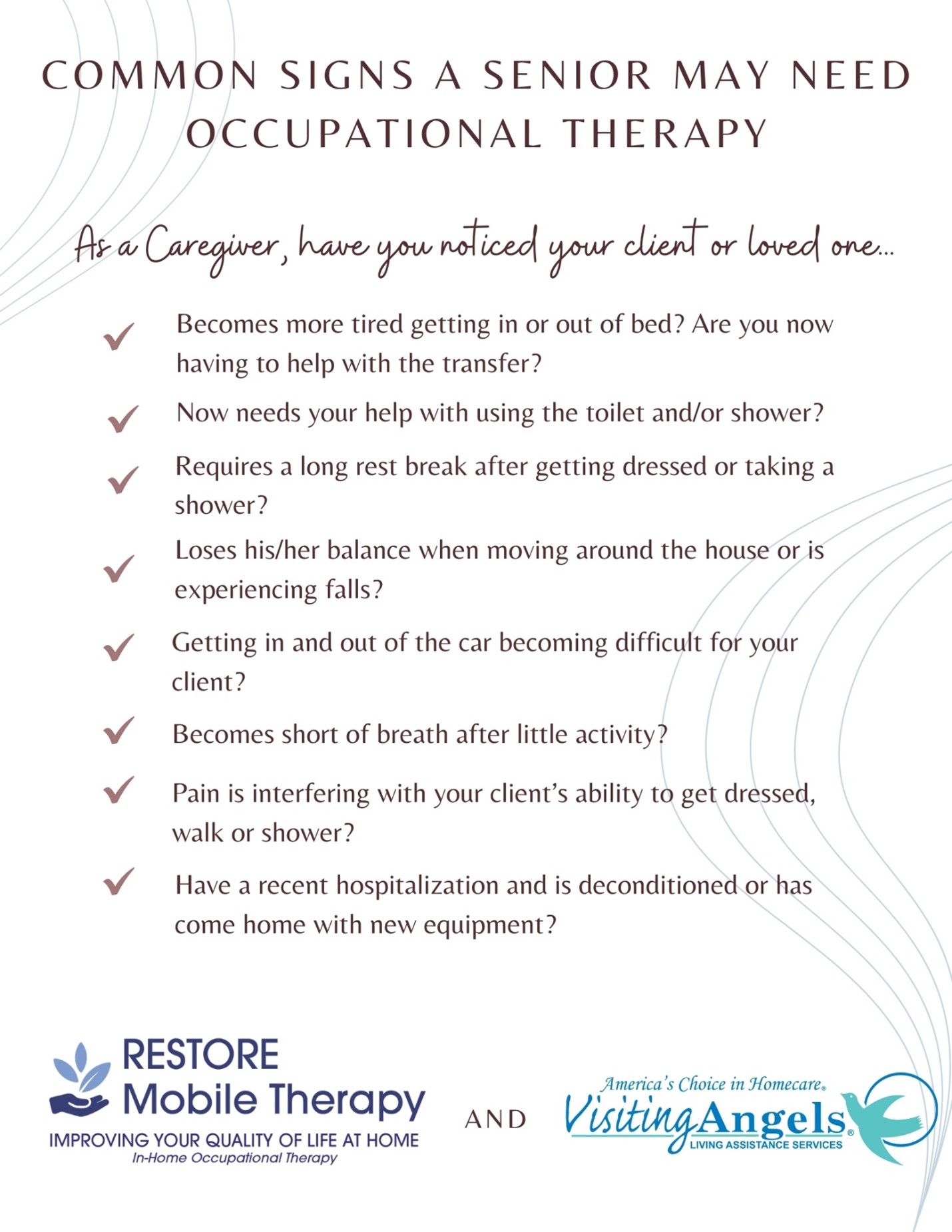 As a graduate of Sacred Heart University Masters in Science, Occupational Therapy program in 2012, Stacey McIvor MS, OTR/L Owner of RESTORE Mobile Therapy, has been working in the greater Danbury area for almost a decade. She has experience in skilled nursing facilities, hospital settings, home healthcare services, primarily for the senior population.

Her passion is working with older adults, helping them to resume activities and become as independent as possible in their daily lives. A licensed Occupational Therapist, Stacey is committed and passionate about providing her clients with the highest standard of services for their care and safety, enriching their lives while aging in the comfort of their homes, and improving their quality of life.

Stacey explains "Occupational Therapists (OT's) are expert observers and uniquely skilled at assisting older adults to adapt to the physical, social, cognitive and environmental changes that occur as we age, setting it apart from other therapy disciplines. The goal of Occupational Therapy is to promote independent living and provide the best quality of life possible, including prevention of disease progression or onset."

RESTORE Mobile Therapy provides quality, skilled Occupational Therapy that considers the whole person all in the comfort of their OWN home. Our services fill a gap by providing clients with an alternative treatment setting that is functional and can not be replicated in a clinical setting, addressing the client's real needs and challenges all in the comfort of their home.

RESTORE Mobile Therapy services include:
Home safety assessments
Endurance/strength training
Fall prevention
Fine motor and upper body coordination
Activities of daily living and caregiver education to promote independence

RESTORE Mobile Therapy sees a variety of client's with a wide range of diagnoses such as:
Chronic COPD, Heart disease, Chronic Pain, Dementia, Chronic or new onset of falls, New onset of weakness, Stroke, Orthopedic injuries & post-operative orthopedics, and Hospice needs.
Senior Care is just a call away
Visiting Angels Living Assistance Services is proud to partner with the area's best in senior service professionals and businesses. Just as Visiting Angels strive to provide the very best in-home care, our preferred partners are excellent service providers in their area of expertise. We are happy to bring our senior care clients and prospective senior care clients information that is interesting and helpful for making senior care decisions.
Contact Visiting Angels of Fairfield at 203-349-9567 for more information on improving the life of your loved Senior through our personalized in-home care plan. Visiting Angel's mission is to provide the best care to seniors who want to age in their homes. Click one of the buttons below to get started today!