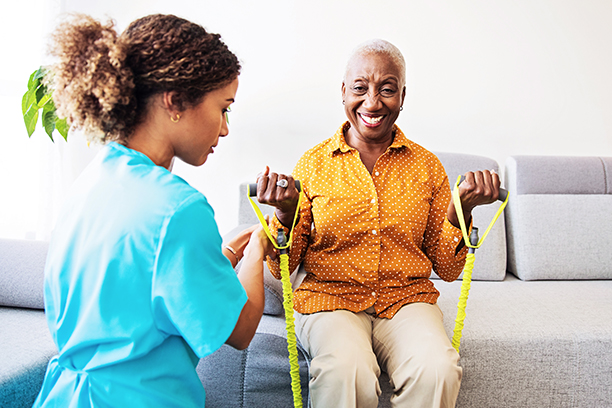 Home Care in Norwalk, CT
By making the decision to choose Visiting Angels of Fairfield and Brookfield as the home care provider for your elderly loved one, you can enjoy the peace of mind that comes with knowing they are in good hands. We do not believe in offering cookie-cutter solutions as we know that no two of our clients have the same needs.
We work with families to create a customized care plan that includes companionship care provided by our amazing caregivers. We work hard to find the perfect caregiver that matches a senior's needs as well as their personality. Our goal is for families to see them as part of their extended family.
At Visiting Angels of Fairfield and Brookfield, We Offer Amazing One-on-One Home Care to Seniors Living in Norwalk
At Visiting Angels of Fairfield and Brookfield, we understand how important it is to you that your senior receives the home care they need while keeping your costs within your budget. We can provide services on a daily, weekly, occasional, or around-the-clock basis.
Our caregivers offer a comprehensive range of home care services that include:
Enjoying the Outside World

No one ever said our senior care services are limited to working with your loved one just inside their home. Our home caregivers are always ready to be there for your loved one when they want to get out and about. With a small mileage fee, our caregivers can take your loved one in their care to drive them to their favorite places or to run errands - better yet, if your loved one still has a car, their caregiver can drive that free of charge! With a caregiver by their side, the possibilities are endless.
Fairfield Medicine - It can be hard for seniors to make it to their medical appointments on their own, especially if they are unable to drive, which is why Visiting Angels of Fairfield and Brookfield's caregivers are more than happy to provide transportation to medical appointments at centers like Fairfield Medicine. They can also take notes on your loved one's behalf and report what the doctor said to concerned family members.
Oak and Almond - Everyone loves going out to eat! Enjoy a fun meal with friends at Oak and Almond where farm-to-table is standard fare.
Gallaher Mansion at Cranbury Park - Going to the Gallaher Mansion at Cranbury Park is a great way to spend one's time, exercise, and take in the beautiful views nature has to offer.
Contact Us

If you are interested in learning more about our senior care services and how they can help your loved one continue living at home in Norwalk, contact Visiting Angels of Fairfield and Brookfield today.
We will be happy to go over any questions you may have about our home care services and schedule a free, in-home assessment with you and your loved one.
Serving Fairfield, Trumbull, Westport, Shelton, Brookfield, Greater Danbury, Southbury, Greater Waterbury, CT, and More
Visiting Angels
FAIRFIELD & BROOKFIELD, CT
2452 Black Rock Turnpike Suite 6
Fairfield, CT 06825
Phone: 203-254-0402
Fax: 203-254-0445
499 Federal Rd #9
Brookfield CT 06804
Phone: 203 740-0230
toll free 1-877-222-6435