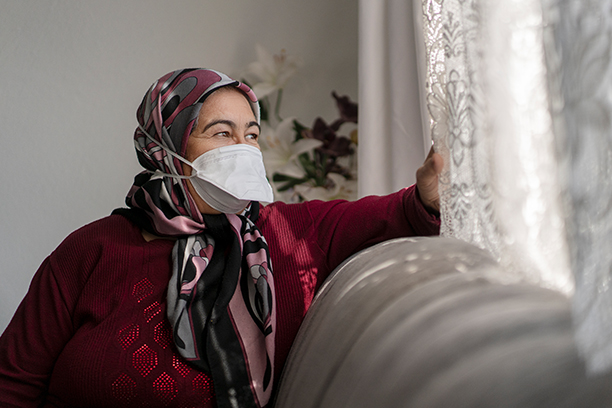 Long Distance At Home Care Services for Seniors in Fairfield, Brookfield, CT and the Surrounding Areas
Visiting Angels' At Home Care Services Include You in Your Loved One's Care No Matter Where You Live in Fairfield, Brookfield, Trumbull, Greater Danbury, and Surrounding Areas
It can be frightening and overwhelming when you realize your senior loved one needs help at home, especially if you live hundreds of miles away. However, at Visiting Angels of Fairfield and Brookfield, we offer a solution. With our long-distance at home care services, you can still play a crucial role in your loved one's care even if you live across the country.
Providing Care Over Long Distances
In modern times, it has become more and more common for families to be separated over long distances due to school, job opportunities, and social reasons. At the same time, many seniors want to retire in a warm climate and move south as they reach that age. Visiting Angels of Fairfield and Brookfield shrinks the distances between families and their senior loved ones by making it possible for you to coordinate at home care services.
How It Works
First, contact our Visiting Angels of Fairfield and Brookfield office. We can communicate over the phone or through email to answer any questions you may have and discuss care. Then, we will send a care coordinator to visit your loved one's home to have a one-on-one care consultation during a time that works for your loved one. Finally, once we have created a personalized care plan for your loved one, the two of you can approve the care plan, and we will choose a caregiver that fits your loved one's needs. For the duration of care, we will keep you in the loop about your loved one's physical health as well as their mental and emotional well-being. When something changes, we will notify you first. We also perform in-home visits and check-in calls to ensure all our clients are getting the quality care they deserve. Our office maintains a nightly line that you can call in emergencies.
Start Today
If you live far away from your senior loved one, but you know they need extra help, contact our Visiting Angels of Fairfield and Brookfield agency for a free-in home assessment. To learn more about our at home care services for seniors, call our office at 203-349-9567 or click one of the buttons below and connect with one of our compassionate caregivers.
Serving Fairfield, Trumbull, Westport, Shelton, Brookfield, Greater Danbury, Southbury, Greater Waterbury, CT, and More
Visiting Angels
FAIRFIELD & BROOKFIELD
2452 Black Rock Turnpike Suite 6
Fairfield, CT 06825
Phone: 203-349-9567
203.254.0402
Fax: 203-254-0445
499 Federal Rd #9
Brookfield CT 06804
Phone: 203 740-0230
toll free 1-877-222-6435