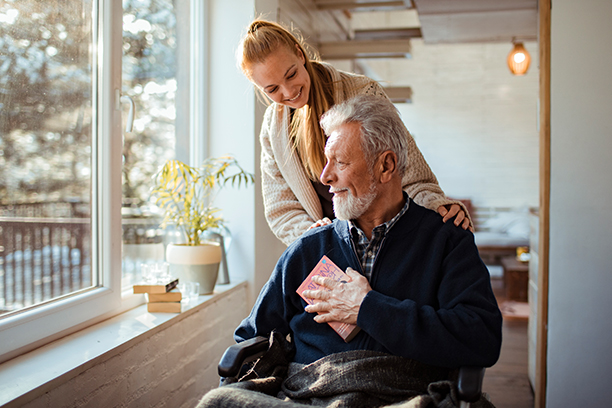 Respite Care in Greater Fairfield and Brookfield, CT
Need a Break from Caregiving? Visiting Angels' Respite Care Can Help Seniors in Fairfield, Brookfield, Trumbull, Greater Danbury, and Surrounding Areas
There is nothing more generous than caring for a loved one. Setting aside your time to tend to your loved one is a truly noble endeavor. Whether you're helping an aged family member get to their medical appointments, a senior parent with grooming and hygiene, or a disabled sibling with the weekly groceries, you're providing them with the much-needed assistance they need in order to continuously live at home. But what do you do when it all gets to be too much and you need a break? Families rely on Visiting Angels of Fairfield and Brookfield's compassionate in-home care services for extra support.
Taking a Step Back to Focus on Yourself
As the primary caregiver, your role is rewarding, though demanding as well. But to ensure the best possible care for your loved one, you also need to take care of yourself. Not only is your physical well-being in need of attention, requiring breaks, exercise, and nutritional meals to stay healthy, you cannot forget that your emotional state needs consideration too. With Visiting Angels of Fairfield and Brookfield on your side, our respite care program offers you the opportunity to relax and recharge for however long you need.
How We Help Seniors
After matching your loved one with a friendly, compassionate aide, our respite care takes over any necessary responsibilities, putting both you and your loved one at ease. Respectful assistance, coupled with engaging companionship, provides the support your loved one needs to stay independent at home. We offer a wide range of in-home care services to cover almost any need:
Quickly, your dear senior will look forward to visits from their caregivers, a great relief to family caregivers. With our respite care program, guilt and anxiety are easily relieved while family members take some time and step away to focus on themselves.
How to Get Started with Essential Care Services
Getting started with Visiting Angels of Fairfield and Brookfield is easy! Simply call our agency for a free, in-home consultation, at which point you and your loved one can select your preferred caregiver together via our database of experts. Our one-on-one assistance is flexible with plans that are fully customizable. As your partner in home care, Visiting Angels of Fairfield and Brookfield takes this role very seriously. Call us to find out more about our specialized respite care services in Fairfield and the surrounding area.
Serving Fairfield, Trumbull, Westport, Shelton, Brookfield, Greater Danbury, Southbury, Greater Waterbury, CT, and More
Visiting Angels FAIRFIELD & BROOKFIELD
2452 Black Rock Turnpike Suite 6
Fairfield, CT 06825
Phone: 203-349-9567
203.254.0402
499 Federal Rd #9
Brookfield CT 06804
Phone: 203 740-0230
toll free 1-877-222-6435