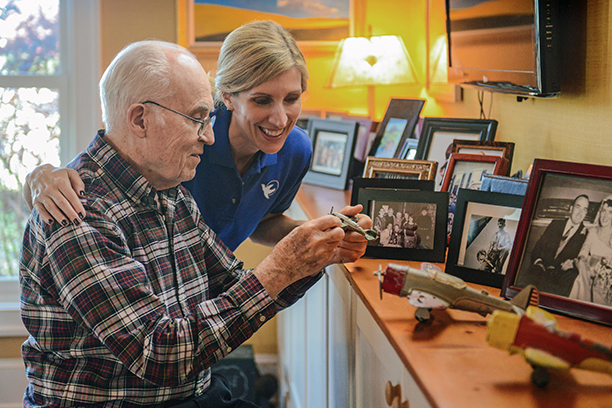 Explore Private Home Care in Fairfield, Brookfield, CT, and the Surrounding Area
Visiting Angels Offers Private Home Care in Fairfield, Brookfield, Trumbull, Greater Danbury, and Nearby Cities
More and more families in Fairfield, Brookfield, Trumbull, Westport, and the surrounding area are choosing private home care for their senior loved ones instead of live-in facilities like nursing homes. If your aging parent or relative has started to show signs of age-related challenges, a senior care agency like Visiting Angels of Fairfield and Brookfield can help. Our caregivers provide the services and support your loved one needs to remain safe, healthy, and independent at home during their golden years. While you want what is best for your loved one, you may still worry about the cost of care. At Visiting Angels of Fairfield and Brookfield, we understand that determining how to pay for professional care can be daunting. We work closely with families to explore financing options and develop suitable care plans that align with their budgets. Here are some benefits of working with our private home care agency:
Seniors can age happily in place at home

Seniors can safely maintain their independence

Seniors can continue their daily routine

Seniors can get the personalized care they need on their own schedule
The Benefits of Hiring a Professional Agency
Trusting your loved one's care to a private home care agency is typically one of the safest choices you can make. At Visiting Angels of Fairfield and Brookfield, we screen, interview, and carefully select our caregivers. If you would like to interview any of our caregivers, that is encouraged! We want you to be confident in the caregiver coming into your loved one's home. Not only does our office manage payroll, employment benefits, and scheduling, we also license, bond, and insure each caregiver on our team. We have the resources and personnel to ensure a hassle-free experience – we take the administrative tasks off your plate.
What Are My Financing Options for Care?
Most healthcare insurance plans do not cover the cost of care at home. For future care needs, you might look into long-term care insurance. However, you might not be able to purchase long-term insurance for a loved one who currently needs care—it will likely be too expensive. If long-term care insurance is not an option, you also have the option of paying for care services out of pocket. During your free consultation, our staff will work out a personalized care plan and discuss the cost.
Learn More Today
Our staff is always happy to answer your questions about our services, caregivers, and cost of care. We will even schedule a free, no-obligation assessment at your loved one's home so you can better learn how our company can assist and give you an idea of what care would look like for your loved one. To learn more about private home care, contact Visiting Angels of Fairfield and Brookfield.
Serving Fairfield, Trumbull, Westport, Shelton, Brookfield, Greater Danbury, Southbury, Greater Waterbury, CT, and More
Visiting Angels
FAIRFIELD & BROOKFIELD
2452 Black Rock Turnpike Suite 6
Fairfield, CT 06825
Phone: 203-349-9567
203.254.0402
Fax: 203-254-0445
499 Federal Rd #9
Brookfield CT 06804
Phone: 203 740-0230
toll free 1-877-222-6435