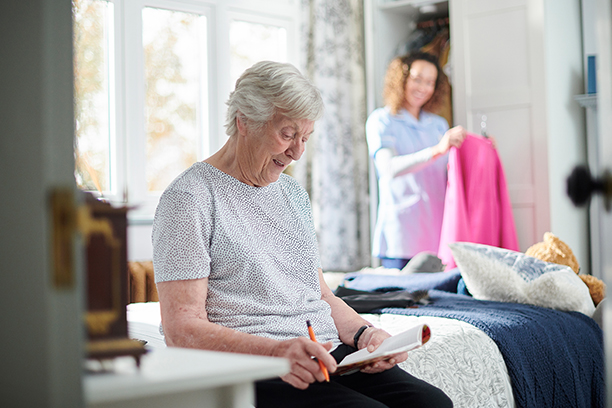 Looking for Elder Care Resources for Your Aging Loved One in Fairfield, Brookfield, CT, or the Surrounding Area?
Visiting Angels of Fairfield Recommends the Elder Care Book "Don't Give Up on Me!"
Don't Give Up on Me! is a great resource if your family is facing elder care issues for the first time. Be pulled into Jan Simpson's world to help prepare you for some tough decisions we all will have to make eventually: supporting elderly loved ones as they age. When it comes to elder care, Simpson is thorough and extremely informative when it comes to medical, familial, legal, and financial challenges. The reader is guided from the start of the aging process to the end as she juggles providing for children, keeping up with the responsibilities of work, maintaining relationships with her siblings, and caring for her parents' needs.
Some selected elder care advice from the book:
Legal Matters: While your parents are still well, ask them to work with a lawyer to have both a durable power of attorney and a home care proxy/power of attorney established. They should also talk about asset protection with a lawyer who specializes in elder law. It is vital for your parents to determine who will make their life and health decisions when they are no longer able to, state what medical care you want or do not want, how you want to be treated, how comfortable you want you be, and what you want your loved ones to know.
Organize Key Documents: This can be a lengthy project that can take months to years to get all your parent's documents compiled. This is a good project to have your parents complete before it is too late for them to do so. Files such as insurance and financial records should be gathered for future reference. Once compiled, be sure to place your parent's lawyer, tax accountant, and other important advisors' contact information in there, as well.

The Danger of Drugs: Medicine can cure infections, reduce symptoms, and extend a person's life. However, be cautious of medication as to avoid symptoms of drug use like hallucinations, dizziness, and what appears to be the start of dementia can be caused simply by taking the wrong medication, incorrect dosage, or during the wrong time of day. Keep a list of medications and your parent's medication habits and have their full medication regimen reviewed by a pharmacist and then by their primary physician.

Help for the Family Caregiver: If you are not your parent's primary caregiver, you still need to support your family! Everyone needs a break, so be sure to provide that to your sibling who is taking on most of the work involved with elder care. Letting go, relaxing, maintaining connections with friends, laughing, and personal time are all requirements to care for a loved one for an extended time. People need to recharge to be able to provide good care. Help by preparing meals, babysit their kids, be a shoulder to lean on, and give them a person to vent to.
Learn More
Buy the book "Don't Give Up on Me!" - all profits from the book are donated to elder care organizations. Contact our agency today to learn more!
Serving Fairfield, Trumbull, Westport, Shelton, Brookfield, Greater Danbury, Southbury, Greater Waterbury, CT, and More
Visiting Angels FAIRFIELD & BROOKFIELD
2452 Black Rock Turnpike Suite 6
Fairfield, CT 06825
Phone: 203-349-9567
499 Federal Rd #9
Brookfield CT 06804
Phone: 203 740-0230
toll free 1-877-222-6435