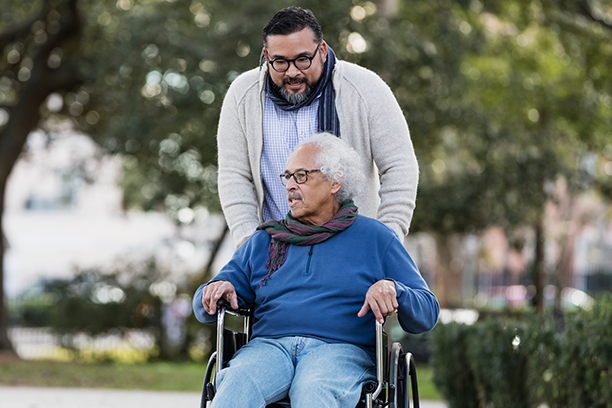 FAQs from Families in Greater Fairfield and Brookfield, CT
Having a loved one who needs professional home care options can be a difficult and overwhelming experience for families. Visiting Angels of Fairfield and Brookfield is here to help make this transition as easy as possible for both your loved one and your family. With over a decade of senior care experience, we have faced conditions, scheduling needs, and personalities. We have developed the expertise to assist and answer your home care questions.
Answering Questions About Our Home Care Options from Families Throughout Fairfield, Brookfield, Trumbull, Greater Danbury, and Surrounding Areas
What kind of services do you provide?
Our essential home care options are designed to help with all of your everyday needs. Your care plan might include daily assistance like meal preparation, linens changing, and light housekeeping, and it might include more intensive services like mobility assistance or bathing and toileting.
What does the term "aging in place" mean?
Aging in place refers to the ability of any person to grow old in their own home or that of their family. It is the opposite of institutional, residential care, like a nursing home. Sometimes it may mean the ability, with extra help, to stay in an assisted living facility as well.
Do you provide services in assisted living facilities?
Yes. People sometimes discover that the assistance provided in an assisted living facility is not sufficient to enable them to remain independent. In these cases, Visiting Angels of Fairfield and Brookfield provides a qualified caregiver to make this possible. In some states, you are allowed to hire private help in an assisted living facility – or nursing home.
How quickly can home care services be provided/started?
Generally, senior care services can be provided within a 48-hour period and often on the same day.
Can you provide services in retirement communities or assisted living facilities?
Yes! We have worked with clients in a wide variety of circumstances, including live-in facilities such as assisted living or Alzheimer's units. We are happy to coordinate with your home care team or facility managers. No matter where you call home, we can provide essential home care options for you.
Can I change the schedule if I have appointments to keep?
We know that physical, mental, social, and emotional needs can change over time and that our clients may find themselves needing different care as their needs shift. If you want to adjust your care, just let us know, and you can create a new home care plan through our Fairfield agency coordinators.
How do I get started?
When you contact Visiting Angels of Fairfield and Brookfield, you will connect with an intake coordinator who will set up a free, at-home visit with you or your aging loved one. During that visit, you will be asked about what home care options you need, what concerns you have, and the schedule and budget that are right for you and your family. Generally, once our intake process has been completed and a home care plan has been created, a caregiver can be assigned to you and begin services for you within 2-3 business days.
How do I know I can trust a caregiver?
All caregivers on our team have gone through an extensive screening process, which included thorough background checks and are put through various training to ensure they are providing the best one-on-one home care options possible.
What will it be like to have someone in the house?
Most clients tend to develop a close bond with their home caregiver, who understands and respects their client's wishes and boundaries. We try to match our clients with caregivers who not only can provide the essential home care options they need but also someone who matches their personality.
What do caregivers do?
Caregivers provide a variety of one-on-one home care options, such as personal care, social care, transportation to and from appointments, meal preparation, housekeeping, and provide caring companionship. A caregiver's role can vary from client to client based on their specific needs.
What won't they do?
Due to providing home care options, our home caregivers cannot administer any medication to seniors, but they can set up medication reminders for when they need to take them.
Do caregivers wear uniforms?
While our caregivers do not wear uniforms, they abide by a certain dress code that requires them to dress appropriately and neatly.
Do caregivers bring their own meals?
For 24/7 home care clients provide the food for both themselves and their caregiver. Our caregivers will prepare their meals together and to the client's liking.
What do caregivers do when they are not attending to the client's needs?
When scheduled, caregivers are available whenever the client needs them and will stay in the home during that time period. During down time they may take time to read or even do light housekeeping.
Where do caregivers stay in the house?
That is up to the client, caregivers respect their boundaries, so depending on what the senior is comfortable with and requires, they can be near our client or be giving them privacy until needed.
What do caregivers expect from their clients?
There are little to no expectations on the client – our caregivers are there to help assist with their needs only.
What do I need to do so they can do their job?
Little to nothing, our caregivers are trained in handling most situations with respect and diligence.
What happens if the caregiver gets sick and can't come in?
Our office staff is available 24/7, so whenever an issue arises, we are there to help. If a caregiver is unable to make it to their scheduled appointment, we will get a replacement out to the client's home at the scheduled time and keep the client informed of any change in caregiver.
Who do caregivers report to?
All caregivers report to one of our Client Service Coordinators daily.
Who is responsible for paying the caregiver's employment taxes?
Our senior care agency has all caregivers on payroll, and ill handle all taxes.
Are the caregivers insured and bonded?
Yes, all caregivers are fully insured and bonded through our office.
Learn More About Our Senior Care Services
At Visiting Angels of Fairfield and Brookfield, companion care is at the heart of what we do. We provide home care options that meet a variety of needs, including transition care for after surgery or hospitalization, respite care for when family caregivers need to step away, and end-of-life care that provides guidance for the whole family. To learn more about our home care options in Fairfield, Trumbull, Westport, Shelton, and the surrounding area and how we can help you and your family, contact us today.


Serving Fairfield, Trumbull, Westport, Shelton, Brookfield, Greater Danbury, Southbury, Greater Waterbury, CT, and More
Visiting Angels
FAIRFIELD & BROOKFIELD, CT
2452 Black Rock Turnpike Suite 6
Fairfield, CT 06825
Phone: 203-254-0402
Fax: 203-254-0445
499 Federal Rd #9
Brookfield CT 06804
Phone: 203 740-0230
toll free 1-877-222-6435