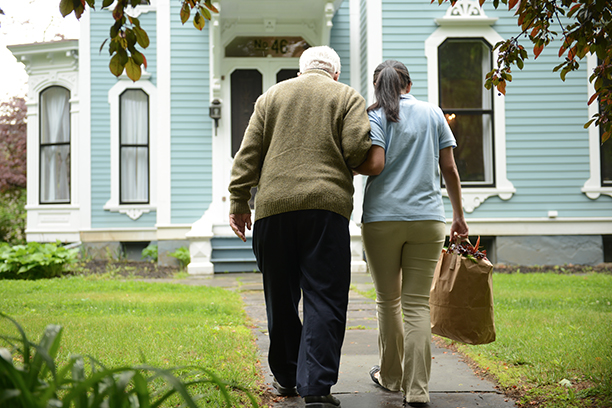 Home Care Options for Seniors in Greater Fairfield and Brookfield, CT
Visiting Angels in Fairfield, CT, offers several home care options for seniors in the area. At Visiting Angels, we pride ourselves on our dedication to our clients and their well-being. Our customized care allows us to cater to each of our client's individual needs. We provide several different types of care. Whatever your loved one needs, we will provide.
Visiting Angels Provides Seniors with Exceptional Caregivers and Home Care Options in Fairfield, Brookfield, Trumbull, Greater Danbury, and Surrounding Areas
We are extremely particular in our selection of caregivers. Our employees undergo extensive background checks, as well as drug tests, before being hired. We take references from former employers into consideration and carefully review documents from the Department of Motor Vehicles and the United States Government I-9 form to verify employment eligibility. Each of our caregivers must have at least two years of experience in this field before being hired.
Caregiver Training
Our training does not stop after an employee's first few months working with us. We are consistent in keeping up with the ever-evolving changes that occur in our line of work. We provide ongoing education to our caregivers and reinforce our high standards of practice and knowledge throughout the entirety of their employment.
Our Caregiver Team
We have a team of over 375 caregivers, and our large staff helps to ensure that your loved one is taken care of at whatever time is convenient for them. We work hard to match our clients with caregivers who have similar interests and personalities. If a client's primary caregiver is unavailable, we have substitute caregivers who are happy to step in and provide just as great an experience with several home care options.
Care At All Times
We guarantee that we will provide senior care for your loved one at any time of the day or night and base our schedules on our client's needs. We ensure the timeliness of our caregivers by using a Telephony System provided by Clear Care. If one of our caregivers is even five minutes late, we receive a notification.
Our caregivers can be there for your loved one whenever you need them.
We offer six home care options that cover every time of the day:
24-hour care: Care during the day and night for seniors who need assistance at all times.
24/7 live-in service: Caregivers are available to clients at all times for one or more 24-hour periods.
Primary caregiver respite: When family caregivers need a break for a time, Visiting Angels of Fairfield and Brookfield's caregivers can be there to care for seniors while primary caregivers rest.
All-day assistance: Caregivers are available while family caregivers are busy or at work.
Morning assistance: Caregivers can provide support between 8:30am and 1:30pm, which can be the most difficult hours of the day. Caregivers help clients bathe, dress, run errands, and more.
Hourly care: Clients design the schedule they require with a minimum time of two-hour visits to as long as they need.
Quality Home Care Options
Our caregivers can make scheduled or unscheduled visits depending on the needs of the clients. We are ready to take care of our clients at any time needed to ensure that our clients are receiving the best senior care possible. We use care coordinators who periodically review our caregivers' performance and send out occasional surveys to our clients to evaluate their satisfaction with their experiences.
We tailor our senior care to each client's specific needs. We work hard to ensure that their experiences are of the highest quality. Sometimes, all a client needs are someone to spend time with them.
If you or someone you know is interested in Visiting Angels of Fairfield and have further questions about our home care options, please contact us via one of the options below!


Serving Fairfield, Trumbull, Westport, Shelton, Brookfield, Greater Danbury, Southbury, Greater Waterbury, CT, and More
Visiting Angels
FAIRFIELD & BROOKFIELD, CT
2452 Black Rock Turnpike Suite 6
Fairfield, CT 06825
Phone: 203-254-0402
Fax: 203-254-0445
499 Federal Rd #9
Brookfield CT 06804
Phone: 203 740-0230
toll free 1-877-222-6435