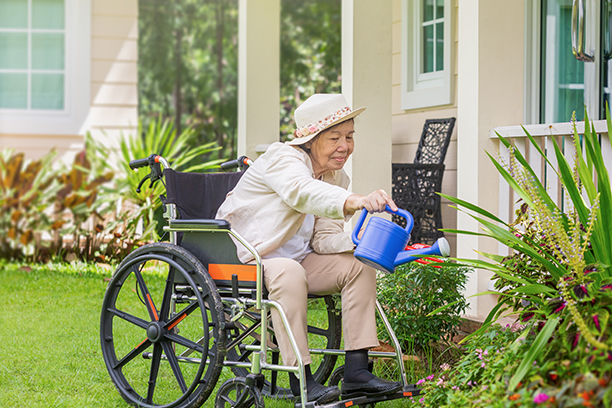 In-Home Care Aides in Fairfield, Brookfield, CT, and the Nearby Area
At Visiting Angels of Fairfield and Brookfield, our in-home care aides are compassionate, caring individuals who enjoy providing a valuable and personal service: helping seniors to live their life again. We are always looking for individuals who are committed to senior care as a dedicated profession. Caregivers on our team are kind and patient and find it rewarding to help seniors in need and assist families during this difficult time.

Visiting Angels Has the Best In-Home Care Aides in Fairfield, Brookfield, Trumbull, Greater Danbury, and Nearby Cities
We are looking for caring individuals with a friendly demeanor, who exhibit strong morals and are open communicators.
To ensure all our in-home care aides share these values, we put prospective caregivers through an intensive hiring process:
Screening Process: Candidates are screened to assess their qualifications for an interview.
The First Interview: Those who pass our assessment are then invited to be interviewed by our Human Resources Coordinator, who has a focus on learning "their story" and seeks out real-life examples of the candidate caring for elders.
The Second Interview: If a prospective caregiver passes this interview, he or she is interviewed by at least one of our Client Service Coordinators, who will verify the individual's credentials and references.
Background Check: Once they pass this step, we perform a rigorous criminal background check to ensure all in-home care aides are qualified to care for our clients.
Orientation: If all goes well with the interviews and background check, we notify the candidate that we want them on our team and invite them to an in-depth orientation session and administer the drug screening.
At Visiting Angels of Fairfield and Brookfield, all in-home care aides are W-2 employees, not independent contractors. Caregivers are fully bonded and insured by us, and we manage all payroll and payroll-related tax requirements. This helps diminish the administrative burden for our clients and eliminates the risk of IRS issues or other legal issues that typically arise when families choose to hire a non-agency private duty caregiver.
Background Checks for Caregivers
All our caregivers have had thorough background checks.
The following checks are mandatory to undergo:
State and national criminal and general background checks.
Social Security Number validation.
Multiple names and aliases check.
Sex Offender Registry check.
An address locator that seeks out where the caregiver has lived for the past seven years and then performs a county-level background check for each of those counties.
Department of Motor Vehicle checks.
Verification of employment references.
Verification of personal references.
At Visiting Angels of Fairfield and Brookfield, we require all caregivers to undergo this procedure to ensure our clients' well-being.
Training and Reviews
Orientation: New caregivers are required to take an extensive orientation program when they join our team.
Training: We offered training in areas like caregiving skills, senior neglect and abuse, HIPPA regulations, infection control and blood-borne pathogens, and stress management.
Performance Reviews: Management completes consistent performance reviews for all in-home care aides on our team.
Drug Screenings: Visiting Angels of Fairfield and Brookfield performs random drug screenings.
Matching Caregivers with Seniors
At Visiting Angels of Fairfield and Brookfield, we pride ourselves on the relationships we build between our in-home care aides and clients. We can develop a strong base in the beginning for each relationship through our personalized caregiver matching process.
Based on both our in-home assessment and the information families provide, we can identify multiple aides who we believe are the best to meet your needs and schedule. To ensure they are the right fit, we arrange an introductory meeting with the professional of your choice. If needed, we can introduce you to more than one caregiver, and you can make the final decision on which one best fits your personality and needs.
Phone Check-In and Out System
To ensure your loved one is being cared for when you requested it, we have created a phone check-in and check-out system. It is required for all caregivers to clock in and out using their client's home phone. If the caregiver does not check in using your loved one's phone within six minutes of their requested arrival time, Visiting Angels of Fairfield and Brookfield team members are alerted by text and email so that we can ensure a visit will not be missed.
To learn more about our in-home care aides and senior care services in Fairfield, Trumbull, Westport, Shelton, and the surrounding area, contact Visiting Angels of Fairfield and Brookfield today for a free in-home consultation.


Serving Fairfield, Trumbull, Westport, Shelton, Brookfield, Greater Danbury, Southbury, Greater Waterbury, CT, and More
Visiting Angels
FAIRFIELD & BROOKFIELD, CT
2452 Black Rock Turnpike Suite 6
Fairfield, CT 06825
Phone: 203-254-0402
Fax: 203-254-0445
499 Federal Rd #9
Brookfield CT 06804
Phone: 203 740-0230
toll free 1-877-222-6435