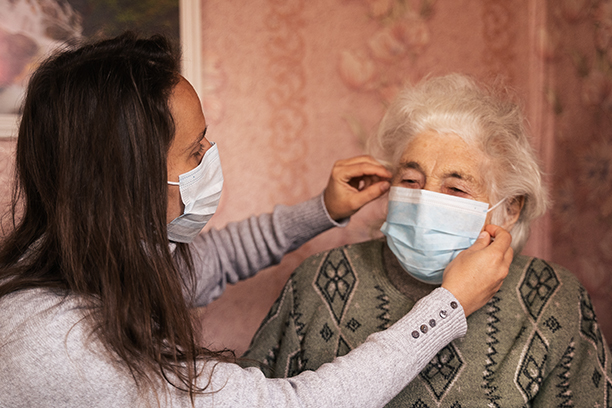 Senior Care in Shelton, CT
Visiting Angels of Fairfield Provides Essential One-on-One Senior Care Services in Shelton
When your elderly parent finds they can no longer handle many of the tasks they have been doing for years, but still wants to continue living independently in their Shelton home, Visiting Angels of Fairfield has the elderly health care services to make it possible for them. We have the finest caregivers who have all undergone specific training in the areas of senior care for our clients. If for any reason you feel your parent could benefit from being in our caregivers' compassionate elderly health care, do not wait, contact us today!
One-on-One Care Services
At Visiting Angels of Fairfield, we offer a range of specialized elderly health care services whenever your loved needs them. We can provide services for a few hours per week or 24-hour around-the-clock care. Among the many senior care services we offer are:
Essential Care Inside and Outside the Home
Our elderly health care coordinators will work with you and your loved one to create a personalized senior care plan that meets your loved one's needs both now and in the future. The care plan developed can include services such as personal care and most importantly of all companionship. Depending on your parent's needs, we can provide them with a professional caregiver who can help with personal grooming such as showers and getting ready for the day. They can also help with household chores and run errands like going shopping for groceries.
Providing your loved one with amazing companionship is all part of the job as a Visiting Angels of Fairfield caregiver. They can participate in your parent's hobbies, reminisce about the "Good Old Days," or simply sit and chat. Our senior caregivers can also provide transportation when your loved one can no longer drive. They can take your loved one to their physical therapy or medical appointments or out to dinner at the IL Palio Ristorante for a delicious meal. If your parent enjoys getting out in the fresh air and sunshine, then perhaps a trip out to Indian Well Park is in order. No matter where your loved one needs to go, their caregiver can get them there safely and ensure they have a good time.
Contact Visiting Angels of Fairfield to Learn More About Our Essential Care Services
One of our goals here at Visiting Angels of Fairfield is to keep your loved one active by getting them out in the fresh air of Shelton. No matter where your loved one needs to go, their caregiver can get them there safely and ensure they have a good time. If you would like to learn more about our senior care in Shelton, contact Visiting Angels of Fairfield today! Our staff will be happy to schedule a free, in-home assessment with you and your loved one and start developing the perfect care plan for your family.
Serving Fairfield, Trumbull, Westport, Shelton, Brookfield, Greater Danbury, Southbury, Greater Waterbury, CT, and More
Visiting Angels FAIRFIELD & BROOKFIELD
2452 Black Rock Turnpike Suite 6
Fairfield, CT 06825
Phone: 203-349-9567
499 Federal Rd #9
Brookfield CT 06804
Phone: 203 740-0230
toll free 1-877-222-6435