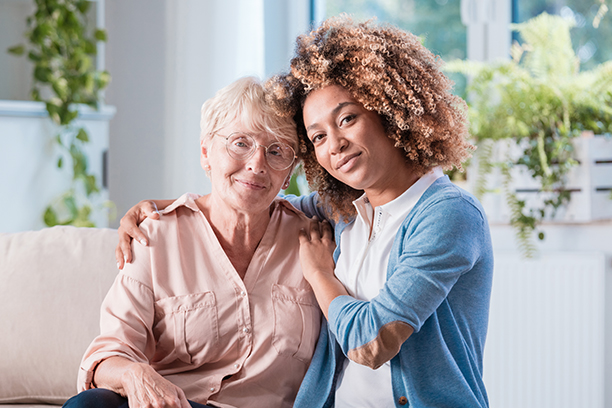 Home Care in Newtown, CT
Visiting Angels of Brookfield and Fairfield provides high-quality home care for elders who prefer to remain in their own homes in Newtown, Connecticut.
Gracefully aging at home has become a possibility for today's elderly who would rather avoid nursing facilities. With the support of expert home care services, your aging loved one can remain in the comfort and familiarity of their own home.
High-quality home care is available in Newtown, Connecticut.
Every household is different, and each senior has different needs to live comfortably. Visiting Angel's care programs can be tailored to meet the specific needs of each client. We provide a variety of senior care services so that your loved one can continue active in the community while remaining safe at home.
Our caring, experienced in-home caregivers provide physical, mental, and emotional support to the elderly, allowing them to remain in their own homes and prosper. We provide a variety of services, including:
Grooming, bathing, bathroom needs, and other personal care services are provided by our respectful and discreet caregivers.
Companion Care- Sharing your elder's hobbies and interests can make each day more joyful.
Mobility and Fall Prevention - Skilled caregivers help elders maintain their independence at home by assisting them with mobility and fall prevention.
Social Care - With the help of a patient caregiver, seniors can use technology to stay in touch with family and friends.
End-of-life care - Our Angels oversee providing care to people who are nearing the end of their lives. Compassionate caregivers provide guidance and support during this difficult time.
Palliative Care is a sort of care provided to senior citizens who are facing a terminal disease.
Transitioning from the hospital to the home - Hospital Caregivers assist elderly people in making the move from the hospital to their own home.
Respite Care - By offering respite care, our caregivers can provide temporary support for crucial events or help you prevent caregiver burnout. We provide you the opportunity to take a step back and collect your thoughts so that you can be the best person possible for your family member.
Visiting Angels working for Newton, CT families
To learn more about our home care services in Newtown, CT, contact Visiting Angels Fairfield & Brookfield now. To schedule a complimentary consultation, call 203-349-9567 or fill out the form below.
Serving Fairfield, Trumbull, Westport, Shelton, Brookfield, Greater Danbury, Southbury, Greater Waterbury, CT, and More
Visiting Angels
FAIRFIELD & BROOKFIELD
2452 Black Rock Turnpike Suite 6
Fairfield, CT 06825
Phone: 203-349-9567
203.254.0402
Fax: 203-254-0445
499 Federal Rd #9
Brookfield CT 06804
Phone: 203 740-0230
toll free 1-877-222-6435