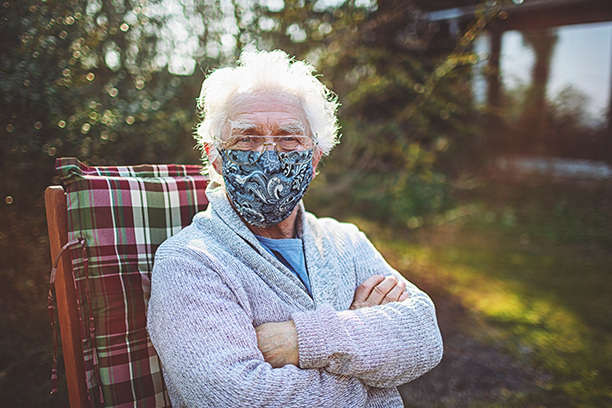 Highlighted Home Care Companions Working to Improve the Lives of Seniors in Fairfield, Brookfield, CT, and the Surrounding Area
Visiting Angels of Fairfield Emphasizes the Home Care Companions Who Have Gone Above and Beyond for Our Clients in Fairfield, Brookfield, Trumbull, Greater Danbury, and Nearby Cities
At Visiting Angels of Fairfield, we owe our success to our wonderful caregivers. Every month we highlight our home care companions who have transcended their duties to provide phenomenal care to our clients in Fairfield, Trumbull, Westport, and the surrounding area. Read about our recognized team members below!
Frantz Provides Quality Care | Our September 2021 Angel in the Spotlight!
Emmanuel "Frantz" Telo is a charismatic, outgoing, and passionate Christian caregiver. Frantz, his preferred name, lights up every room he walks into. He is a licensed CNA with many years of experience but offers much more to his clients than simply attending to their basic needs. Frantz nurtures a bonding relationship with his clients and often becomes 'like family'. He is a devoted caregiver that can always be depended upon to go beyond the requirements of the job. We are thankful to have Frantz as part of the Visiting Angels team!
Lydia Offers Care with a Smile | Our June 2021 Angel in the Spotlight!
Lydia has been a live-in and hourly personal care Angel for many years. She always has a smile on her face, and this portrays her overall image to the clients and their families as happy, pleasant and kind. Lydia always goes above and beyond while providing the best services to our clients and genuinely cares about each one of them. We are very happy that Lydia is one of our best angels. Thank you Lydia for being such an awesome angel. We appreciate it very much.
Jacqueline Provides Wonderful Care | Our May 2021 Angel in the Spotlight!
Jacqueline Hoogliuter-Gonzalez has been a caregiver with Visiting Angels since 2018. Jacqueline has years of experience. She is bilingual and occasionally helps our team with translation. Jacqueline is very involved in the church. She teaches bible studies and works with families within the community. Jacqueline is very reliable and caring towards her clients. Her commitment to her job during the COVID pandemic was exemplary. She followed all protocols and policies and cared for clients with COVID. Thank you Jacqueline!

Aida Provides Excellence in Care | Our April 2021 Angel in the Spotlight!
Aida has been with Visiting Angels for 3 years serving as an extraordinary Certified Nurse Assistant. She works with several of our clients and their families who love working with Aida. She goes above and beyond when providing skilled CNA care, ensuring that her clients continue to live as independently as possible in their home. ida consistently worked throughout this challenging time of COVID-19 with a smile on her face, ensuring that her clients were provided with the services they most needed. Aida is one of our most valued angels. Thank you Aida!
Melanie M. Offers Above and Beyond Care in June 2020

Visiting Angels of Fairfield is very grateful to have Melanie M. as one of our personal care providers! As a caregiver, she offers dignified and respectful assistance and always goes above and beyond to provide exceptional care to her clients. We often hear from her clients and their families how much they love and appreciate Melanie's dedication to providing care. She always is on-time and happy to do her job. Thank you, Melanie!
Joanne W. Provided Exceptional Service in May 2020
Joanne is a retired postal service worker who has been with us since 2019. When she first came to us, she had no experience caregiving, yet she was eager to learn. With training she went far beyond all expectations and cares for her clients with attentiveness and dedication. She gives her all to our agency and her clients. We thank Joanne for her endless devotion.

Dedicated Care from Tiffany in the Month of April 2020
Tiffany is one of our essential live-in home care companions at Visiting Angels of Fairfield, though she is happy to take on any additional shifts when she is available! She has provided personal and end of life care for one of our valued clients for over a year. The family raved about Tiffany's compassion and dedication to keeping their loved one safe and comfortable when they needed it the most.
Thank you, Tiffany, for providing exceptional care and showcasing the true meaning of being an angel.
Amazing Care from Tanisha A. in March 2020
Starting as a Certified Nurse's Assistant at Visiting Angels of Fairfield in 2017, Tanisha was only at ease working as a homemaker or companion because of her lack of experience. However, with a passionate enthusiasm and her cheery attitude, she gained incredible experience working for us and began to take on larger, more complicated shifts. Tanisha has worked on the same case since she started on our caregiving team because of her commitment to her client and her client's family who loves her.
Tanisha is an experienced caregiver who is reliable, intelligent, and compassionate toward her clients. Visiting Angels of Fairfield and her clients are very fortunate to have her as a home care companion.
Outstanding Care from Philicia S. in February 2020
Philicia has worked with Visiting Angels of Fairfield for a few years and is always on time. Not only is she one of our best home care companions, she is compassionate, thoughtful, and understanding toward her clients. When presented with additional shifts, she picks them up without a second thought. She is a hard-working Angel, and we are proud to have someone like her work for us. Thank you Philicia!
Charming Care from Audrey W. in January 2020
Ever since Audrey has joined Visiting Angels of Fairfield, she has remained with the same client and never takes time off for fear that her client may have a hard time adjusting to a different caregiver. She is dependable, knowledgeable, and caring, and we are so lucky to have her on our team. Thank you, Audrey!
Spirited Care from Marivic J. in December 2019
Marivic is absolutely adored by her clients and their families and has been an angel to all her clients. For the past six years, Marivic has dedicated herself to making sure her clients are safe and she does her best to help her clients stay independent for as long as possible. When Marivic is around, she lights up the whole room with her cheerful demeanor and we are proud to say she is a part of our team. Thank you, Marivic, you are truly a gift.
Diligent Care from Stephen C. in November 2019
Stephen has been a part of the Visiting Angels of Fairfield team since August 2016 and is a charismatic and devoted home care companion. Stephen had no traditional training when he first started with us, but his diligence and passion helped him become an outstanding caregiver. Stephen used to only drive clients to appointments, but as our clients grew more reassured by him, they asked him to help in other areas of caregiving including mild housework and assisting in showers. He always wants to do what is right, he's reliable, and rarely takes time off. Even in situations where he's been called last minute, he shows up on time with a good attitude. Thank you, Stephen, for your hard work!
Empathetic Care from Chelsea in October 2019
Chelsea has worked for Visiting Angels of Fairfield as a home care companion for over a year. She is reliable, takes on-call shifts that pop up last minute, and most importantly, she is kind. Her most recent client was someone experiencing the final stages of life, where she provided emotional support for her client and their family. Visiting Angels of Fairfield and her clients are so blessed to have her as a caregiver.
Compassionate Care from Elizabeth "Dee" in September 2019
Elizabeth "Dee" is a home care companion who has worked for over 10 years in assisted living facilities and in the homes of clients. Dee is a true professional who faithfully cares for her clients, who love her. She is always willing to go above and beyond in her work. Thank you, Dee, for being the wonderful caregiver that you are!
Sympathetic Care from Ionie W. in August 2019
Ionie has had years of practice as a hourly and live-in caregiver. Her professionalism and her kindheartedness immediately make her clients feel safe and at ease. Not long ago, Ionie had a client whose doctor gave them a limited life expectancy. Ionie set to work giving them sensitive care to her client and even helped her client's family through this hard time. Thank you Ionie, we appreciate your dedication!
Dedicated Care from Mavis C. in July 2019
Mavis has worked for Visiting Angels of Fairfield as a home care companion since July 2019. She works hard, and when faced with a challenge she always finds a way to overcome it. Mavis is good in stressful situations and is an essential part of our team. As a home care companion, Mavis is attentive and reports to our office any changes in the medical conditions of her clients. She is truly what all caregivers at Visiting Angels of Fairfield hope to be. Visiting Angels of Fairfield and her clients thank her for her work!
Do You Have What It Takes to Be an Angel?
If you are a dedicated, compassionate, and caring individual who has a passion for helping seniors in our community, please apply to become one of our home care companions today!

We expanding our care team in Fairfield, Trumbull, Westport, Shelton, and the surrounding area.
Serving Fairfield, Trumbull, Westport, Shelton, Brookfield, Greater Danbury, Southbury, Greater Waterbury, CT, and More
Visiting Angels FAIRFIELD & BROOKFIELD
2452 Black Rock Turnpike Suite 6
Fairfield, CT 06825
Phone: 203-349-9567
203.254.0402
499 Federal Rd #9
Brookfield CT 06804
Phone: 203 740-0230
toll free 1-877-222-6435