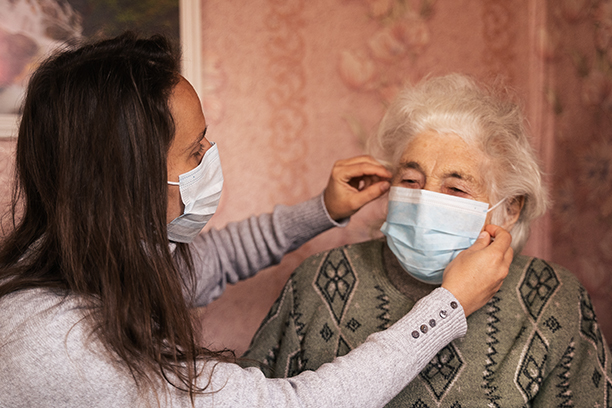 Announcements for Home Care Specialists in Fairfield, Brookfield, CT, and the Surrounding Area
Visiting Angels Provides Great Benefits and Flexible Scheduling to Home Care Specialists in Fairfield, Brookfield, Trumbull, Greater Danbury, and Nearby Cities
At our agency, we offer our home care specialists flexible scheduling, competitive pay, and numerous benefits in Fairfield, Trumbull, Westport, Shelton, and the surrounding area. There are so many programs and bonuses that our aides can qualify for. The hard work of our caregivers never goes unrewarded. One of these programs is the Friend Referral Bonus, which you can qualify for if you believe someone you know would be a good fit for Visiting Angels of Fairfield and Brookfield. You will receive $100 if they are hired and work with us for three months. Another one of our programs is the Angel in the Spotlight Bonus. Anyone who goes beyond being an exceptional caregiver and employee at Visiting Angels of Fairfield and Brookfield can win.
Training for Caregivers
We understand that being a home care specialist is difficult. That is why at Visiting Angels of Fairfield

and Brookfield

, we offer a number of helpful caregiving training courses to help people who wish to become better informed and to improve their caregiving skills. Our training courses are offered both online and at Visiting Angels of Fairfield

and Brookfield

. For information on how to register for our courses, read the following:
CEU offers a wide range of helpful tips on topics from nutrition to dementia. Email Gespana@visitingangels.com or Lpiennar@visitingangels.com to register for an online course. You will be set up with a username and assigned your first course.
After you register, visit https://collinslearning.com/login/ to start your course.
Virtual Training
We encourage caregivers to participate in our monthly virtual group training. During these virtual meetings, we will go over topics like safety, Alzheimer's and dementia care, and developing professional roles. Learn from some of our industry's best speakers by opting into this training today!
Training date and time information is sent our to all our registered caregivers each month
Call our office today at 203-349-9567 to RSVP.
Activities for Caregivers and Seniors
Our home care specialists are encouraged to participate in weekly activities with the seniors they care for. As seniors age, it becomes more and more difficult for people to get out for social or physical activities. All clients benefit from this, but it is especially helpful for clients who are anxious, depressed, or suffering from dementia.
Home care specialists have two options suggested by Visiting Angels of Fairfield and Brookfield to help seniors engage with life, both socially and physically. Clients can come to Visiting Angels of Fairfield and Brookfield, and seniors can participate in our Active and Engaged Program which takes place every Thursday or our aides will assist them in putting together an activity bag. Until listed otherwise, all activities will be conducted virtually through videos. To view these videos, click here.
Seniors who engage in social activities and hobbies maintain a healthier lifestyle than seniors who don't. Elders who participate tend to greatly enjoy the activities and it gives them something positive to look forward to. Being social and participating in activities also stimulates the social and mental abilities of clients suffering from degenerative cognitive disorders which helps them stay healthier for longer. These activities are also important because it allows seniors to meet other seniors and engage in conversations with people near their own age and it can help them relate to the roles they played in their younger years.
These activities don't only benefit seniors. They are also important events for home care specialists. Activities and events allow caregivers to continue building a relationship with their clients, and they can make caring for clients with degenerative cognitive disorders much easier outside the home. It also makes for a great change of pace, and the caregivers also have an opportunity to enjoy the activities.
Our Team Events
At Visiting Angels of Fairfield and Brookfield, we believe it is very important for us to meet our home care specialists and employees. We host many events, including holiday celebrations and events to in appreciation of our aides. This way we get to know everyone!
Our team gathered together to celebrate in the Holiday style. The food was great, and so was the company! The highlight of the night was the raffle prize drawing, where lucky winners got to take home one of two TVs, assorted bags, and a total of $500 in other cash prizes. Congratulations to Vanessa, Lela, Zoe, Ruth, Stevie, Patty, Daphne, Gail, Roberta, and Oweda! Our live-in caregivers who were not able to attend were given a special raffle drawing, congratulations to Phumza and Rachel!
We celebrated our aides by taking them to Wolfe Park in Monroe, CT for a lovely picnic! It was a great day full of good weather, delicious food, music, and fun prizes! Thank you to all our caregivers!
We hope our home care specialists are excited for this summer's activities and cannot wait to see you at our next Active and Engaged event!


What We Wear
We understand how important it is to be comfortable while you work. In light of this, we offer 50% off to our home care specialists for our polo shirts with our logo on it.
Serving Fairfield, Trumbull, Westport, Shelton, Brookfield, Greater Danbury, Southbury, Greater Waterbury, CT, and More
Visiting Angels FAIRFIELD & BROOKFIELD
2452 Black Rock Turnpike Suite 6
Fairfield, CT 06825
Phone: 203-349-9567
203.254.0402
499 Federal Rd #9
Brookfield CT 06804
Phone: 203 740-0230
toll free 1-877-222-6435