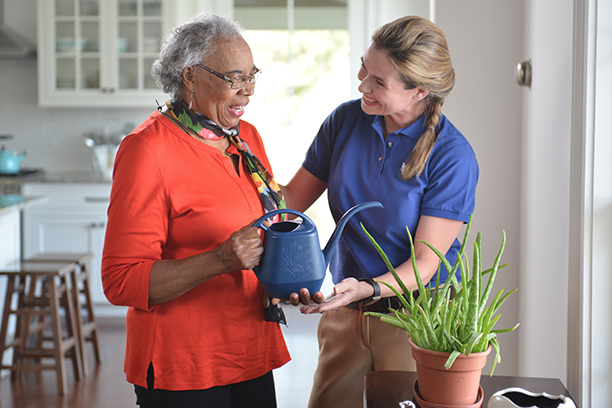 Companion Care for Post Hospitalization in Fairfield, Brookfield, CT, and the Surrounding Area
Visiting Angels' Transitional In Home Companion Care Options Can Reduce Hospital Readmission in Fairfield, Brookfield, Trumbull, Greater Danbury, and Nearby Cities
The Ready-Set-Go Home program, one of our essential home companion care options is designed to help seniors successfully transition back to their home. One of our home companion care options offers a three-tiered approach to reducing hospital readmission, it's aim is to closely follow a senior's progress in the month following a hospital discharge, a period when there's a major risk for re-injury and readmission.
Visiting Angels of Fairfield
Within 30 days of their return from the hospital, roughly 20% of seniors on Medicare end up back in the emergency room. When seniors are readmitted in this time frame, they have a significantly lower chance of recovery. As such, Visiting Angels of Fairfield believes that reducing hospital readmission during this period is essential. Thanks to our Ready-Set-Go Home program, we can provide your loved one with home companion care during their stay, their transition home, and after their hospital discharge.
Three-Tiered Approach to Reducing Readmission
Designed to give seniors all the one-on-one home care support they need, our Ready-Set-Go Home program greatly increases the odds of a full or partial recovery, as well as reducing readmission risks.
At the Hospital. Once your loved one is hospitalized, we can begin our Ready-Set-Go Home program. Our home caregivers will provide your loved one with support in the hospital until they are discharged. Additionally, our aides can guide your family through the process and provide valuable information on the discharge process, as well as planning to return home. With our "Ready-Set-Go Home" guide, you can get all the information you need online. It provides our clients and their family with detailed information on hospital discharges and includes questions you may want to ask medical staff about readmission risks.
At the Client's Home. Once at home, our home care providers offer help, ensuring that your senior is well-cared for, safe, and comfortable. During their recovery, our aides will also keep an eye on your senior's physical or cognitive health, noting any issues and contacting you should anything imperative occur.
At Our Office. Rest assured, our local office staff is working diligently behind the scenes to support you and your loved one. We offer medication and appointment reminders and can also coordinate assistance should you need help with food, equipment, or medication deliveries.
Contact Us Today to Learn More About Ready-Set-Go Home
Contact Visiting Angels of Fairfield to learn more about our home companion care for reducing hospital readmission in Fairfield, Trumbull, Westport, Shelton, and the surrounding area. With Visiting Angels of Fairfield, your loved one is in good hands.
Serving Fairfield, Trumbull, Westport, Shelton, Brookfield, Greater Danbury, Southbury, Greater Waterbury, CT, and More
Visiting Angels FAIRFIELD & BROOKFIELD
2452 Black Rock Turnpike Suite 6
Fairfield, CT 06825
Phone: 203-349-9567
499 Federal Rd #9
Brookfield CT 06804
Phone: 203 740-0230
toll free 1-877-222-6435