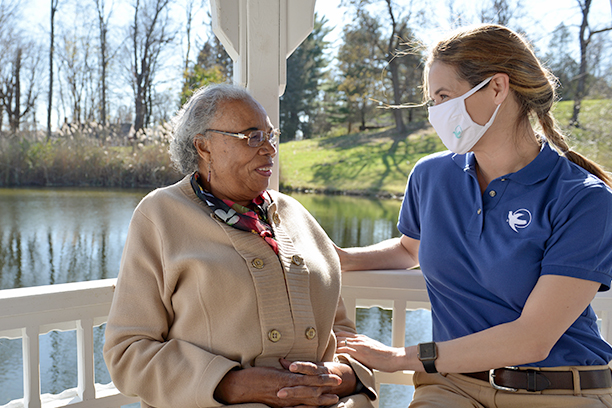 Compassionate and Experienced Home Care Workers in Kilmarnock, VA and Surrounding Areas
Visiting Angels, NNMP couldn't provide quality senior care services throughout Kilmarnock, Gloucester, White Stone and surrounding areas of Virginia without the hard work and dedication of our home care workers
Here at Visiting Angels, we understand the importance of being able to age in place in the comfort of one's own home. For older adults facing an increasing amount of health-related challenges, being able to stay in the comfort of their own home and avoid the stress related to moving to a nursing home or assisted living facility can make all the difference. Independence is important to all of us and that does not change with age. Giving your loved one the opportunity to maintain their independence can be a powerful thing. That is why you should consider how a professional caregiver from Visiting Angels, NNMP could change your loved one's life for the better.
Choosing the Right Home Care Worker for Your Senior Loved One in Kilmarnock and Nearby Communities
At Visiting Angels, NNMP, we understand that our caregivers are the core of our business. They are the ones on the front lines, working with older adults day in and day out. That is why we go to such great lengths to chose only the best, most compassionate individuals to join our staff.
We are also quite aware of the fact that not all caregivers will be the best fit for your loved one. This has nothing to do with the skill level of the home care worker, but rather with the fact that your loved one may not get along with them. It is of absolute importance that your loved one like their caregiver as a person, which is why we make sure to match clients and caregivers according to personality, preference, and general life outlook and values. We believe this gives us the best shot of providing your loved one with the highest level of care.
Another reason it is so important for the client and caregiver to like each other is because a senior care professional will become your loved one's companion. This is an essential aspect of quality caregiving. Older adults are often very isolated and may even become lonely. Having someone around they trust can completely transform your loved one's life. A caregiver is more than a trained professional. They will become your loved one's family over time.
If you would like to find out more about our amazing caregivers, please call our Kilmarnock, VA office today. We can give you in-depth insight into how we match senior clients with the right home care worker.
Serving Kilmarnock, White Stone, Heathsville, Saluda, Urbanna, Tappahannock, Gloucester and The Surrounding Areas
Visiting Angels NORTHERN NECK-MIDDLE PENINSULA, VIRGINIA
68 S Main St
Kilmarnock, VA 22482
Phone: 804-435-2229
Gloucester 804-695-2889