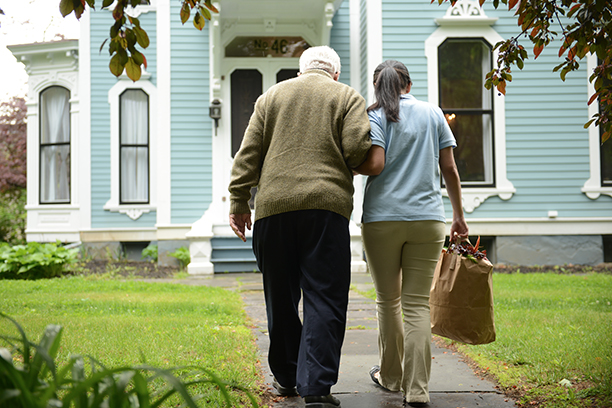 Alzheimer's Care: At-Home Care Services from Reliable In-Home Care Providers in Kilmarnock, VA and Surrounding Areas
An in-home care provider from Visiting Angels, NNMP can provide reliable Alzheimer's care services for your loved one in White Stone, Gloucester, Kilmarnock, and the surrounding areas of Virginia
For many of us, it is simply impossible to provide a dedicated and consistent level of care to our loved ones who suffer from dementia. That's why Visiting Angels, NNMP, provides specialized at-home care services to elderly adults with dementia and Alzheimer's.
Our Alzheimer's and dementia services, we make it simpler for your loved ones to continue living in their homes without interruption to their routines. We'll help them maintain the rich quality of life they're accustomed to. And you can rest easy, knowing they're getting the specific, attentive at-home care services they need from an experienced care provider. Our Alzheimer's and dementia care services extend throughout Gloucester County to Kilmarnock, Saluda, Gloucester, Urbanna, White Stone and Tappahannock.
Alzheimer's Care from a Reliable In-Home Care Provider
At Visiting Angels, NNMP, we go the extra mile to provide supportive Alzheimer's and dementia services for seniors. We provide a specialized program of care specifically for those with Alzheimer's and dementia – and we will tailor our regimen of care to your loved one, based on your input. Depending on your needs and preferences, we can incorporate full-time, part-time or 24-hour at-home care services.
As your loved one deals with different stages of Alzheimer's or dementia, we can easily and quickly adapt their care to incorporate more comprehensive types of support. We understand that sometimes their care needs might be unpredictable – and that's why we have a 24-hour client support line. Give us a call, and we'll return it in 15 minutes or less to attend to your concerns.
At-Home Care Services for Seniors with Alzheimer's in Kilmarnock and Nearby Communities
We pride ourselves in delivering empathetic Alzheimer's and dementia services that focus on proactive care and compassion. Our caregivers can provide help with daily grooming, including bathing and dressing. We can also help make sure that your loved one takes their medication at the right times. With lively companionship from an in-home care provider, we can offer solace if your loved one experiences confusion or anxiety. We understand that this may be a trying time in your loved one's life – and we are dedicated to making their lives a little easier.
We're here to help. If you live in Gloucester County – including Saluda, Urbanna, Tappahannock, Kilmarnock, White Stone and Gloucester – we can bring Alzheimer's and dementia services to you. Get daily support from an in-home care provider from Visiting Angels, NNMP by contacting us today.
Serving Kilmarnock, White Stone, Heathsville, Saluda, Urbanna, Tappahannock, Gloucester and The Surrounding Areas
Visiting Angels NORTHERN NECK-MIDDLE PENINSULA, VIRGINIA
68 S Main St
Kilmarnock, VA 22482
Phone: 804-435-2229
Gloucester 804-695-2889