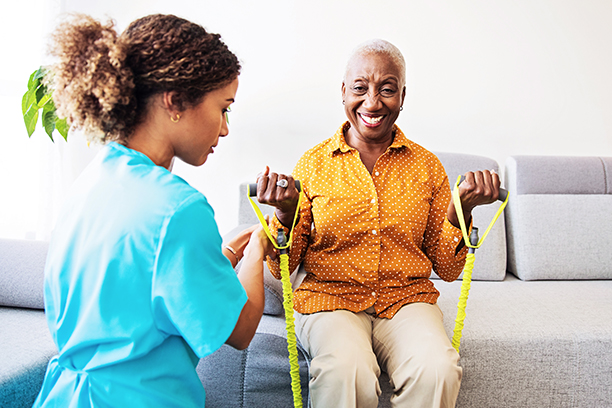 How Long-Term Care Insurance Makes Senior Care Affordable in Kilmarnock, VA and Surrounding Areas
By applying for long-term care insurance, you can make our home care services more affordable in Kilmarnock, White Stone, Gloucester and surrounding areas in Virginia
It is no secret that most seniors want to spend their golden years at home. Aging in their family home where they feel completely comfortable can be comforting to older adults who are dealing with health problems or the loss of a loved one. However, paying for long-term home care services can often be a problem for families and they end up feeling pressured to make a choice between quality care and affordable care.
Luckily, at Visiting Angels, NNMP, we accept various types of payments, so our expert long-term senior care services can be even more affordable. One of the most convenient ways to pay for these services is long-term insurance. If you believe your loved one will require advanced care in the near future, it might be time to talk to them about these options.
What is Long-Term Care Insurance?
Contrary to popular belief, this type of insurance doesn't cover only care provided in nursing homes or assisted living facilities. In fact, it covers the cost of caregivers in cases when a senior has an acute illness, long-term health condition, permanent disability or terminal illness.
Older adults usually sign up for long-term care insurance plan in their 50s or 60s, but your loved one can do it even if they are a bit older. Be sure to talk to your parent's insurance provider and see whether they will need to wait for a certain amount of time before they can start using their insurance.
How Does This Type of Insurance Benefit Seniors in Kilmarnock and Nearby Communities?
If your parent needs assistance with everyday tasks, they could benefit from our long-term home care services. Most aging seniors need help with bathing, dressing, toileting and feeding, but while Medicare plans do not cover this type of care, Medicaid only covers the cost in certain situations. Therefore, getting long-term care insurance is the best way to cover the cost of home care.
At Visiting Angels, NNMP, we are dedicated to providing high-quality long-term in-home care to seniors living in Kilmarnock, Gloucester, White Stone and surrounding areas.
If you believe your parent could benefit from our services, please contact our Kilmarnock, VA office. Our friendly staff members will gladly answer all of your questions or schedule an in-home visit during which we will explain everything about our home care services.
Serving Kilmarnock, White Stone, Heathsville, Saluda, Urbanna, Tappahannock, Gloucester and The Surrounding Areas
Visiting Angels
NORTHERN NECK-MIDDLE PENINSULA VIRGINIA
68 S Main St
Kilmarnock, VA 22482
Phone: 804-435-2229
Gloucester 804-695-2889
Fax: 888-262-0951