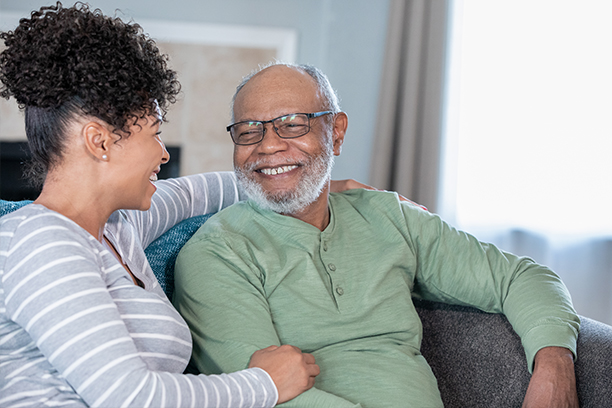 Specialized Alzheimer's Care at Home for Seniors in Kilmarnock, VA and Surrounding Areas
Visiting Angels provides high-quality Alzheimer's care at home for seniors in Kilmarnock, White Stone, Gloucester and surrounding VA communities
Taking care of our loved ones who suffer from dementia is a very demanding task. Many family members, especially spouses and adult children, will take on the role of caregiver when their loved one is diagnosed with Alzheimer's disease or dementia. While you may able to provide some daily living assistance in the early stages, as dementia progresses your loved one's needs will advance beyond what you are capable of providing on your own.
Visiting Angels, NNMP, can offer much-needed caregiving support. We provide dementia and Alzheimer's care at home to help your loved one receive the living assistance they need without needing to leave home.
Thanks to our services, your loved one will be able to find joy in everyday activities, in the comfort of their home, and without losing the quality of their life. Professional dementia care can be provided whenever your family needs. From a few hours each week to comprehensive 24-hour care, Visiting Angels is prepared to provide compassionate, professional in-home care.
Why Choose Visiting Angels, NNMP for Personalized Alzheimer's Care at Home
We understand that every person needs different care, which is exactly why we offer personalized home care services for seniors with Alzheimer's and other forms of dementia. We create care programs that are specifically designed for those who suffer from dementia or Alzheimer's disease.
Adults with memory illnesses often rely on a routine for a sense of comfort. We will do our best to place the same reliable caregiver in your loved one's home so that they can come to recognize and trust their care provider. Maintaining dressing, eating, bathing and exercise schedules can help keep seniors with Alzheimer's calm and comfortable as well. Our staff of specially trained caregivers can follow these and other preferences identified by you and your loved one.
Our specialized Alzheimer's care at home program can be adjusted according to what you need – whether it is full time, part-time, or 24-hour home care. We are here to take care of your loved one, and if that means adjusting our level of support and assistance, we will do that.
What's more, we can help you even if something unexpected happens. Our 24-hour client support line is there to help you in case of an emergency. Just call us and we'll reach you in 15 minutes or so to answer your questions.
How Visiting Angels, NNMP Helps Seniors in Kilmarnock and Surrounding Areas
We want to make this challenging time in your loved one's life at least a bit easier by being by their side. If you're worried about your loved one feeling confused, lost, on anxious, don't worry – we will be there to console them.
Our caregivers provide proactive care and compassion to your loved one, whether they assist with daily grooming, dressing, and bathing or they remind your loved one to take medication on time.
We are here for you and your loved one. If your loved one lives in Kilmarnock, VA, or the surrounding areas, our Alzheimer's care at home could end up changing your loved one's life - for the better. We are just a phone call away. Contact us today!
Serving Kilmarnock, White Stone, Heathsville, Saluda, Urbanna, Tappahannock, Gloucester and The Surrounding Areas
Visiting Angels
NORTHERN NECK-MIDDLE PENINSULA VIRGINIA
68 S Main St
Kilmarnock, VA 22482
Phone: 804-435-2229
Gloucester 804-695-2889
Fax: 888-262-0951