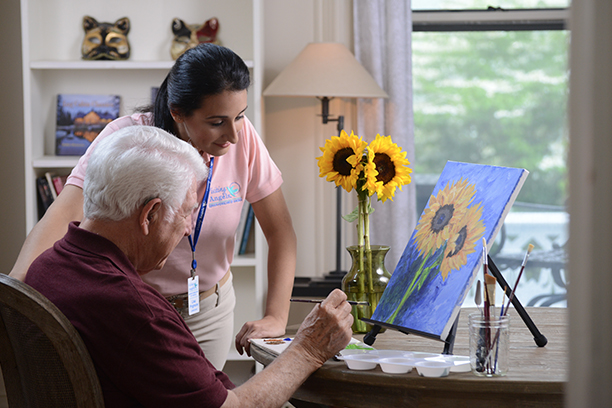 Light Housekeeping Services for Seniors in Kilmarnock, VA and Surrounding Areas
With in-home care for seniors from Visiting Angels, older adults in Kilmarnock, Gloucester, White Stone and surrounding Virginia communities can live in clean, clutter-free homes
Nowadays, most of the older adults want to live out their golden years at home. Fortunately, with in-home senior care from Visiting Angels, NNMP, their wishes can now come true.
Even individuals who suffer from age-related illnesses and do not have the physical strength or coordination to maintain their household can now live independently at home and spend their days in a safe and comfortable environment. However, in order to stay healthy, seniors need to live in a clean and tidy space. Of course, hiring a maid is a solution to this problem, but here at Visiting Angels, NNMP, we offer something even better.
Our trained caregivers can not only help your aging loved one with housekeeping, but also deliver care your parent might need. With Visiting Angels, NNMP, your senior loved one will age in a clean and safe environment while receiving a level of care that ensures their well-being.
How In-Home Care for Seniors in Kilmarnock and Surrounding Areas Can Help Your Loved One Tidy Up Their Home
There are so many ways your senior can benefit from our light housekeeping services. One of the reasons you should consider in-home care for seniors is to ensure your loved one lives in a clean and tidy living space. As you surely know, unclean, cluttered and messy homes are full of germs, bacteria, allergens and other dangerous things that can seriously endanger your parent's health make them ill. In addition, cluttered homes can lead to falls which can cause injuries.
With our assistance, your parent can receive safety recommendations for fall risk reduction, as well as a helping hand around the house. Our caregivers can provide assistance with various housekeeping tasks such as:
Vacuuming
Dusting
Laundry
Taking out the trash
Making the beds
Cleaning countertops
Changing the sheets
And much more
However, it is not in their job description to help with heavy-duty tasks such as rearranging the furniture, cleaning the carpets, scrubbing the floors, washing the windows, mowing the grass during the summer or shoveling snow during the winter. Instead, our caregivers are focused on the areas of the home that are important for the well-being of the client.
Aside from helping your loved one with housekeeping tasks, our caregivers can provide the level of care needed to ensure your parent's health as well as provide trusted companionship.
If you believe your loved one can benefit from our in-home care for seniors and light housekeeping services, please contact our Kilmarnock, VA office today and schedule a free in-home consultation.
Serving Kilmarnock, White Stone, Heathsville, Saluda, Urbanna, Tappahannock, Gloucester and The Surrounding Areas
Visiting Angels
NORTHERN NECK-MIDDLE PENINSULA VIRGINIA
68 S Main St
Kilmarnock, VA 22482
Phone: 804-435-2229
Gloucester 804-695-2889
Fax: 888-262-0951