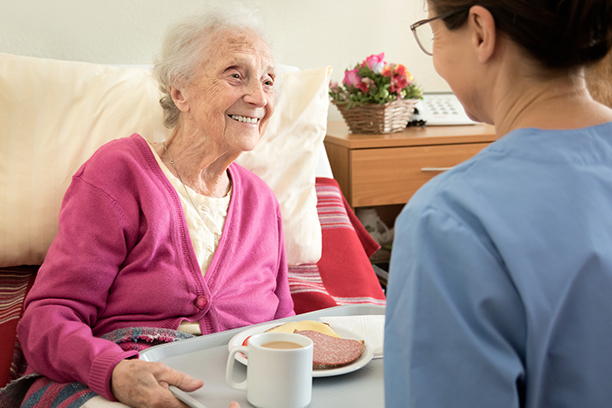 Hygiene, Grooming and Bathing Assistance for Seniors in Kilmarnock, VA and Surrounding Areas
Personal care services from Visiting Angels, NNMP can assist seniors in Kilmarnock, White Stone and Gloucester, VA with bathing, grooming, getting dressed and more
As they grow older, seniors find maintaining personal hygiene difficult. Tasks that were easy a few years ago now represent a challenge. Since maintaining personal hygiene is not only important for your loved one's physical health, but mental as well, if your loved one needs assistance with bathing or grooming, it might be time to consider professional senior care. At Visiting Angels, NNMP, we offer high-quality in-home care that helps seniors with various activities of daily living.
Most seniors who need assistance with personal hygiene are too embarrassed to ask for help. Therefore, you will need to keep an eye on your loved one and see whether they are showing some of the most common signs that they are struggling with hygiene, such as unkempt appearance and strong body odor. If it seems like your parent is always wearing the same clothes, you might want to talk to them about professional home care options. Our caregivers are trained to provide care in a respectful way that allows seniors to maintain both their independence and dignity while receiving the help they need.
How Personal Care Services from Visiting Angels, NNMP Can Help Seniors in Kilmarnock and Nearby Communities
If your loved one is not able to bathe or shower on a regular basis due to their health or mobility issues, they may end up developing serious physical and emotional problem. However, with our personal care services, your loved one will be able to look and feel their best, which will encourage them to stay connected with their community and lead a happier life.
Our services include assistance with:
Bathing or showering
Dressing and undressing
Toileting and incontinence care
Grooming
Putting on makeup
Dental hygiene
If you are your loved one's caregiver, you should consider working alongside a professional home care provider. Some of the tasks regarding personal care can be challenging to perform for anyone who does not have the necessary training. In addition, when it comes to bathing, toileting and dressing, seniors feel more comfortable around caregivers than members of their family or friends.
If you have any questions about us and our personal care services, call our Kilmarnock, VA office today. We will gladly give you all the information you need to make the best decision for your parent and schedule your free at-home consultation where you get to speak with one of our loving care professionals.
Serving Kilmarnock, White Stone, Heathsville, Saluda, Urbanna, Tappahannock, Gloucester and The Surrounding Areas
Visiting Angels
NORTHERN NECK-MIDDLE PENINSULA VIRGINIA
68 S Main St
Kilmarnock, VA 22482
Phone: 804-435-2229
Gloucester 804-695-2889
Fax: 888-262-0951