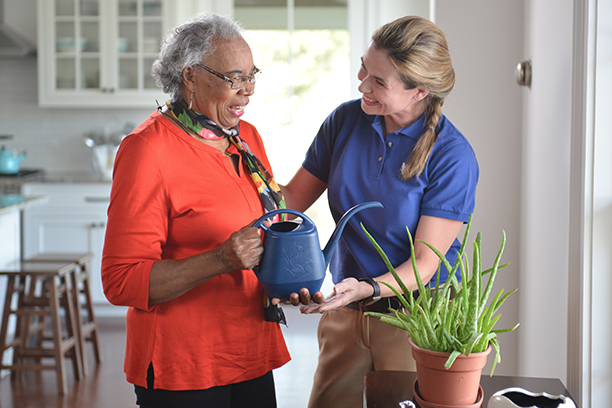 Professional Home Care Solutions for Seniors with Incontinence Issues in Kilmarnock, VA and Surrounding Areas
With the help of reliable home care solutions from Visiting Angels, NNMP, seniors in Kilmarnock, Gloucester, White Stone and surrounding Virginia communities can receive high-quality, compassionate incontinence care and remain living comfortably at home
While problems with incontinence may occur at any age, they are predominant in aging adults. The inability to control elimination, otherwise known as incontinence, can be caused by the process of aging as well as side effects from medication and chronic conditions. Although incontinence is not as serious as other health issues, it can cause feelings of humiliation and discomfort or further aggravate existing health concerns.
At Visiting Angels, NNMP, we provide a wide range of personalized home care solutions designed to boost independence and quality of life at home. If your loved one is having problems with bladder or bowel control, we can help with that too.
Our compassionate caregivers are trained to provide dignified incontinence care to older adults in Kilmarnock, Tappahannock, Gloucester, Saluda, Urbanna, White Stone and the surrounding communities of Northern Neck-Middle Peninsula region in Virginia.
What Does In-Home Incontinence Care Include for Seniors in Kilmarnock and Surrounding Areas?
When we provide incontinence care to seniors, our goal will be to minimize the embarrassing moments as much as we can. Besides helping your parent get cleaned up after involuntary elimination, you can rest assured we will treat them with the respect they deserve.
Should an accident take place, our trained caregivers will also wash soiled clothes and sheets and scrub any defecated surfaces of the home. If your loved one's mobility is limited or impaired, we can also get Mom or Dad to the restroom and assist with bathing and dressing. When incontinence episodes happen, our practice is to assist as discreetly and as promptly as possible to reduce the risk of any health issues such as irritations and rashes.
In addition, our home care solutions also include closely monitoring intervals between the episodes in order to provide a useful insight to medical professionals who work on establishing the cause of incontinence and prescribing the best treatment. To help your loved one's urologist or gastroenterologist figure out why these incontinence incidents occur and how to treat them, our caregivers can keep a daily log of Mom or Dad's bathroom habits and note the frequency of accidents.
Call our local office in Kilmarnock, VA today to learn more about incontinence care and other home care solutions from Visiting Angels, NNMP. We are here to answer all your questions and offer you a free in-home meeting with our client directors. We look forward to hearing from you!
Serving Kilmarnock, White Stone, Heathsville, Saluda, Urbanna, Tappahannock, Gloucester and The Surrounding Areas
Visiting Angels
NORTHERN NECK-MIDDLE PENINSULA VIRGINIA
68 S Main St
Kilmarnock, VA 22482
Phone: 804-435-2229
Gloucester 804-695-2889
Fax: 888-262-0951