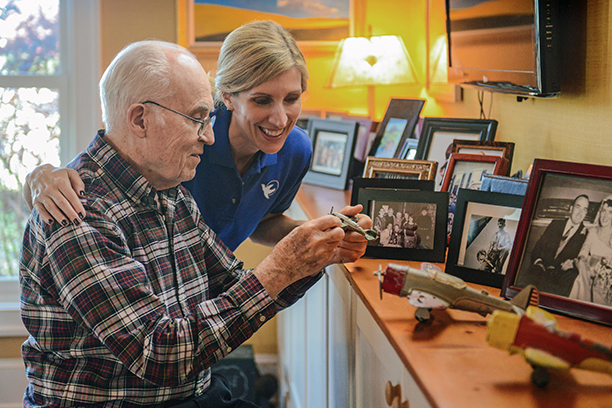 How Elder Care Services from Visiting Angels Assists Families in Kilmarnock, VA and Surrounding Areas
Elder care services from Visiting Angels, NNMP allow your loved one to get the assistance they need in the comfort of their home in White Stone, Gloucester, Kilmarnock, and the surrounding areas in Virginia
If you are searching for home care assistance for an aging parent or other relative, it can be overwhelming navigating the waters. Whether your mom or dad needs care because of persistent declining health or a sudden loss of independence, the need for elder care services can come as a shock. Visiting Angels, NNMP, is here to support and assist your family in finding the best care solution for your unique situation.
We've been helping seniors in Kilmarnock, VA, and the surrounding areas maintain their independence with help from professional home care. Our experience combined with our exceptional staff of care providers enables us to understand your situation and provide meaningful assistance. Finding the right caregiver for your parents doesn't have to be frightening. In fact, we're here to put your mind at ease.
Elder Care Services Offered to Seniors in Kilmarnock and Surrounding Areas
Understandably, most seniors aren't eager to leave their home and move to a care facility they don't have to. Visiting Angels, NNMP, recognizes that a senior's home is often a cherished and comfortable place, one that is a great environment for receiving compassionate living assistance. In-home senior care services that enable older adults to keep living in their home while still getting the help they need is called "aging in place" and is the cornerstone of all our services.
If you choose Visiting Angels to be your partner in in-home care, we will make a plan for taking care of your loved one. The plan will be tailored to your loved one's needs and desires. You can schedule our caregivers when you need them. Of course, our caregivers are flexible and we can modify plans if needed.
Some of the elder care services we provide in Kilmarnock, VA are:
Personal Care
Companion Care
Social Care
Palliative Care
Post-Hospital Stay Care
Dementia and Alzheimer's Care
End of Life Care
And here are our most common activities:
Housekeeping – help with vacuuming, laundry and making beds
Diet monitoring – this includes planning and preparing meals
Reminders for taking medications, eating well and drinking fluids
Help with bathing, toileting, grooming and dressing
Help with running errands, shopping, as well as with transportation to activities and appointments
Going for a walk, socializing, and engaging hobbies
Welcoming a caregiver into your home or your loved one's home can be a strange experience. Our goal at Visiting Angels, NNMP, is to help ease this transition by involving your family and your senior loved one in the planning process. We will first schedule a no-cost care consultation to determine which services will best meet your needs. We will choose a compatible caregiver who is available at the times you determine.
At the end of the day, you are in control and can request a different caregiver, additional services, or a new schedule of caregiving whenever you see fit. Our home care plans are flexible and can be adjusted as your needs change.
If you would like to know more about how our elder care services can assist your aging loved one, please contact our Kilmarnock, VA, office today!
Serving Kilmarnock, White Stone, Heathsville, Saluda, Urbanna, Tappahannock, Gloucester and The Surrounding Areas
Visiting Angels NORTHERN NECK-MIDDLE PENINSULA, VIRGINIA
68 S Main St
Kilmarnock, VA 22482
Phone: 804-435-2229
Gloucester 804-695-2889